On 19 July the Noda City department of the Chiba Prefectural Police announced the arrest of 49-year-old elementary school teacher Masaki Yabusaki on charges of intimidation.
The suspect had allegedly sent around half a dozens emails to the Noda Board of Education with oddly-worded threatening remarks such as "I will blow up bad guys and their government buildings" if they didn't rescind a decision to extend the school week to include Saturday classes introduced this year.
Yabusaki reportedly confessed to the charges but no explosives were found in his home during the investigation. The suspect who once served as the school's curriculum coordinator allegedly sent around six emails to his board of education with various threatening remarks.
Among the messages' grievances are "There's no way to recover when you're working until Saturday" and "All that can be done on Sunday is sleep." These complaints were followed by threats of violence such as "On behalf of the faculty of Noda, I will blow up bad guys like you and your government buildings. I'm ready." Even in Japanese the wording seemed pretty immature for a teacher nearing his fifties.
千葉県野田市の公立小中学校で実施されている土曜日授業の中止を求め、同市の教育委員­会に脅迫状を送付したとして、市立小学校教諭の藪崎正己容疑者(49)が逮捕された。­8月19日の警察発表によると、藪崎容疑者は2014年7月12日から14日にかけ、­「土曜授業をやめなければ、お前らのような悪い連中を市の庁舎ごと吹き飛ばす」などと­書かれた文書を郵送した疑いがもたれている。野田市では2014年度から公立小中学校­で月2回の土曜授業を導入しており、文書には「負担が増える」「体調を崩している教職­員が増えている」といった不満が書かれていた。調べに対し、容疑を認めているという。
Oct 20
Japanese police say more than 900 people under the age of 18 were victimized through social media in the first 6 months of this year.
(NHK)
Oct 19
A male high school teacher in the capital was warned by the capital's board of education on Tuesday for paying a female student in cash to teach his class instead.
(tokyoreporter.com)
Oct 18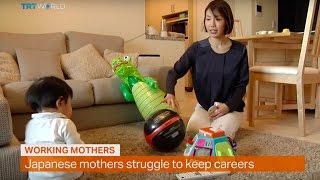 Mothers with young children in Japan are now spending more time on child care than household chores, thanks in part to their increasing use of time-saving appliances.
(Nikkei)
Oct 16
The number of Vietnamese people in Japan's technical intern training program for foreigners stood at 26,437 in January-June this year, becoming the largest group, according to a recent survey by the Immigration Bureau of Japan.
(Jiji)
Oct 13
Thirteen children were taken to hospital Friday after hydrochloric acid spilled over during a science experiment class at an elementary school in Fukuoka, southwestern Japan, the local education board said.
(Japan Today)
Oct 12
Members of the popular all-girl idol group AKB48 and law enforcement participated in an event in Chiyoda Ward on Wednesday that seeks to eradicate online crimes, reports Sankei Sports.
(tokyoreporter.com)
Oct 10
Austria's stricter immigration controls are jeopardizing classes at the Japanese School in Vienna, as two teachers failed to obtain visas before their visa-free stays in the country expired Saturday.
(Japan Today)
Oct 09
Physical strength and athletic ability of women aged 35-39 and 40-44 have fallen to the lowest levels ever, an annual survey by the Japan Sports Agency showed Sunday.
(Jiji)
Oct 06
Novelist Kazuo Ishiguro, best known for his book "The Remains of the Day," has been awarded the 2017 Nobel Prize in Literature.
(the-japan-news.com)
Oct 05
New rules requiring greater scrutiny of applicants from five countries have landed Japanese-language schools with that little bit more paperwork.
(Japan Times)
---