One in six children live in poverty in Japan, supposedly one of the most prosperous countries in the world.
The nation's child poverty rate was a record-high 16.3 percent in 2012, according to figures released July 15 by the Health, Labor and Welfare Ministry.
Some children give up on advancing to higher levels in school due to poverty, while others do not get enough to eat. How can we create a society in which a child's economic situation does not control his or her future?
The government plans to release an outline of child poverty countermeasures this summer. In anticipation of this, The Yomiuri Shimbun is examining the current state of affairs and exploring the issues involved.
Rise in divorce boosts child poverty
The child poverty rate represents the proportion of children whose families have incomes below the level that would allow them to live an average life. The criteria are set by the Organization for Economic Cooperation and Development.
Household income is divided by the number of people in the household and each individual is placed into national rankings. Then authorities count the number of children under 18 years old whose families have less than half-Y1.22 million in 2012-the median income.
The child poverty rate has been worsening since 2003. It rose 0.6 percentage point in 2012 compared to three years before.
The increase in one-parent households due to the rising divorce rate is thought to be one cause of the situation. There are thought to be about 1.24 million single-mother families nationwide. They have an average annual income of Y1.81 million, half that of single-father families.
Yet only about 10 percent of single-mother families receive welfare benefits.
深刻化する子どもの貧困の改善を目指して、政府が初めて作成する「子供の貧困対策大綱­」の案が示されました。経済支援だけでなく、教育の支援も強化します。 大綱の政府案では、基本方針として、貧困が世代を超えて連鎖することがないよう教育の­機会均等を目的としています。
Oct 20
Japanese police say more than 900 people under the age of 18 were victimized through social media in the first 6 months of this year.
(NHK)
Oct 19
A male high school teacher in the capital was warned by the capital's board of education on Tuesday for paying a female student in cash to teach his class instead.
(tokyoreporter.com)
Oct 18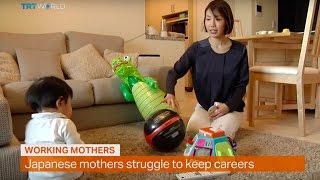 Mothers with young children in Japan are now spending more time on child care than household chores, thanks in part to their increasing use of time-saving appliances.
(Nikkei)
Oct 16
The number of Vietnamese people in Japan's technical intern training program for foreigners stood at 26,437 in January-June this year, becoming the largest group, according to a recent survey by the Immigration Bureau of Japan.
(Jiji)
Oct 13
Thirteen children were taken to hospital Friday after hydrochloric acid spilled over during a science experiment class at an elementary school in Fukuoka, southwestern Japan, the local education board said.
(Japan Today)
Oct 12
Members of the popular all-girl idol group AKB48 and law enforcement participated in an event in Chiyoda Ward on Wednesday that seeks to eradicate online crimes, reports Sankei Sports.
(tokyoreporter.com)
Oct 10
Austria's stricter immigration controls are jeopardizing classes at the Japanese School in Vienna, as two teachers failed to obtain visas before their visa-free stays in the country expired Saturday.
(Japan Today)
Oct 09
Physical strength and athletic ability of women aged 35-39 and 40-44 have fallen to the lowest levels ever, an annual survey by the Japan Sports Agency showed Sunday.
(Jiji)
Oct 06
Novelist Kazuo Ishiguro, best known for his book "The Remains of the Day," has been awarded the 2017 Nobel Prize in Literature.
(the-japan-news.com)
Oct 05
New rules requiring greater scrutiny of applicants from five countries have landed Japanese-language schools with that little bit more paperwork.
(Japan Times)
---