One in six children live in poverty in Japan, supposedly one of the most prosperous countries in the world.
The nation's child poverty rate was a record-high 16.3 percent in 2012, according to figures released July 15 by the Health, Labor and Welfare Ministry.
Some children give up on advancing to higher levels in school due to poverty, while others do not get enough to eat. How can we create a society in which a child's economic situation does not control his or her future?
The government plans to release an outline of child poverty countermeasures this summer. In anticipation of this, The Yomiuri Shimbun is examining the current state of affairs and exploring the issues involved.
Rise in divorce boosts child poverty
The child poverty rate represents the proportion of children whose families have incomes below the level that would allow them to live an average life. The criteria are set by the Organization for Economic Cooperation and Development.
Household income is divided by the number of people in the household and each individual is placed into national rankings. Then authorities count the number of children under 18 years old whose families have less than half-Y1.22 million in 2012-the median income.
The child poverty rate has been worsening since 2003. It rose 0.6 percentage point in 2012 compared to three years before.
The increase in one-parent households due to the rising divorce rate is thought to be one cause of the situation. There are thought to be about 1.24 million single-mother families nationwide. They have an average annual income of Y1.81 million, half that of single-father families.
Yet only about 10 percent of single-mother families receive welfare benefits.
深刻化する子どもの貧困の改善を目指して、政府が初めて作成する「子供の貧困対策大綱­」の案が示されました。経済支援だけでなく、教育の支援も強化します。 大綱の政府案では、基本方針として、貧困が世代を超えて連鎖することがないよう教育の­機会均等を目的としています。
Aug 22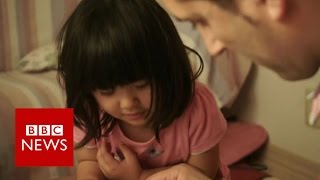 A first batch of 20 Syrian refugees will be admitted to graduate schools in Japan this autumn under a Japanese government initiative announced last year.
(Jiji)
Aug 17
Japan saw the number of child abuse cases exceed 120,000 in fiscal 2016 to hit a new record for the 26th straight year, the welfare ministry said Thursday.
(Jiji)
Aug 16
Incidents of "outing" of lesbian, gay, bisexual and transgender students by teachers in Japan have been on the rise, discouraging other LGBT students from coming forward due to concerns about discrimination and confidentiality.
(Japan Today)
Aug 15
Japan's education ministry on Monday announced a rule that will not allow in principle an increase in the enrollment limits at private universities in Tokyo's densely populated 23 wards, beginning in fiscal 2018 from next April.
(Jiji)
Aug 11
A Japanese research group said Thursday it has found that chimpanzees have the ability to learn the rules of the rock-paper-scissors game.
(Jiji)
Aug 10
A record number of employers accepting trainees from abroad under Japan's Technical Intern Training Program violated labor laws in 2016, the labor ministry said Wednesday.
(Jiji)
Aug 09
One elementary school teacher from Aichi Prefecture was fired Tuesday for allegedly forcing indecent acts on students and another from the same central Japan area was effectively forced to quit his job for sending child pornography.
(Japan Today)
Aug 06
Twelve window panes were found smashed at a junior high school in Yaita, Tochigi Prefecture, on Friday night, police said Saturday. It was the fifth such case of school vandalism in the prefecture since early July, Fuji TV reported.
(Japan Today)
Aug 03
Japanese school lunches aren't synonymous with "mystery meat," but rather, shokuiku. It means "food and nutrition education," and it's a vital part of the Japanese child's early education.
(businessinsider.com)
Aug 01
A German research group has handed over to representatives of Japan's Ainu ethnic group a skull that a German took secretly from a grave in Japan in 1879.
(abcnews)
---