A government survey has revealed that nearly half of third graders at junior high schools in Japan spend one hour or more per day using smartphones, with over 10 pct spending four hours or more.
The survey was the first by the education ministry that asked about the length of time spent on mobile phone use.
The survey also found that over half of sixth graders at elementary schools have mobile phones.
全国学力テストの結果、スマートフォンなどの携帯電話を長時間使う子どもほど平均正答­率が低いことが分かりました。 文部科学省の学力テストは、小学6年生と中学3年生が対象です。
Aug 22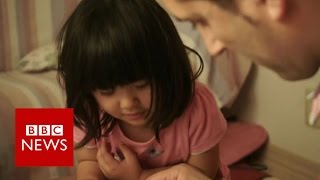 A first batch of 20 Syrian refugees will be admitted to graduate schools in Japan this autumn under a Japanese government initiative announced last year.
(Jiji)
Aug 17
Japan saw the number of child abuse cases exceed 120,000 in fiscal 2016 to hit a new record for the 26th straight year, the welfare ministry said Thursday.
(Jiji)
Aug 16
Incidents of "outing" of lesbian, gay, bisexual and transgender students by teachers in Japan have been on the rise, discouraging other LGBT students from coming forward due to concerns about discrimination and confidentiality.
(Japan Today)
Aug 15
Japan's education ministry on Monday announced a rule that will not allow in principle an increase in the enrollment limits at private universities in Tokyo's densely populated 23 wards, beginning in fiscal 2018 from next April.
(Jiji)
Aug 11
A Japanese research group said Thursday it has found that chimpanzees have the ability to learn the rules of the rock-paper-scissors game.
(Jiji)
Aug 10
A record number of employers accepting trainees from abroad under Japan's Technical Intern Training Program violated labor laws in 2016, the labor ministry said Wednesday.
(Jiji)
Aug 09
One elementary school teacher from Aichi Prefecture was fired Tuesday for allegedly forcing indecent acts on students and another from the same central Japan area was effectively forced to quit his job for sending child pornography.
(Japan Today)
Aug 06
Twelve window panes were found smashed at a junior high school in Yaita, Tochigi Prefecture, on Friday night, police said Saturday. It was the fifth such case of school vandalism in the prefecture since early July, Fuji TV reported.
(Japan Today)
Aug 03
Japanese school lunches aren't synonymous with "mystery meat," but rather, shokuiku. It means "food and nutrition education," and it's a vital part of the Japanese child's early education.
(businessinsider.com)
Aug 01
A German research group has handed over to representatives of Japan's Ainu ethnic group a skull that a German took secretly from a grave in Japan in 1879.
(abcnews)
---