Often dubbed a hawkish nationalist, Prime Minister Shinzo Abe has lived up to his billing. Since he returned to power in late 2012, Japan has seen two consecutive rises in defense spending, as well as a record third request for Y5.5 trillion, currently under deliberation.
In July, he pushed through a controversial reinterpretation of the nation's constitution, allowing Japan to come to the aid of its U.S. military ally. Earlier this year, Abe relaxed Japan's four-decade de-facto ban on arms sales abroad.
The decision to relax the arms export rules caught many in the European defence industries by surprise, according to Michel Theoval, EBC senior vice-chair and president of aerospace and defence firm GHT. "They were not at all prepared," he says. "They thought it would take much more time; that it would be much more controversial."
But Theoval says the Japanese side - especially the politicians - now want to move quickly.
To put the changes in context, Japan's defence budget still takes up only about 1% of Japan's gross domestic product (GDP), lower than China (1.3%) and a quarter of US defence spending, according to Japan's Ministry of Defense. By comparison, NATO's minimum budget requirement is 2% of GDP. Still, whether Abe's changes are viewed as dangerous sabre rattling or - as his supporters insist - a necessary recalibration of Japan's dysfunctional defence posture, few analysts have been left with any doubt that a new sheriff is in town.
The impact on Japan's biggest military contractors has been striking. Shares in 20 of the largest - including Mitsubishi Heavy Industries (MHI), Mitsubishi Electronics and Kawasaki Heavy Industries - are up over 70% since Abe came to power, according to Goldman Sachs.
Oct 20
Nissan Motor has just announced it will suspend domestic shipments of vehicles from all 6 factories in Japan.
(NHK)
Oct 19
Toyota Motor Corp. is set to unveil a fuel cell concept car that aims to offer 50 percent more driving range than its current hydrogen-powered sedan in a technology push that defies a rising wave of battery-powered vehicles.
(Japan Times)
Oct 18
The Japan Tourism Agency will tighten regulations for travel agencies to protect tourists in the wake of Tellmeclub's bankruptcy in March.
(Japan Times)
Oct 18
The government will try to minimize restrictions placed on the private lodging business by municipalities concerned about noise and traffic jams in residential areas, officials said Tuesday.
(Japan Times)
Oct 17
Corporate enfant terrible, Takafumi Horie, built one of Japan's most successful internet businesses, stood for the Diet, went to prison and started a space company that aims to put the country's first privately funded rocket into orbit. Now he has a new frontier: cattle.
(Japan Times)
Oct 16
Before Hisashi Kanbe in 2013 introduced BakeryScan, the world's first image recognition checkout system designed specifically for bread, it was the job of every bakery worker in Japan to memorize the assorted prices of each baked good - from baguettes back to bagels.
(Japan Times)
Oct 14
Japan's Kobe Steel Ltd. said Friday that it has confirmed misconduct including data falsification on nine more products including mainstay steels, in its internal investigation following the initial revelations of data fraud cases.
(Jiji)
Oct 13
So imagine you're sitting in Starbucks, sipping hojicha roasted green tea Frappuccinos and making progress on your current project for that sweet, sweet telecommuting job you've landed.
(Japan Today)
Oct 12
In a tweet posted on 9 October, McDonald's Japan announced that their coffee has undergone a revamp to give it "the richest taste and aroma in McHistory."
(rocketnews24.com)
Oct 12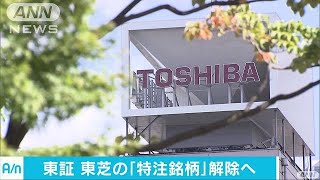 The Tokyo Stock Exchange said Wednesday that it will end the designation of Toshiba Corp. <6502> as a "security on alert" on Thursday, allowing the troubled electronics and machinery giant to remain listed for the time being.
(Jiji)
---