Last month the Ministry of Finance presented a policy recommendation based on studies made by an advisory group. Such recommendations are fairly common, but this one caught more than the usual amount of attention because of where it was directed.
The ministry thinks that the maximum class size for first year elementary school students should be increased from 35 to 40. In purely economic terms, such a change would result in a reduction of as many as 4,000 teachers, which would translate as Y8.6 billion in savings for the central government alone. However, the ministry's explanation for why the change should be implemented was not made in fiscal terms. It was made in educational terms.
Until the Democratic Party of Japan became the ruling party, maximum class size was 40, and the DPJ changed it to 35 in order to address the bullying problem. But the finance ministry says that bullying incidents have increased slightly since class sizes were reduced, so obviously it has had no effect.
Obviously, this sounds more like something the education ministry should tackle, and, predictably, the education ministry objects to the recommendation, saying that increasing class number back to 40 runs counter to world trends, which favor smaller class sizes so that students can get more individual attention from teachers.
The finance ministry has countered the objection by saying that the money saved by increasing class size can be spent on "pre-schoolers," since the education ministry is now promoting tuition-free pre-schools for some households but have no budget for it.
As several other media have pointed out, the finance ministry isn't really interested in education programs. It is simply moving the money from one area to another. It's a matter of bookkeeping.
The ministry's justification for cutting teachers is also problematic. It says that Japanese public school teachers' salaries are higher than they are in other countries, which is a conveniently misleading truth. The salary of a median age 45-year-old full-time public school teacher in Japan is about Y7 million, though a 2010 OECD survey found that Japanese teachers made on average the equivalent of $44,337 a year, which is $7,000 more than the OECD average. That's probably what the finance ministry is talking about.
What the ministry doesn't mention is that this average salary was 8.6 percent less than it was in 2000, which is perhaps a reflection of the fact that more teachers are now non-regular part-timers. Moreover, as a percentage of total public spending on education, teachers' pay in Japan is higher than it is in other developed countries - 86 percent compared to 81 percent in the U.S. and 67 percent in the U.K. - and as a portion of GDP Japan's spending on education is the lowest of the 31 OECD countries, and has been for five years running.
Aug 22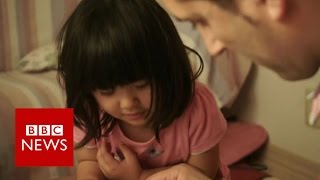 A first batch of 20 Syrian refugees will be admitted to graduate schools in Japan this autumn under a Japanese government initiative announced last year.
(Jiji)
Aug 17
Japan saw the number of child abuse cases exceed 120,000 in fiscal 2016 to hit a new record for the 26th straight year, the welfare ministry said Thursday.
(Jiji)
Aug 16
Incidents of "outing" of lesbian, gay, bisexual and transgender students by teachers in Japan have been on the rise, discouraging other LGBT students from coming forward due to concerns about discrimination and confidentiality.
(Japan Today)
Aug 15
Japan's education ministry on Monday announced a rule that will not allow in principle an increase in the enrollment limits at private universities in Tokyo's densely populated 23 wards, beginning in fiscal 2018 from next April.
(Jiji)
Aug 11
A Japanese research group said Thursday it has found that chimpanzees have the ability to learn the rules of the rock-paper-scissors game.
(Jiji)
Aug 10
A record number of employers accepting trainees from abroad under Japan's Technical Intern Training Program violated labor laws in 2016, the labor ministry said Wednesday.
(Jiji)
Aug 09
One elementary school teacher from Aichi Prefecture was fired Tuesday for allegedly forcing indecent acts on students and another from the same central Japan area was effectively forced to quit his job for sending child pornography.
(Japan Today)
Aug 06
Twelve window panes were found smashed at a junior high school in Yaita, Tochigi Prefecture, on Friday night, police said Saturday. It was the fifth such case of school vandalism in the prefecture since early July, Fuji TV reported.
(Japan Today)
Aug 03
Japanese school lunches aren't synonymous with "mystery meat," but rather, shokuiku. It means "food and nutrition education," and it's a vital part of the Japanese child's early education.
(businessinsider.com)
Aug 01
A German research group has handed over to representatives of Japan's Ainu ethnic group a skull that a German took secretly from a grave in Japan in 1879.
(abcnews)
---