Last month the Ministry of Finance presented a policy recommendation based on studies made by an advisory group. Such recommendations are fairly common, but this one caught more than the usual amount of attention because of where it was directed.
The ministry thinks that the maximum class size for first year elementary school students should be increased from 35 to 40. In purely economic terms, such a change would result in a reduction of as many as 4,000 teachers, which would translate as Y8.6 billion in savings for the central government alone. However, the ministry's explanation for why the change should be implemented was not made in fiscal terms. It was made in educational terms.
Until the Democratic Party of Japan became the ruling party, maximum class size was 40, and the DPJ changed it to 35 in order to address the bullying problem. But the finance ministry says that bullying incidents have increased slightly since class sizes were reduced, so obviously it has had no effect.
Obviously, this sounds more like something the education ministry should tackle, and, predictably, the education ministry objects to the recommendation, saying that increasing class number back to 40 runs counter to world trends, which favor smaller class sizes so that students can get more individual attention from teachers.
The finance ministry has countered the objection by saying that the money saved by increasing class size can be spent on "pre-schoolers," since the education ministry is now promoting tuition-free pre-schools for some households but have no budget for it.
As several other media have pointed out, the finance ministry isn't really interested in education programs. It is simply moving the money from one area to another. It's a matter of bookkeeping.
The ministry's justification for cutting teachers is also problematic. It says that Japanese public school teachers' salaries are higher than they are in other countries, which is a conveniently misleading truth. The salary of a median age 45-year-old full-time public school teacher in Japan is about Y7 million, though a 2010 OECD survey found that Japanese teachers made on average the equivalent of $44,337 a year, which is $7,000 more than the OECD average. That's probably what the finance ministry is talking about.
What the ministry doesn't mention is that this average salary was 8.6 percent less than it was in 2000, which is perhaps a reflection of the fact that more teachers are now non-regular part-timers. Moreover, as a percentage of total public spending on education, teachers' pay in Japan is higher than it is in other developed countries - 86 percent compared to 81 percent in the U.S. and 67 percent in the U.K. - and as a portion of GDP Japan's spending on education is the lowest of the 31 OECD countries, and has been for five years running.
Oct 20
Japanese police say more than 900 people under the age of 18 were victimized through social media in the first 6 months of this year.
(NHK)
Oct 19
A male high school teacher in the capital was warned by the capital's board of education on Tuesday for paying a female student in cash to teach his class instead.
(tokyoreporter.com)
Oct 18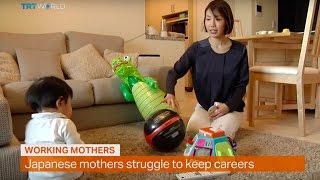 Mothers with young children in Japan are now spending more time on child care than household chores, thanks in part to their increasing use of time-saving appliances.
(Nikkei)
Oct 16
The number of Vietnamese people in Japan's technical intern training program for foreigners stood at 26,437 in January-June this year, becoming the largest group, according to a recent survey by the Immigration Bureau of Japan.
(Jiji)
Oct 13
Thirteen children were taken to hospital Friday after hydrochloric acid spilled over during a science experiment class at an elementary school in Fukuoka, southwestern Japan, the local education board said.
(Japan Today)
Oct 12
Members of the popular all-girl idol group AKB48 and law enforcement participated in an event in Chiyoda Ward on Wednesday that seeks to eradicate online crimes, reports Sankei Sports.
(tokyoreporter.com)
Oct 10
Austria's stricter immigration controls are jeopardizing classes at the Japanese School in Vienna, as two teachers failed to obtain visas before their visa-free stays in the country expired Saturday.
(Japan Today)
Oct 09
Physical strength and athletic ability of women aged 35-39 and 40-44 have fallen to the lowest levels ever, an annual survey by the Japan Sports Agency showed Sunday.
(Jiji)
Oct 06
Novelist Kazuo Ishiguro, best known for his book "The Remains of the Day," has been awarded the 2017 Nobel Prize in Literature.
(the-japan-news.com)
Oct 05
New rules requiring greater scrutiny of applicants from five countries have landed Japanese-language schools with that little bit more paperwork.
(Japan Times)
---