Japan's job availability rose in December to its best level in 22 years while the unemployment rate improved to 3.4 percent, suggesting that companies are willing to hire more workers as corporate profits recover, the government said Friday.
The ratio of employment offers to seekers climbed from 1.12 in November for the third straight month to 1.15, the highest level since March 1992, the Ministry of Health, Labor and Welfare said. That means 115 positions were available for every 100 job seekers.
The country's unemployment rate fell 0.1 point from 3.5 percent the previous month to the lowest level since August 1997, the Ministry of Internal Affairs and Communications said in a preliminary report.
去年12月の有効求人倍率が1.15倍と、22年9カ月ぶりの高水準となりました。 厚生労働省によりますと、去年12月の有効求人倍率は、前の月より0.03ポイント増­えて1.15倍となり、3カ月連続で改善しました。これは1992年3月以来、22年­9カ月ぶりの高水準です。
Oct 21
The Tokyo metropolitan government said Friday it will issue 10 billion yen in "green bonds" for institutional investors on Oct. 31.
(Jiji)
Oct 19
A possible slowdown in purchases of 30- and 40-year Japanese government bonds by life insurers could influence the Finance Ministry's debt issuance plans for the next fiscal year.
(Nikkei)
Oct 16
Japanese officials are expressing growing frustration with the Trump administration's economic policies, vowing to continue striking trade deals with other countries that undercut U.S. agricultural exports rather than seek a new trade agreement with the United States.
(politico.eu)
Oct 12
Gasoline prices in Japan have hit a 2-year high after oil producers cut their output.
(NHK)
Oct 12
The International Monetary Fund, in a report released on Wednesday, warned of the risk of problems at only one major bank in Japan causing "stress" in the entire banking system in the country.
(Jiji)
Oct 11
The Nikkei's rally comes despite a big scandal enveloping Japan's third-biggest steel maker, Kobe Steel.
(theguardian.com)
Oct 10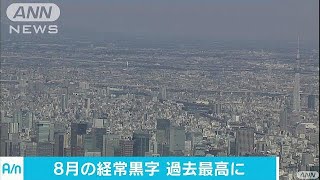 The current account surplus expanded to ¥2.38 trillion ($21 billion) in August - the highest on record for the month - lifted by foreign investments and a bigger trade surplus, government data showed Tuesday.
(Japan Times)
Oct 04
While the Federal Reserve is entering the final phase of its exit strategy, there is no end in sight for the BOJ's massive monetary easing policy, which has seen nothing but expansion during Gov. Haruhiko Kuroda's term.
(Nikkei)
Oct 04
Companies in Japan's service industries are struggling to hire and retain staff as the labor market becomes the tightest in decades, and are increasingly taking unorthodox steps to alleviate the shortage.
(Japan Today)
Oct 04
In the upcoming general election, Japanese Prime Minister Shinzo Abe will seek voters' verdict on his signature Abenomics economic policy mix, which he has strongly promoted but is yet to achieve the full range of its intended targets.
(Jiji)
---