Line Taxi premiered in January in Japan, giving users of the popular messaging app an easy way to book a cab. Like Uber's Japanese debut, it was limited initially to Tokyo.
Uber may have reached beyond Tokyo first when it started ride-sharing in Fukuoka, but Line Taxi is firing back with a major expansion of its own. From today, it will be available in over 90 additional cities across Japan.
The cities cover 20 prefectures as well as Osaka and Tokyo. Notable inclusions are Yokohama, Sendai, and Sapporo, while well-known prefectures like Hiroshima, Fukuoka, and Saitama now have cabbies connected to Line Taxi patrolling the streets.
The push to claim more territory comes as Line Taxi appears to be seeing positive traction in Tokyo. The company says 34 percent of first-time users come back for a second time. 15 percent use it three times or more. Concrete user numbers were not released.
This news highlights why Line's partnership with Nihon Kotsu and its 23,000 taxis - the nation's largest group - is so critical. Line can literally throw manpower at this problem, something Uber's understaffed fleet cannot. That said, Line Taxi's national success is still far from certain.
Jan 16
Police and consumer centers across Japan have received more than 1,500 inquiries from people affected by a scandal involving a gala dress kimono retail and rental firm. The total value of contracts drawn up between the firm and the consumers who have consulted with the centers has topped 270 million yen, or nearly 2.5 million dollars.
(NHK)
Jan 16
With the investigation into the rigging of arcade games widening in scale, Osaka Prefectural Police have re-arrested the president of a management company over the alleged fraud of additional persons, reports NHK (Jan. 13).
(tokyoreporter.com)
Jan 16
Japanese confectionery maker Meiji will ramp up its production capacity of health-oriented chocolate.
(NHK)
Jan 15
It was said of the California Gold Rush of the mid-19th century that the ones who made the money were those who sold the shovels. Today's shovel sellers in Tokyo are the service providers, agents and brokers eager to entice clients with tales of gold in the hills.
(Japan Times)
Jan 14
Toshiba Corp. said Friday it has completed the payments of Westinghouse Electric Co.'s debts it guaranteed for the failed U.S. nuclear business subsidiary.
(the-japan-news.com)
Jan 12
A venerable cabaret in the ritzy Ginza district of Chuo Ward closed its doors for the final time on Wednesday in what indeed is the end of an era.
(tokyoreporter.com)
Jan 12
Wild game, such as venison and wild boar meat, is becoming popular in Japan as it is seen as low in calories, high in protein and compatible with wine.
(Jiji)
Jan 11
Details emerged Wednesday about significant debts faced by a kimono rental firm that went bust just before Coming-of-Age Day ceremonies, leaving scores of women celebrating adulthood without their formal attire.
(Japan Times)
Jan 11
Japan's industry ministry decided Wednesday to increase the maximum penalty on companies that violate the law on Japanese Industrial Standards from one million yen to 100 million yen.
(Jiji)
Jan 10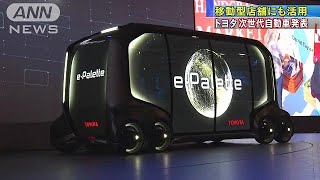 Toyota Motor says it is developing a self-driving electric vehicle to shuttle people between venues at the 2020 Tokyo Olympics and Paralympics.
(NHK)
---