In the shadow of Nijo Castle here, a World Heritage site, the municipal government is asking a developer to build a hotel instead of a condominium building, a rare request, since it has no legal power to compel it.
Kyoto officials say their city is badly in need of more hotels to accommodate the growing number of foreign visitors to the ancient capital. They hope to boost the annual number by nearly three times the current level by 2020, when Tokyo hosts the Olympic Games.
In a Feb. 5 news conference, Mayor Daisaku Kadokawa reiterated the city's "extremely unusual request" for the realtor to "build a hotel fit for the image of Kyoto as an international tourist destination."
His request came on top of a letter dated Jan. 20 making a similar plea.
The developer, Hankyu Realty Co., acquired the property in the city's Nakagyo Ward on Dec. 26 last year, the day when Kyoto Kokusai Hotel closed to guests after operating for 53 years.
The Osaka-based property company, known for developing high-end Geo brand condominium buildings, will likely build one on the 7,700 square-meter site, according to industry insiders.
Hankyu Realty has so far not made any commitment to honor the city's request.
"We will consider all possible options, but our plan is up in the air at this stage," a Hankyu Realty official said.
Although Kyoto Kokusai Hotel stands about 40 meters high, city regulations, which took effect in 1995, now limit the height of structures in the neighborhoods of Nijo Castle to up to 15 meters.
The castle's original building, which dates to the early 17th century, was built by the shogun and founder of the Tokugawa Shogunate, Tokugawa Ieyasu (1542-1616). Nijo Castle served as the Tokugawa shogunate's headquarters in Kyoto.
Jan 16
Police and consumer centers across Japan have received more than 1,500 inquiries from people affected by a scandal involving a gala dress kimono retail and rental firm. The total value of contracts drawn up between the firm and the consumers who have consulted with the centers has topped 270 million yen, or nearly 2.5 million dollars.
(NHK)
Jan 16
With the investigation into the rigging of arcade games widening in scale, Osaka Prefectural Police have re-arrested the president of a management company over the alleged fraud of additional persons, reports NHK (Jan. 13).
(tokyoreporter.com)
Jan 16
Japanese confectionery maker Meiji will ramp up its production capacity of health-oriented chocolate.
(NHK)
Jan 15
It was said of the California Gold Rush of the mid-19th century that the ones who made the money were those who sold the shovels. Today's shovel sellers in Tokyo are the service providers, agents and brokers eager to entice clients with tales of gold in the hills.
(Japan Times)
Jan 14
Toshiba Corp. said Friday it has completed the payments of Westinghouse Electric Co.'s debts it guaranteed for the failed U.S. nuclear business subsidiary.
(the-japan-news.com)
Jan 12
A venerable cabaret in the ritzy Ginza district of Chuo Ward closed its doors for the final time on Wednesday in what indeed is the end of an era.
(tokyoreporter.com)
Jan 12
Wild game, such as venison and wild boar meat, is becoming popular in Japan as it is seen as low in calories, high in protein and compatible with wine.
(Jiji)
Jan 11
Details emerged Wednesday about significant debts faced by a kimono rental firm that went bust just before Coming-of-Age Day ceremonies, leaving scores of women celebrating adulthood without their formal attire.
(Japan Times)
Jan 11
Japan's industry ministry decided Wednesday to increase the maximum penalty on companies that violate the law on Japanese Industrial Standards from one million yen to 100 million yen.
(Jiji)
Jan 10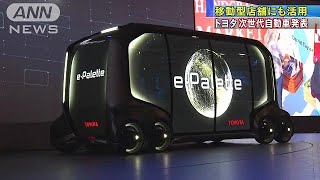 Toyota Motor says it is developing a self-driving electric vehicle to shuttle people between venues at the 2020 Tokyo Olympics and Paralympics.
(NHK)
---