MediaMation, a maker of 4D technology, is partnering with Sony Business Solutions Corporation to try to hook Japan on movie theaters that buck, spray and mist along with the onscreen action.
The company has already brought these immersive theaters to Oxnard, Calif. and countries such as Colombia, Mexico and Oman, but it sees a big opportunity in Japan, the third largest market for film, and has tapped Sony to be their exclusive distributors in the country.
Their first installation will open this April at a branch of Toho Cinemas in Fujimi, with two more theaters set to open in Roppongi Hills and Shinjuku. Toho is Japan's largest theater chain.
"Japanese moviegoers have indicated they like motion seats," said Dan Jamele, the company's vice president and chief technology officer. "It's a good market because it's open to new ideas."
Domestically, 4D remains more an intriguing possibility than a phenomenon. In addition to MediaMation's Oxnard outpost, Regal Cinemas has a 4D theater created by CJ 4DPlex at LA Live. Clearly there's room for growth. However, overseas the theaters have become hot tickets in places like Latin America, South Korea and China.
The idea is to mix in elements of a theme park ride along with Hollywood blockbusters. Seats move, there are blasts of spray, fog fills the air at points, lights flash, and various smells emanate from the chairs themselves or around the theater. The effects are synchronized with what's going on in the movie and are signed off on by the studios behind the films.
Jan 16
Police and consumer centers across Japan have received more than 1,500 inquiries from people affected by a scandal involving a gala dress kimono retail and rental firm. The total value of contracts drawn up between the firm and the consumers who have consulted with the centers has topped 270 million yen, or nearly 2.5 million dollars.
(NHK)
Jan 16
With the investigation into the rigging of arcade games widening in scale, Osaka Prefectural Police have re-arrested the president of a management company over the alleged fraud of additional persons, reports NHK (Jan. 13).
(tokyoreporter.com)
Jan 16
Japanese confectionery maker Meiji will ramp up its production capacity of health-oriented chocolate.
(NHK)
Jan 15
It was said of the California Gold Rush of the mid-19th century that the ones who made the money were those who sold the shovels. Today's shovel sellers in Tokyo are the service providers, agents and brokers eager to entice clients with tales of gold in the hills.
(Japan Times)
Jan 14
Toshiba Corp. said Friday it has completed the payments of Westinghouse Electric Co.'s debts it guaranteed for the failed U.S. nuclear business subsidiary.
(the-japan-news.com)
Jan 12
A venerable cabaret in the ritzy Ginza district of Chuo Ward closed its doors for the final time on Wednesday in what indeed is the end of an era.
(tokyoreporter.com)
Jan 12
Wild game, such as venison and wild boar meat, is becoming popular in Japan as it is seen as low in calories, high in protein and compatible with wine.
(Jiji)
Jan 11
Details emerged Wednesday about significant debts faced by a kimono rental firm that went bust just before Coming-of-Age Day ceremonies, leaving scores of women celebrating adulthood without their formal attire.
(Japan Times)
Jan 11
Japan's industry ministry decided Wednesday to increase the maximum penalty on companies that violate the law on Japanese Industrial Standards from one million yen to 100 million yen.
(Jiji)
Jan 10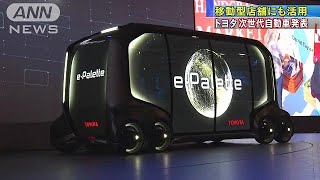 Toyota Motor says it is developing a self-driving electric vehicle to shuttle people between venues at the 2020 Tokyo Olympics and Paralympics.
(NHK)
---