Japan has no shortage of U.S.-style fast-food restaurants, from burgers to pizza, but something that hasn't been on the menu is burritos and quesadillas. That is about to change, however, as Irvine, Calif.-based Taco Bell is planning to set up shop in the land of sushi and sashimi.
Restaurant chain operator Asrapport Dining Co. said Thursday in a statement it has signed a franchise agreement with the wholly owned unit of Yum! Brands Inc. to open Taco Bell restaurants. It didn't say when the restaurants would open or how many there would be.
The only Taco Bells currently operating in Japan are located on restricted U.S. military bases.
Asrapport, which operates yakiniku (grilled meat) restaurants in Japan, said the move would help it expand its brand portfolio and introduce a new category of fast food into a market where it would meet great demand.
Foreign restaurant chains, such as McDonald's , Krispy Kreme and Subway, are already all well-established in Japan, with still others wanting to get in.
Earlier this month, the New York-based "fast casual" restaurant Shake Shack , known for its burgers and "crinkle-cut" fries, said it would open several restaurants Japan.
Both Burger King and Wendy's pulled out several years ago, only to return more recently. Burger King garnered significant attention in the past couple of years with its all-black hamburger offerings.
Jan 16
Police and consumer centers across Japan have received more than 1,500 inquiries from people affected by a scandal involving a gala dress kimono retail and rental firm. The total value of contracts drawn up between the firm and the consumers who have consulted with the centers has topped 270 million yen, or nearly 2.5 million dollars.
(NHK)
Jan 16
With the investigation into the rigging of arcade games widening in scale, Osaka Prefectural Police have re-arrested the president of a management company over the alleged fraud of additional persons, reports NHK (Jan. 13).
(tokyoreporter.com)
Jan 16
Japanese confectionery maker Meiji will ramp up its production capacity of health-oriented chocolate.
(NHK)
Jan 15
It was said of the California Gold Rush of the mid-19th century that the ones who made the money were those who sold the shovels. Today's shovel sellers in Tokyo are the service providers, agents and brokers eager to entice clients with tales of gold in the hills.
(Japan Times)
Jan 14
Toshiba Corp. said Friday it has completed the payments of Westinghouse Electric Co.'s debts it guaranteed for the failed U.S. nuclear business subsidiary.
(the-japan-news.com)
Jan 12
A venerable cabaret in the ritzy Ginza district of Chuo Ward closed its doors for the final time on Wednesday in what indeed is the end of an era.
(tokyoreporter.com)
Jan 12
Wild game, such as venison and wild boar meat, is becoming popular in Japan as it is seen as low in calories, high in protein and compatible with wine.
(Jiji)
Jan 11
Details emerged Wednesday about significant debts faced by a kimono rental firm that went bust just before Coming-of-Age Day ceremonies, leaving scores of women celebrating adulthood without their formal attire.
(Japan Times)
Jan 11
Japan's industry ministry decided Wednesday to increase the maximum penalty on companies that violate the law on Japanese Industrial Standards from one million yen to 100 million yen.
(Jiji)
Jan 10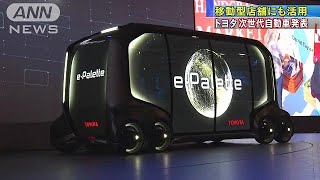 Toyota Motor says it is developing a self-driving electric vehicle to shuttle people between venues at the 2020 Tokyo Olympics and Paralympics.
(NHK)
---