Health authorities ordered the Japanese unit of Novartis AG to shut down most operations for 15 days in March, saying the drug maker failed to report side effects from its products in a timely fashion.
The order by Japan's Ministry of Health, Labor and Welfare, issued Friday, said Novartis Japan must halt production and sale of its drugs from March 5 to March 19. Five drugs were excluded from the order because of the potential harm to patients if supplies fell short.
The ministry said Novartis Japan failed to report 3,264 cases of side effects involving 26 drugs within the period required by law. It said the case was the first time the ministry had issued a suspension over failure to report side effects.
Novartis Japan said it accepted the punishment. It apologized to patients and doctors for "causing trouble and worry." The company said that after reviewing the side-effect reports, it didn't find any that would necessitate changing safety information on drug labels.
大手製薬会社「ノバルティスファーマ」が薬の重い副作用情報を国に報告していなかった­問題で、厚生労働省は27日、ノバルティス社に対し、15日間の業務停止命令を出しま­した。
Jan 16
Police and consumer centers across Japan have received more than 1,500 inquiries from people affected by a scandal involving a gala dress kimono retail and rental firm. The total value of contracts drawn up between the firm and the consumers who have consulted with the centers has topped 270 million yen, or nearly 2.5 million dollars.
(NHK)
Jan 16
With the investigation into the rigging of arcade games widening in scale, Osaka Prefectural Police have re-arrested the president of a management company over the alleged fraud of additional persons, reports NHK (Jan. 13).
(tokyoreporter.com)
Jan 16
Japanese confectionery maker Meiji will ramp up its production capacity of health-oriented chocolate.
(NHK)
Jan 15
It was said of the California Gold Rush of the mid-19th century that the ones who made the money were those who sold the shovels. Today's shovel sellers in Tokyo are the service providers, agents and brokers eager to entice clients with tales of gold in the hills.
(Japan Times)
Jan 14
Toshiba Corp. said Friday it has completed the payments of Westinghouse Electric Co.'s debts it guaranteed for the failed U.S. nuclear business subsidiary.
(the-japan-news.com)
Jan 12
A venerable cabaret in the ritzy Ginza district of Chuo Ward closed its doors for the final time on Wednesday in what indeed is the end of an era.
(tokyoreporter.com)
Jan 12
Wild game, such as venison and wild boar meat, is becoming popular in Japan as it is seen as low in calories, high in protein and compatible with wine.
(Jiji)
Jan 11
Details emerged Wednesday about significant debts faced by a kimono rental firm that went bust just before Coming-of-Age Day ceremonies, leaving scores of women celebrating adulthood without their formal attire.
(Japan Times)
Jan 11
Japan's industry ministry decided Wednesday to increase the maximum penalty on companies that violate the law on Japanese Industrial Standards from one million yen to 100 million yen.
(Jiji)
Jan 10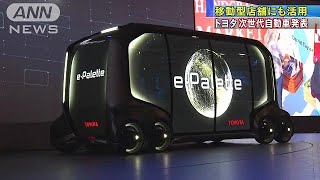 Toyota Motor says it is developing a self-driving electric vehicle to shuttle people between venues at the 2020 Tokyo Olympics and Paralympics.
(NHK)
---