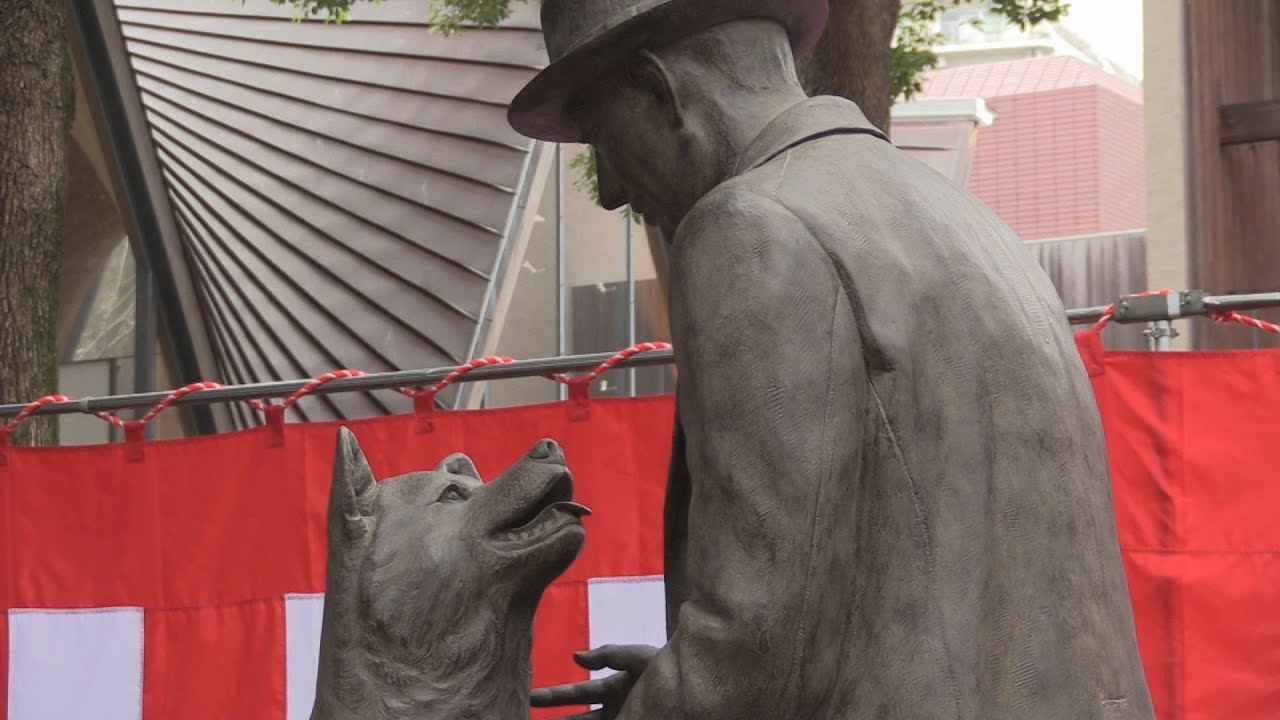 A new statue that depicts the faithful dog Hachiko being reunited with his owner has been unveiled at the University of Tokyo's Faculty of Agriculture in Bunkyo Ward, Tokyo.
The statue re-creates the scene of a joyful Hachiko leaping to greet his owner, Hidesaburo Ueno (1871-1925), a pioneer of Japan's irrigation engineering and rural planning.
Ueno was a professor in the agricultural department at the then Imperial University of Tokyo, now the University of Tokyo. About three years ago, volunteers - including Todai professors studying the relationship between people and animals - started collecting donations to erect the statue.
主人の死後、渋谷駅で10年間もその帰りを待ち続けたという忠犬ハチ公の新たな像が8­日、東大農学部(東京都文京区)のキャンパス内にお目見えした。飼い主だった上野英三­郎・東京帝国大農学部教授に飛びつく場面を再現したもので、関係者は「大好きな教授に­やっと会えて、うれしそうな表情だ」と目を細めた。
Jan 17
Following the release of its first edition in 1955, publisher Iwanami Shoten's Kojien has become one of the most respected and widely used dictionaries in Japan. Since 1998, the tome has been on a 10-year update cycle, and so last week's release of Kojien's seventh edition was a big deal not just for linguists, but for Japanese society in general.
(rocketnews24.com)
Jan 16
Twenty-two foreign trainees died in work-related incidents in the three years from fiscal 2014, government data showed Sunday, indicating people brought to Japan to work may face dangerous or exploitative conditions.
(Japan Today)
Jan 15
The annual unified college entrance examinations began Saturday as many parts of the country saw their coldest winter day so far cause traffic jams and force several schools to postpone the pivotal tests.
(Japan Times)
Jan 14
Students and graduates of high schools across Japan are sitting the annual unified college and university entrance examinations.
(NHK)
Jan 11
The Kosho Hajime new year lecture event, in which leading experts from the academic community deliver lectures to Emperor Akihito and Empress Michiko, was held at the Imperial Palace in Tokyo on Wednesday.
(Japan Times)
Jan 09
Dazzling in colourful kimonos and wafting clouds of hairspray in their wake, thousands of young Japanese women marked their entry into adulthood today - before hitting bars and clubs to celebrate.
(dailymail.co.uk)
Jan 09
Taiyo Middle School, located in the Kanagawa Prefecture city of Hiratsuka, is celebrating the 71st anniversary of its founding this year. To mark the occasion, the school is introducing new uniforms for students enrolling in April, when the 2018 school year begins.
(rocketnews24.com)
Jan 08
The Japanese government plans to conduct in fiscal 2018 its first nationwide survey on middle-agers who are shutting themselves in their homes.
(Jiji)
Jan 08
Japanese women who work for social change out of the public eye often go unrecognized, but a new award aims to change that by honoring unsung heroes who effect grassroots reform in their communities.
(Kyodo)
Jan 05
"Scientist and scholar" clinched the top spot in an annual survey on most popular jobs among Japanese boys for the first time in 15 years, following recent Nobel Prize awards to Japanese scientists, a life insurer said Thursday.
(Japan Today)
---