The foreign ministers of South Korea and Japan on Monday reached a deal meant to resolve a decades-long impasse over Korean women forced into Japanese military-run brothels during World War II, an important breakthrough for the Northeast Asian powers.
The deal, which included an apology from Japanese Prime Minister Shinzo Abe and a 1 billion yen aid fund from Tokyo for the elderly former sex slaves, could reverse decades of animosity and mistrust between the thriving democracies, trade partners and staunch U.S. allies.
"This marks the beginning of a new era of Japan-South Korea ties," Japanese Foreign Minister Fumio Kishida told reporters at a news conference. Abe, he said, apologizes "from his heart" to the women for their pain and for "scars that are difficult to heal physically and mentally."
The issue of former Korean sex slaves, euphemistically known as "comfort women," has been the biggest recent source of friction between Seoul and Tokyo, especially since the hawkish Abe's 2012 inauguration.
Japan appeared emboldened to make the overture after the first formal leaders' meeting between the neighbors in 3 ½ years, in November, and after South Korean courts recently acquitted a Japanese reporter charged with defaming South Korea's president and refused to review a complaint by a South Korean seeking individual compensation for Japan's forceful mobilization of workers during colonial days.
Many South Koreans feel lingering bitterness over Japan's brutal colonial occupation of the Korean Peninsula from 1910-1945. But South Korean officials have also faced calls to improve ties with Japan, the world's No. 3 economy and a regional powerhouse, not least from U.S. officials eager for a strong united front against a rising China and North Korea's pursuit of nuclear-armed missiles that could target the American mainland.
日本と韓国の間で最大の懸案になっている慰安婦問題の決着を目指し、年の瀬に急きょ、­行われた外相会談が28日午後に終わりました。日韓双方が歩み寄る形で明確な進展があ­りました。
Nov 24
Osaka City, western Japan, is to cut its sister city ties with San Francisco, following the US city's decision to accept the donation of a statue symbolizing those referred to as comfort women.
(NHK)
Nov 24
Mobile carrier KDDI Corp. will wholly acquire Aeon Corp., the nation's second-largest English conversation school operator, in January in a step to expand its business into the education field.
(Japan Times)
Nov 23
Tokyo Metropolitan Police have arrested a 39-year-old man for molesting a woman inside a carriage of the JR Saikyo Line last year, reports Nippon News Network.
(tokyoreporter.com)
Nov 23
The Japanese Olympic Committee and city of Sapporo announced Wednesday they will enter a dialogue process over a potential bid to host the 2026 Winter Olympics.
(Japan Today)
Nov 23
Tokyo Metropolitan Police are searching have arrested eight persons, including an organized crime member, in the robbery of gold valued at nearly 100 million yen from a shop in Taito Ward earlier this year, reports NHK
(tokyoreporter.com)
Nov 23
A team of Japanese researchers has found a new drug combination that reduces amyloid beta protein, believed to play a key role in causing Alzheimer's disease, by using stem cells derived from patients, Kyoto University announced Tuesday.
(Japan Times)
Nov 23
The Yokohama family court granted a request by a daughter of Aum Shinrikyo cult founder Shoko Asahara to nullify her parents' right to inherit her property in the event of her death.
(Japan Times)
Nov 23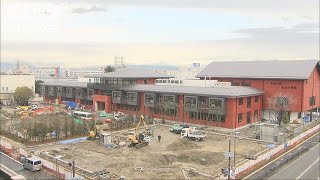 The government sold land in Osaka to school operator Moritomo Gakuen for a highly discounted price based on faulty data estimating the cost of removing industrial waste left in the plot, a government watchdog on spending concluded in a much-awaited report released Wednesday.
(Japan Times)
Nov 22
The Imperial Household Agency said Wednesday the wedding ceremony of Princess Mako, the eldest granddaughter of Emperor Akihito, and her classmate from university days Kei Komuro will be held on Nov 4 next year.
(Japan Today)
Nov 22
Subaru Corp. will introduce a series of all-electric cars in Japan as early as 2021, sources said, as competition intensifies between automakers looking to develop eco-friendly cars in response to stricter global emissions regulations.
(Japan Times)
---