Tokyo Metropolitan Police arrested a 24-year-old male company employee for smearing his own excrement on a girl in Mitaka City, reports TV Asahi (Dec. 27).
On December 5 at 9:45 p.m., Kenta Nagahama used a bicycle to come up from behind the girl, aged in her late teens, at an intersection and rub feces into her mouth with both of his hands.
Nagahama, who has been charged with assault, admits to the allegations, telling police that the excrement was indeed his own.
Approximately 40 minutes after the incident, the suspect came up from behind another girl and embraced her. This case took place on a road about 1.4 kilometers away from the first attack.
東京三鷹市の交差点で、女性の顔に汚物を擦りつけたとして、警視庁三鷹署は12月27­日、暴行の疑いで自称会社員の男(24)逮捕した。
Nov 24
Osaka City, western Japan, is to cut its sister city ties with San Francisco, following the US city's decision to accept the donation of a statue symbolizing those referred to as comfort women.
(NHK)
Nov 24
Mobile carrier KDDI Corp. will wholly acquire Aeon Corp., the nation's second-largest English conversation school operator, in January in a step to expand its business into the education field.
(Japan Times)
Nov 23
Tokyo Metropolitan Police have arrested a 39-year-old man for molesting a woman inside a carriage of the JR Saikyo Line last year, reports Nippon News Network.
(tokyoreporter.com)
Nov 23
The Japanese Olympic Committee and city of Sapporo announced Wednesday they will enter a dialogue process over a potential bid to host the 2026 Winter Olympics.
(Japan Today)
Nov 23
Tokyo Metropolitan Police are searching have arrested eight persons, including an organized crime member, in the robbery of gold valued at nearly 100 million yen from a shop in Taito Ward earlier this year, reports NHK
(tokyoreporter.com)
Nov 23
A team of Japanese researchers has found a new drug combination that reduces amyloid beta protein, believed to play a key role in causing Alzheimer's disease, by using stem cells derived from patients, Kyoto University announced Tuesday.
(Japan Times)
Nov 23
The Yokohama family court granted a request by a daughter of Aum Shinrikyo cult founder Shoko Asahara to nullify her parents' right to inherit her property in the event of her death.
(Japan Times)
Nov 23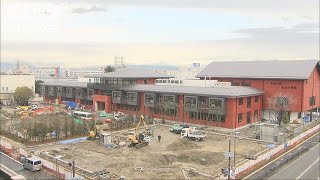 The government sold land in Osaka to school operator Moritomo Gakuen for a highly discounted price based on faulty data estimating the cost of removing industrial waste left in the plot, a government watchdog on spending concluded in a much-awaited report released Wednesday.
(Japan Times)
Nov 22
The Imperial Household Agency said Wednesday the wedding ceremony of Princess Mako, the eldest granddaughter of Emperor Akihito, and her classmate from university days Kei Komuro will be held on Nov 4 next year.
(Japan Today)
Nov 22
Subaru Corp. will introduce a series of all-electric cars in Japan as early as 2021, sources said, as competition intensifies between automakers looking to develop eco-friendly cars in response to stricter global emissions regulations.
(Japan Times)
---