Police in Yokohama said Monday they have arrested a 42-year-old man on suspicion of attempting to murder his 6-year-old son.
Shunsuke Okudera, an office employee, is suspected of attempting to strangle his son to death at their home at around 11 p.m. on Sunday, Fuji TV reported.
Okudera's mother, who lives with them, called 110 reporting her grandson had been strangled by her son. When police arrived at the residence, the son was lying on the floor in the living room. Okudera admitted to the charge and was arrested at the scene.
Police said the boy is in a coma.
横浜市の住宅で、6歳の長男の首を絞めて殺害しようとしたとして42歳の父親が現行犯­逮捕されました。長男は意識不明の重体です。 27日午後11時ごろ、横浜市港北区の住宅で、女性から「息子が孫の首を絞めた」と1­10番通報がありました。
Nov 24
Osaka City, western Japan, is to cut its sister city ties with San Francisco, following the US city's decision to accept the donation of a statue symbolizing those referred to as comfort women.
(NHK)
Nov 24
Mobile carrier KDDI Corp. will wholly acquire Aeon Corp., the nation's second-largest English conversation school operator, in January in a step to expand its business into the education field.
(Japan Times)
Nov 23
Tokyo Metropolitan Police have arrested a 39-year-old man for molesting a woman inside a carriage of the JR Saikyo Line last year, reports Nippon News Network.
(tokyoreporter.com)
Nov 23
The Japanese Olympic Committee and city of Sapporo announced Wednesday they will enter a dialogue process over a potential bid to host the 2026 Winter Olympics.
(Japan Today)
Nov 23
Tokyo Metropolitan Police are searching have arrested eight persons, including an organized crime member, in the robbery of gold valued at nearly 100 million yen from a shop in Taito Ward earlier this year, reports NHK
(tokyoreporter.com)
Nov 23
A team of Japanese researchers has found a new drug combination that reduces amyloid beta protein, believed to play a key role in causing Alzheimer's disease, by using stem cells derived from patients, Kyoto University announced Tuesday.
(Japan Times)
Nov 23
The Yokohama family court granted a request by a daughter of Aum Shinrikyo cult founder Shoko Asahara to nullify her parents' right to inherit her property in the event of her death.
(Japan Times)
Nov 23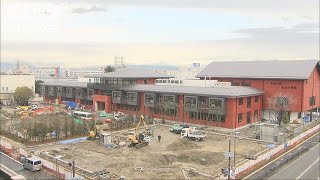 The government sold land in Osaka to school operator Moritomo Gakuen for a highly discounted price based on faulty data estimating the cost of removing industrial waste left in the plot, a government watchdog on spending concluded in a much-awaited report released Wednesday.
(Japan Times)
Nov 22
The Imperial Household Agency said Wednesday the wedding ceremony of Princess Mako, the eldest granddaughter of Emperor Akihito, and her classmate from university days Kei Komuro will be held on Nov 4 next year.
(Japan Today)
Nov 22
Subaru Corp. will introduce a series of all-electric cars in Japan as early as 2021, sources said, as competition intensifies between automakers looking to develop eco-friendly cars in response to stricter global emissions regulations.
(Japan Times)
---