For Mohammed, the perils of staying in Damascus crystalized when a sniper's bullet whizzed past his head while he and his cousins were on his rooftop, watching the Syrian air force bomb rebel forces.
The same roof where Mohammed and his lifelong friend Jamal used to sit in a tent and play video games. Now, instead of studying for a law degree, Mohammed is working as a fitness instructor in Tokyo, trying to squeeze in some language study and hoping that like Jamal, he'll beat the odds and win official status as a refugee in Japan.
The odds aren't good.
Out of the 7,533 people who applied for refugee status in 2014, or appealed earlier refusals, only 11 were approved. That includes Jamal, his mother and sister, whose approvals came after a year-and-a-half wait.
For most, the approval never comes: In the past five years, the proportion of applicants granted refugee status in Japan has dropped to below 1 percent - in 2014 it was just 0.2 percent. In contrast, Germany has accepted nearly 40,000 Syrian asylum-seekers since 2013, while the U.S. has pledged to accept 10,000 Syrian refugees and has resettled 2,234 since 2010.
Japan's hands-off response to the global refugee crisis, despite its generous humanitarian aid, reflects deep unease over allowing in outsiders given the insular customs of this island nation. Despite growing concerns over a shrinking labor force, the government has so far resisted calls to open the door wider, both for humanitarian and economic reasons.
Immigration officials say they suspect many applicants of being job seekers, not true refugees fleeing persecution or conflict.
Feb 23
Aomori Prefectural Police have arrested an 18-year-old girl for allegedly killing her 2-year-old son at a residence in Mutsu City on Tuesday, reports the Yomiuri Shimbun
(tokyoreporter.com)
Feb 23
Tokyo Metropolitan Police have arrested a 21-year-old Korean national for the alleged possession of marijuana after a pursuit ended in an accident in Shibuya Ward early Wednesday, reports TV Asahi.
(tokyoreporter.com)
Feb 23
Prosecutors have announced the non-prosecution of a male socialite over the alleged threats of a partner in a sex business last year, reports TV Asahi
(tokyoreporter.com)
Feb 23
Osaka Prefectural Police have raided four so-called 'girl's bar' establishments in Osaka for licensing violations that are believed to have employed minors, reports TV Asahi.
(tokyoreporter.com)
Feb 22
A 62-year-old woman has been arrested on suspicion of animal abuse after keeping 23 cats in unsanitary conditions at her apartment in Kawasaki City, Kanagawa Prefecture.
(Japan Today)
Feb 22
Investigative sources revealed on Tuesday that a 25-year-old man who was shot and wounded by an officer in Miyakojima Ward over the weekend while wielding a knife was actually in possession of two knives, reports NHK
(tokyoreporter.com)
Feb 21
Seven South Korean women attempted to smuggle gold into Japan late last month by concealing it in their rectums, officials from Aichi Prefecture's Chubu Airport said Tuesday.
(Japan Times)
Feb 21
In a ruling handed down Tuesday on a high-profile surrogacy case involving a 28-year-old Japanese man, a Thai juvenile and family court accepted his claim for custody of 13 children whom he had through surrogacy in the Southeast Asian country.
(Jiji)
Feb 21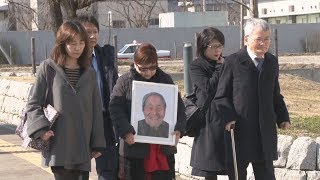 A Japanese court has ordered Tokyo Electric Power Company to pay about 142,000 dollars in damages to the family of an elderly man who killed himself amid an evacuation order during the 2011 Fukushima nuclear crisis.
(NHK)
Feb 21
Gangsters seeking to leave organized crime groups --- but who are in dire financial straits --- could soon get free accommodation and help with transportation costs in Fukuoka Prefecture under a unique program aimed at promoting integration back into society and in turn weakening the underworld syndicates.
(Japan Times)
---