Spending more money on public schools has long been the conventional way to try to improve student performance. Countries that allocate less than the average OECD expenditure expressed as a percentage of their gross domestic product are criticized for shortchanging students. But Japan and the United States illustrate that the preoccupation with spending is a distraction from a more fundamental issue.
Japan spends only 3.5 percent of its gross domestic product on education, which is below the OECD average of 4.7 percent. As a result, it has the third-largest class size, pays teacher salaries that have not kept up with inflation between 2008 and 2013, and provides 20 days of training for high school teachers compared with 70 to 120 days in half of other OECD countries. Early childhood education also suffers, with only 30 percent of children in publicly funded schools. That compares with the OECD average of 68.4 percent.
Yet despite these factors, Japanese students continue to excel on tests compared with their peers in other nations. For example, on the 2012 Program for International Student Assessment, Japanese students ranked second in math and first in reading and science. Moreover, students distinguished themselves in problem-solving skills, which are considered indispensable for success in the global economy.
If educational spending is indeed the key to student performance, how do we explain these results?
The situation in the U.S. is the flip side of the coin. The U.S. spent $12,608 per student in 2010 - more than double in inflation-adjusted dollars than it spent in 1970. That puts the U.S. on a par with the OECD average expressed as a percentage of gross domestic product. Yet despite these increases in funding, its students performed below average in math on the 2012 Program for International Student Assessment, and about average in reading and science. Moreover, its adjusted state SAT scores showed little improvement since the 1970s.
Nov 24
Osaka City, western Japan, is to cut its sister city ties with San Francisco, following the US city's decision to accept the donation of a statue symbolizing those referred to as comfort women.
(NHK)
Nov 24
Mobile carrier KDDI Corp. will wholly acquire Aeon Corp., the nation's second-largest English conversation school operator, in January in a step to expand its business into the education field.
(Japan Times)
Nov 23
Tokyo Metropolitan Police have arrested a 39-year-old man for molesting a woman inside a carriage of the JR Saikyo Line last year, reports Nippon News Network.
(tokyoreporter.com)
Nov 23
The Japanese Olympic Committee and city of Sapporo announced Wednesday they will enter a dialogue process over a potential bid to host the 2026 Winter Olympics.
(Japan Today)
Nov 23
Tokyo Metropolitan Police are searching have arrested eight persons, including an organized crime member, in the robbery of gold valued at nearly 100 million yen from a shop in Taito Ward earlier this year, reports NHK
(tokyoreporter.com)
Nov 23
A team of Japanese researchers has found a new drug combination that reduces amyloid beta protein, believed to play a key role in causing Alzheimer's disease, by using stem cells derived from patients, Kyoto University announced Tuesday.
(Japan Times)
Nov 23
The Yokohama family court granted a request by a daughter of Aum Shinrikyo cult founder Shoko Asahara to nullify her parents' right to inherit her property in the event of her death.
(Japan Times)
Nov 23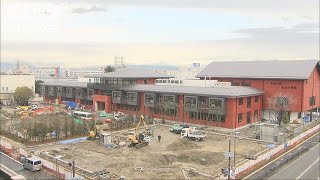 The government sold land in Osaka to school operator Moritomo Gakuen for a highly discounted price based on faulty data estimating the cost of removing industrial waste left in the plot, a government watchdog on spending concluded in a much-awaited report released Wednesday.
(Japan Times)
Nov 22
The Imperial Household Agency said Wednesday the wedding ceremony of Princess Mako, the eldest granddaughter of Emperor Akihito, and her classmate from university days Kei Komuro will be held on Nov 4 next year.
(Japan Today)
Nov 22
Subaru Corp. will introduce a series of all-electric cars in Japan as early as 2021, sources said, as competition intensifies between automakers looking to develop eco-friendly cars in response to stricter global emissions regulations.
(Japan Times)
---