There has been a lot of discussion recently about allowing more foreign workers into Japan to make up for severe labor shortages in some fields. As of the end of 2014, the labor ministry estimated there were 790,000 foreign nationals working in Japan legally, which is more than the number of national civil servants (640,000).
However, the Japan Civil Liberties Union believes that many employers don't report the number of foreign workers they use, so the number could be more than 1 million if you go by Ministry of Justice statistics about immigration. A question that is rarely asked, however, is what sort of conditions and wages can foreign workers expect if more were permitted to immigrate?
Officially, the government has said that before it accepts foreign labor it needs to maximize the use of the current potential Japanese workforce, then it will decide which kind of foreign labor is best for boosting the domestic economy. The most favored demographic is foreign workers with good education and needed skills. However, it's likely that such people are just as valued, if not more so, in their native countries, so it seems unlikely they would go out of their way to seek employment in Japan. After that, the government says it will bring in workers as caregivers for the aging population. The main question about these workers is: How long will they be permitted to stay, and will they be allowed to bring dependents or family members?
The principal sticking point is manual laborers who will do the work that Japanese people don't appear to want to do. At the moment, the only non-Japanese who take on this sort of work legally are those who are already allowed to be in Japan for other reasons, as well as so-called trainees, who are supposed to be here to learn a skill they can take back to their respective countries. However, it's generally assumed that they are here mainly to fill manual labor positions in factories or on farms, and for pay that is below the minimum wage. As part of its business growth strategy, the government is now considering extending trainee visas from three to five years.
But even non-Japanese who are legal immigrants and can work freely are often taken advantage of by the system.
Nov 19
Police in Tokyo on Saturday arrested an unemployed 42-year-old man of no fixed address on suspicion of killing a 61-year-old homeless man on a riverbank in Katsushika Ward.
(Japan Today)
Nov 19
A man died Saturday after falling off a cliff while competing in a trail running race in Saitama Prefecture, police said.
(Japan Times)
Nov 19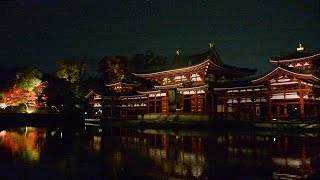 The Phoenix Hall of Byodoin temple, a UNESCO World Heritage site in Uji, Kyoto Prefecture, glows at night during a trial illumination on Friday.
(the-japan-news.com)
Nov 19
Despite their magical reputation, shooting stars are just pieces of space debris from millimeters to a few centimeters thick that fly into Earth's atmosphere and brightly burn up into nothing.
(rocketnews24.com)
Nov 19
Chiba Prefectural Police have arrested a 33-year-old man for allegedly selling cash above face value using marketplace app Mercari and collecting interest exceeding the legal interest rate, reports TV Asahi
(tokyoreporter.com)
Nov 18
Japan's national broadcaster NHK has unveiled this year's lineup for its annual New Year's Eve music show "Kohaku Uta Gassen" (Red and White Song Battle), featuring 10 new groups and singers.
(Japan Today)
Nov 18
Yokozuna Grand Champion Harumafuji has reportedly told police that he hit a lower-ranked wrestler with his bare hands, not with a beer bottle as was reported.
(NHK)
Nov 18
An apology by a Japanese railroad operator for a train's early departure has attracted the attention of foreign media.
(NHK)
Nov 18
The overall number of crimes committed in Japan continued to drop in 2016, falling below the 1 million mark for the first time in the postwar era, according to the annual White Paper on Crime released Friday by the Justice Ministry.
(Japan Times)
Nov 18
After beginning service in Japan in 2011, Naver Corporation's Line messaging app quickly become one of the most popular ways to stay connected to personal acquaintances.
(Japan Today)
---