The Great Buddha of Kamakura is undergoing its first major "health checkup" in more than half a century.
Trucks carrying the necessary equipment arrived at Kotokuin temple early Jan. 13 to begin the two-month-long procedure on the massive bronze statue.
The 200 yen ($1.70) admission fee to the temple will be waived until March 10 while the 13.3-meter-tall statue is being examined and treated. During this period, it will be surrounded by scaffolding and covered in a translucent sheet. That means visitors will not be able to step inside the 121-ton statue.
The last time the statue believed to have been erected in the 13th century underwent such a major checkup was in 1959, and it took two and a half years to complete.
Officials said 65 million yen has been set aside for the National Research Institute for Cultural Properties, Tokyo to carry out the work.
As the colossal Buddha is a designated national treasure, the organization plans to be extra careful every step of the way. Technicians will use X-rays to determine the state of the statue and an ultrasonic scalpel to remove rust. Pigeon droppings and other stains will be removed by blasting them with water.
観光名所として知られる神奈川県鎌倉市の大仏が、清掃作業のため、13日から2か月間­にわたって拝観できなくなるのを前に、11日、作業の無事を祈願する法要が行われ&q­uot; 国宝に指定されている鎌倉の大仏は、1252年に鋳造された青銅製の仏像で、風雨にさ­らされて汚れやさびが目立つため、13日から2か月間、傷み具合を調べる調査や清掃作­業が行われ、この間の拝観ができなくなります。 これを前に、大仏がある寺の高徳院では11日、大勢の参拝者が見守るなか、法要が行わ­れ、関係者が作業の無事を祈願しました。
Nov 19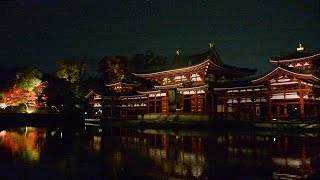 The Phoenix Hall of Byodoin temple, a UNESCO World Heritage site in Uji, Kyoto Prefecture, glows at night during a trial illumination on Friday.
(the-japan-news.com)
Nov 17
Osaka Governor Ichiro Matsui sought support for the western Japan prefecture's bid to host the 2025 World Exposition at a general meeting of the Bureau International des Expositions in Paris on Wednesday.
(Jiji)
Nov 17
Japanese regional carrier Air Do becomes the latest airline struck by the global shortage of pilots, saying Thursday it has canceled 26 flights scheduled for February after already grounding 34 trips this month.
(Nikkei)
Nov 17
The government plans to actively promote stays at farming villages geared toward foreign tourists. Supportive measures to begin next fiscal year will include sponsoring skilled chefs to hold cooking classes at women's clubs to enhance local cuisine, and other steps to attract foreigners interested Japanese food and culture.
(the-japan-news.com)
Nov 16
Colorful autumn leaves are in their prime at a park in Saitama Prefecture, north of Tokyo, drawing many visitors.
(NHK)
Nov 16
The Imperial Household Agency said Wednesday that it will open Inui Street, running through the Imperial Palace in central Tokyo, to the public on Dec. 2-10.
(Jiji)
Nov 15
The first public exhibition of a giant panda cub born at a Tokyo zoo in 29 years will begin next month, with large numbers of visitors expected.
(Japan Today)
Nov 13
Of all the things there are to see and do in a foreign city, it's fair to say a visit to the local garbage incinerator is not usually one of them. But a garbage facility in the Japanese city of Osaka has become a major tourist attraction --- for all the wrong reasons.
(cairnspost.com.au)
Nov 13
The Ritz-Carlton, Osaka's French restaurant La Baie and The Ritz-Carlton Kyoto's Japanese restaurant Tempura Mizuki have both been awarded one Michelin star in the Michelin Guide to Kyoto and Osaka 2018.
(Japan Today)
Nov 12
Airports around the world have found an unconventional, eco-friendly way to take advantage of all the unused open space around their runways and buildings: hosting beehives.
(Japan Times)
---