The Geospatial Information Authority of Japan (GSI) has decided to design new map symbols that are easier for foreigners to understand in preparation for the 2020 Tokyo Olympic and Paralympic Games.
GSI will design symbols for 18 facilities that are frequented by tourists or that can serve as key sites during emergencies. These include hotels, convenience stores, police stations and hospitals. The symbols are expected to be used on maps targeting foreigners such as in guidebooks and mapping applications for smartphones. The organization will hear public comments until February before officially deciding on the designs.
An expert panel passed out questionnaires to about 1,000 people to garner opinions. Respondents included visitors to the Sensoji temple in the Asakusa district of Tokyo, embassy officials living in Tokyo and foreign students. Based on the survey, GSI created rough designs for the symbols.
To increase the designs' clarity to foreign visitors, GSI decided to follow two rules: The new symbols should correspond to existing pictograms on information boards and signs found in cities, and remain visible on maps even at the small size of about 3 millimeters.
Nov 19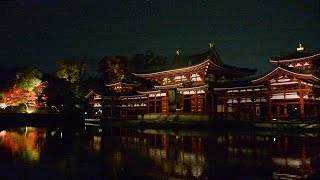 The Phoenix Hall of Byodoin temple, a UNESCO World Heritage site in Uji, Kyoto Prefecture, glows at night during a trial illumination on Friday.
(the-japan-news.com)
Nov 17
Osaka Governor Ichiro Matsui sought support for the western Japan prefecture's bid to host the 2025 World Exposition at a general meeting of the Bureau International des Expositions in Paris on Wednesday.
(Jiji)
Nov 17
Japanese regional carrier Air Do becomes the latest airline struck by the global shortage of pilots, saying Thursday it has canceled 26 flights scheduled for February after already grounding 34 trips this month.
(Nikkei)
Nov 17
The government plans to actively promote stays at farming villages geared toward foreign tourists. Supportive measures to begin next fiscal year will include sponsoring skilled chefs to hold cooking classes at women's clubs to enhance local cuisine, and other steps to attract foreigners interested Japanese food and culture.
(the-japan-news.com)
Nov 16
Colorful autumn leaves are in their prime at a park in Saitama Prefecture, north of Tokyo, drawing many visitors.
(NHK)
Nov 16
The Imperial Household Agency said Wednesday that it will open Inui Street, running through the Imperial Palace in central Tokyo, to the public on Dec. 2-10.
(Jiji)
Nov 15
The first public exhibition of a giant panda cub born at a Tokyo zoo in 29 years will begin next month, with large numbers of visitors expected.
(Japan Today)
Nov 13
Of all the things there are to see and do in a foreign city, it's fair to say a visit to the local garbage incinerator is not usually one of them. But a garbage facility in the Japanese city of Osaka has become a major tourist attraction --- for all the wrong reasons.
(cairnspost.com.au)
Nov 13
The Ritz-Carlton, Osaka's French restaurant La Baie and The Ritz-Carlton Kyoto's Japanese restaurant Tempura Mizuki have both been awarded one Michelin star in the Michelin Guide to Kyoto and Osaka 2018.
(Japan Today)
Nov 12
Airports around the world have found an unconventional, eco-friendly way to take advantage of all the unused open space around their runways and buildings: hosting beehives.
(Japan Times)
---