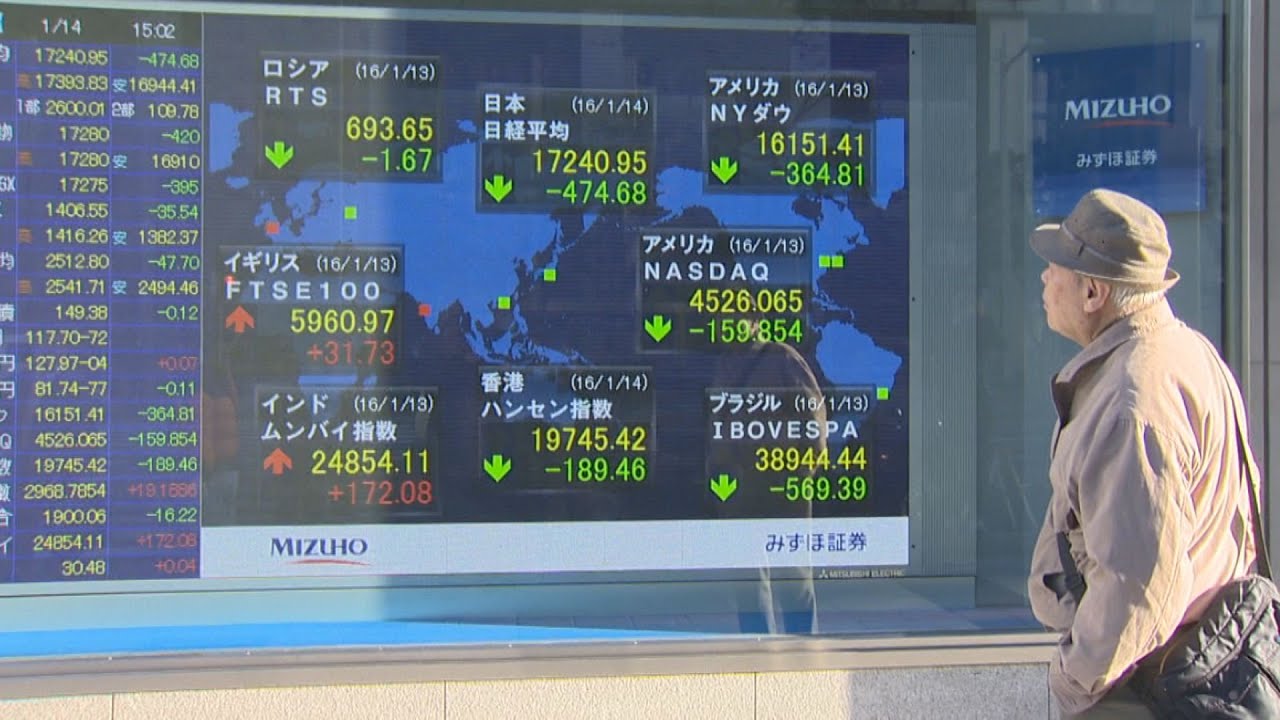 Foreign investors sold more shares than they bought in the Tokyo market last week, triggering 5 consecutive days of decline in the key stock index.
The Nikkei average tumbled from the year's opening on January 4th on concerns over the Chinese economy and falling crude futures. This was the first time in postwar history for the Nikkei to fall for the first 5 trading days of a year.
Officials at the Tokyo Stock Exchange say sales of shares by overseas investors topped purchases by 447.1 billion yen, or about 3.8 billion dollars, last week.
That's a scale not seen since September of last year, when share prices continued to fall on concerns over the Chinese economy.
It was the first time in 2 weeks that overseas investors sold more than they bought.
#nikkei Tweets
Jul 21
Japan has expanded the list of standardized pictograms used in signboards and posts as part of an effort to better serve foreign visitors in the run-up to the 2020 Tokyo Olympic and Paralympic Games.
(Kyodo)
Jul 21
An informed source in the sumo world says Mongolian Yokozuna Grand Champion Hakuho is considering the option of acquiring Japanese citizenship. The move would allow him to become a stablemaster after retirement and train younger wrestlers.
(NHK)
Jul 21
A male worker for a construction company engaged in a project to construct Japan's new National Stadium, the main venue for the 2020 Tokyo Olympics and Paralympics, committed suicide in March, a lawyer representing his bereaved relatives revealed Thursday.
(Jiji)
Jul 20
The number of criminal offenses reported to police in Japan in January-June fell 7.7 pct from a year earlier to 450,887, on track to hit an annual postwar low, a National Police Agency report showed Thursday.
(Jiji)
Jul 20
Policymakers at the Bank of Japan have decided to continue with their easing program in a bid to achieve a 2-percent inflation target. But the officials have revised the forecast date for meeting the target. They say an extra year is needed.
(NHK)
Jul 20
The United States is bracing for the possibility of another ballistic missile launch by North Korea.
(NHK)
Jul 20
A 49-year-old woman had been arrested after camera footage showed that she had been adding dishwashing detergent to her husband and son's tea, local police said.
(Japan Today)
Jul 20
The operator of the Fukushima Daiichi Nuclear Power Plant says the metal scaffolding right below the damaged No.3 reactor appears to have gone missing after the 2011 disaster.
(NHK)
Jul 20
Students at a junior high school in Tochigi Prefecture's Takenazawa town have felt ill after eating cheese at the school cafeteria, local board of education representatives said.
(Japan Today)
Jul 20
The Yokohama District Court on Wednesday sentenced a former elementary school teacher to three years in prison on sexual abuse and child pornography charges.
(Japan Today)
---