It's a world of physical and virtual twirls, sudden drops, aggressive giants, roaring monsters and persistent zombies. It's a world of "kawaii" and pop, bubbling colors. It's a story of fighting spirits and game, anime and manga-inspired stories, wrapped up in a cutting-edge technology and J-pop fashion. Welcome to Universal Studios Japan (USJ)'s "Universal Cool Japan 2016."
The long-anticipated 164-day limited event, which brings together the best of Japanese manga, anime, games, and pop culture, launched officially on Friday as a revamped extension of last year's hugely popular attraction lineup. Adding a new cutting-edge technology and a brand new pop ride into virtual reality, the 2016 installment features five attractions: a renewed Evangelion, Monster Hunter, Attack on Titan and Resident Evil, and a brand new thrilling ride inspired by popular singer Kyary Pamyu Pamyu's kawaii pop world.
The Evangelion section of the event, titled "Evangelion The Real 4D: 2.0," features the franchise's first 4D movie with an exclusive story that allows guests to see the world through Evangelion's own eyes as he battles a powerful Angel. The story is fascinating, especially if you're a fan of the series, but what stands out the most are the chilling effects coming from every corner of the attraction's spare room. It's a multisensory experience, complete by splashing blood (read, water), bomb blasts, vibrations, shocks and other effects -- coming from under your seat.
The "Attack on Titan: The Real 2" also features a heated-up original movie and a unique storytelling experience, by making use of three-dimensional maneuvering that lets you fly the skies and hit the ground in between fighting a female Titan. The mysterious Wall Titan also makes a significance appearance near the attraction's entrance; watching over from a giant broken wall with a creepy, realistically exposed skin. Probably the currently best photo spot at the park.
"Monster Hunter: The Real" attraction, based on the new "Monster Hunter X" video game, pits guests against two giant roaring monsters in a surreal set of high-tech powerful effects on a par with Godzilla, Jurassic Park and the rest of the beast entourage. Also new this year is the chance to climb on a blade wyvern Dinovaldo for a great outdoor photo shoot (which may require some lining up).
Nov 19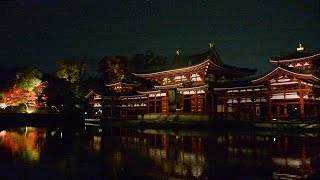 The Phoenix Hall of Byodoin temple, a UNESCO World Heritage site in Uji, Kyoto Prefecture, glows at night during a trial illumination on Friday.
(the-japan-news.com)
Nov 17
Osaka Governor Ichiro Matsui sought support for the western Japan prefecture's bid to host the 2025 World Exposition at a general meeting of the Bureau International des Expositions in Paris on Wednesday.
(Jiji)
Nov 17
Japanese regional carrier Air Do becomes the latest airline struck by the global shortage of pilots, saying Thursday it has canceled 26 flights scheduled for February after already grounding 34 trips this month.
(Nikkei)
Nov 17
The government plans to actively promote stays at farming villages geared toward foreign tourists. Supportive measures to begin next fiscal year will include sponsoring skilled chefs to hold cooking classes at women's clubs to enhance local cuisine, and other steps to attract foreigners interested Japanese food and culture.
(the-japan-news.com)
Nov 16
Colorful autumn leaves are in their prime at a park in Saitama Prefecture, north of Tokyo, drawing many visitors.
(NHK)
Nov 16
The Imperial Household Agency said Wednesday that it will open Inui Street, running through the Imperial Palace in central Tokyo, to the public on Dec. 2-10.
(Jiji)
Nov 15
The first public exhibition of a giant panda cub born at a Tokyo zoo in 29 years will begin next month, with large numbers of visitors expected.
(Japan Today)
Nov 13
Of all the things there are to see and do in a foreign city, it's fair to say a visit to the local garbage incinerator is not usually one of them. But a garbage facility in the Japanese city of Osaka has become a major tourist attraction --- for all the wrong reasons.
(cairnspost.com.au)
Nov 13
The Ritz-Carlton, Osaka's French restaurant La Baie and The Ritz-Carlton Kyoto's Japanese restaurant Tempura Mizuki have both been awarded one Michelin star in the Michelin Guide to Kyoto and Osaka 2018.
(Japan Today)
Nov 12
Airports around the world have found an unconventional, eco-friendly way to take advantage of all the unused open space around their runways and buildings: hosting beehives.
(Japan Times)
---