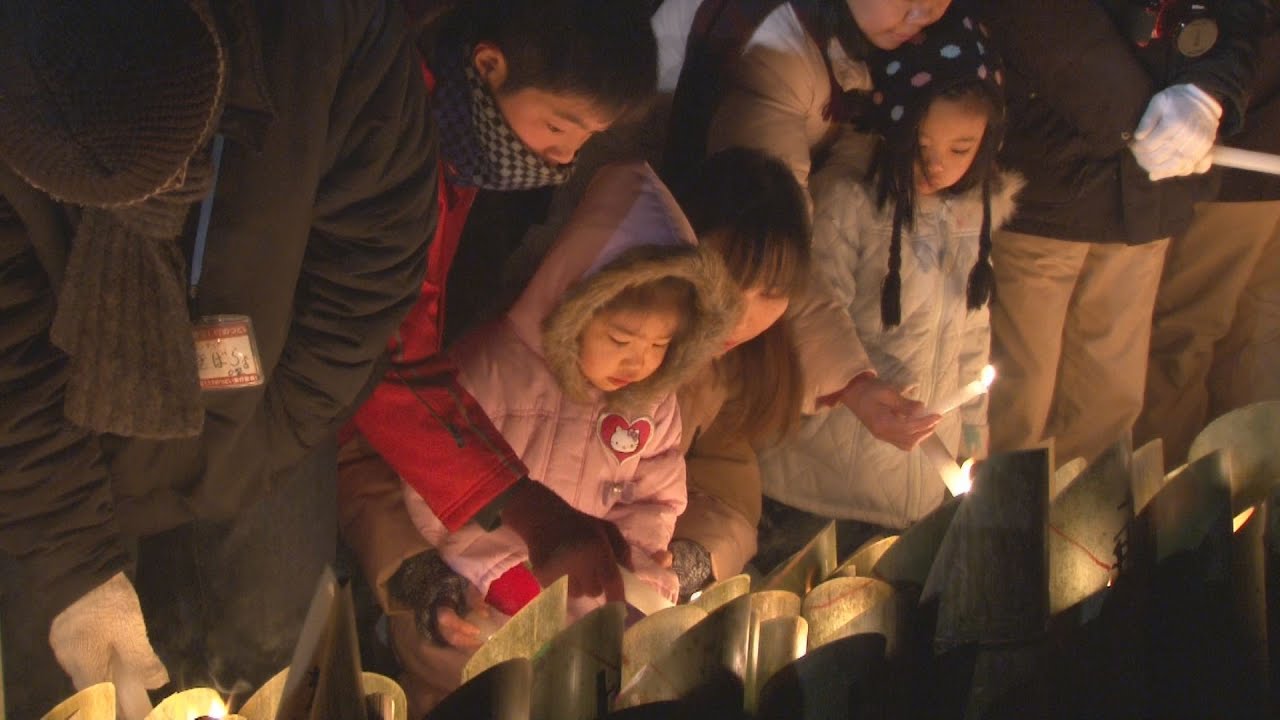 People in Japan are remembering the victims of an earthquake that devastated Kobe and surrounding areas 21 years ago.
More than 300 people are attending a memorial service in Kobe in western Japan on Sunday. They want to pass down memories and lessons of the disaster to the next generation.
Participants observed a moment of silence at noon to pray for the souls of 6,434 people who died. The attendees included government officials and survivors of the March 2011 quake and tsunami that struck northeastern Japan.
Earlier in the day, people offered silent prayers in front of lanterns at a park in Kobe at 5:46 AM, the exact time the quake struck.
Bereaved families and survivors of the 1995 quake were in attendance.
The lanterns were formed to read "Mirai," the Japanese word for future, and "1.17," representing the date of the earthquake.
6434人が亡くなった1995年の阪神大震災は17日、発生から21年となった。兵­庫県内の各地では追悼行事があり、遺族らが地震発生時刻の午前5時46分に合わせて黙­とう、犠牲者に鎮魂の祈りをささげた。遺族代表は震災を「忘れないで」と訴えた。
May 27
US President Barack Obama has paid a historic visit to Hiroshima, a city struck by a US atomic bomb 71 years ago.
(NHK)
May 27
U.S. President Barack Obama reaffirmed his commitment Friday to seeking a world free of nuclear weapons during his historic visit to Hiroshima, which was devastated by a U.S. atomic bomb in the final stage of World War II in 1945.
(Kyodo)
May 27
US President Barack Obama has spoken with atomic bomb survivors during his visit to the Hiroshima Peace Memorial Park.
(NHK)
May 27
Firefighters battled an apparent engine fire Friday on a Korean Air jet on the tarmac at Haneda Airport in Tokyo. All the passengers and crew were evacuated unharmed, Japanese media reported.
(Japan Today)
May 27
A 19-year-old woman this week became the youngest Japanese to scale the world's highest peak, a mountaineering official confirmed Thursday.
(Japan Times)
May 27
Saitama Prefectural Police have arrested two organized crime members for operating a grow house for marijuana in Soka City, reports TV Asahi.
(Tokyo Reporter)
May 27
Leaders from the Group of Seven countries have agreed to support sustainable growth of the global economy through flexible fiscal spending, structural reform and every other available measure.
(NHK)
May 26
Hanako, Japan's oldest elephant who made headlines for spending most of her life alone in a concrete enclosure, died at 69 in Tokyo on Tuesday, NHK (May 26) reported.
(Tokyo Reporter)
May 26
A pair of melons produced in the Hokkaido city of Yubari on Thursday fetched a record ¥3 million ($27,240) in the first auction of the harvest season at a Sapporo wholesale market.
(Japan Times)
May 26
The leaders of the Group of 7 nations have expressed concern over the situations in the East and South China Seas, where China is increasing its maritime activities.
(NHK)
---