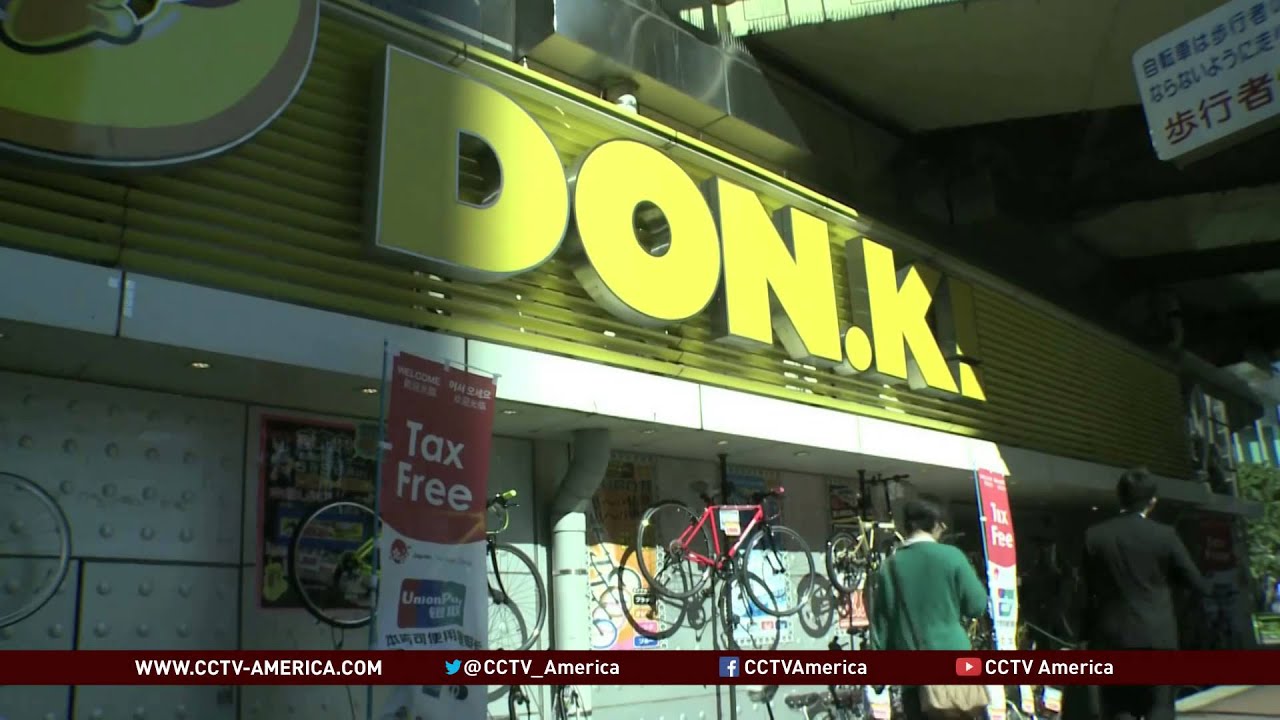 With few positive signs of recovery for Japan's slumping economy, foreign tourism remains a sole ray of hope, and tourism authorities, local governments, industry players as well as retailers are eagerly awaiting another possibly record-breaking surge in Chinese tourists during next month's Chinese New Year holiday.
Though economists say a tourism boom alone won't bail the country out of its economic plight, they do see it having a positive impact.
Koichi Haji, managing director of NLI Research Institute, says the "effect in buoying economic sentiment is big."
Foreign nationals visiting areas outside the capital are also likely to play a key role in revitalizing local economies, one of the key aspects of Prime Minister Shinzo Abe's economic policy, said Dai-ichi Life Research Institute Chief Economist Hideo Kumano.
But the current focus on tourism derives mostly from its sheer pace of growth.
From January last year to November, the number of arrivals surged by about 48 percent from the same period a year earlier to an estimated 18 million, according to the government-affiliated Japan National Tourism Organization. A year before that, the visitor count jumped 29 percent.
The latest figure brings the government tantalizingly close to achieving its annual 20 million target set for 2020, the year of the Tokyo Olympics.
Among the flood of arrivals Chinese tourists stand out as the leader. While territorial and historical issues had long been a thorn in the side of bilateral ties, Chinese tourists continue to visit Japan in numbers that outpace other nationalities in size and growth.
JNTO statistics show over 4.6 million Chinese visited Japan from January last year to November, up 109 percent year-on-year.
Jan 21
The Tokyo metropolitan government will survey foreign tourists on what they enjoy about the city's nightlife, aiming to better cater to their interests while encouraging them to spend, a source said Saturday.
(Japan Today)
Jan 21
Japan's Defense Ministry says the Air Self-Defense Force scrambled its jets against Chinese aircraft fewer times during the first 9 months of this fiscal year, compared to the previous year.
(NHK)
Jan 21
Tokyo Metropolitan Police arrested another organized crime member over the alleged possession of a pistol found last year through the help of a so-called "hybrid police dog," reports TV Asahi
(tokyoreporter.com)
Jan 21
The body of a child which was found Friday at the edge of a river in Sakai, Fukui Prefecture, has been identified as that of a three-year-old boy who has been missing since Dec 9.
(Japan Today)
Jan 21
Tokyo Metropolitan Police have arrested three persons, including a former member of a bosozoku group, over the alleged extortion of a male adult video (AV) star, reports Nikkan Sports
(tokyoreporter.com)
Jan 21
Work to dispose of a World War II bomb that did not explode was carried out on Kokusai-dori, a major street in the city center of Naha, the capital of Japan's southernmost prefecture of Okinawa, on Saturday.
(Jiji)
Jan 21
The New York office of the Japan National Tourism Organization has produced four videos to promote tourist attractions of Japan's Tohoku northeastern region to American people.
(Jiji)
Jan 21
Tokyo Metropolitan Police have arrested a 32-year-old man for over an illicit encounter with a high school girl last year that he allegedly filmed, reports Fuji News Network
(tokyoreporter.com)
Jan 21
The Tokyo High Court has ruled that Yahoo Japan Co. defamed a man and has ordered that it delete 11 search results that associate his name with criminal behavior, sources have confirmed.
(Japan Times)
Jan 21
Thousands of blooming tulips are giving people an early taste of spring at a park in eastern Japan.
(NHK)
---