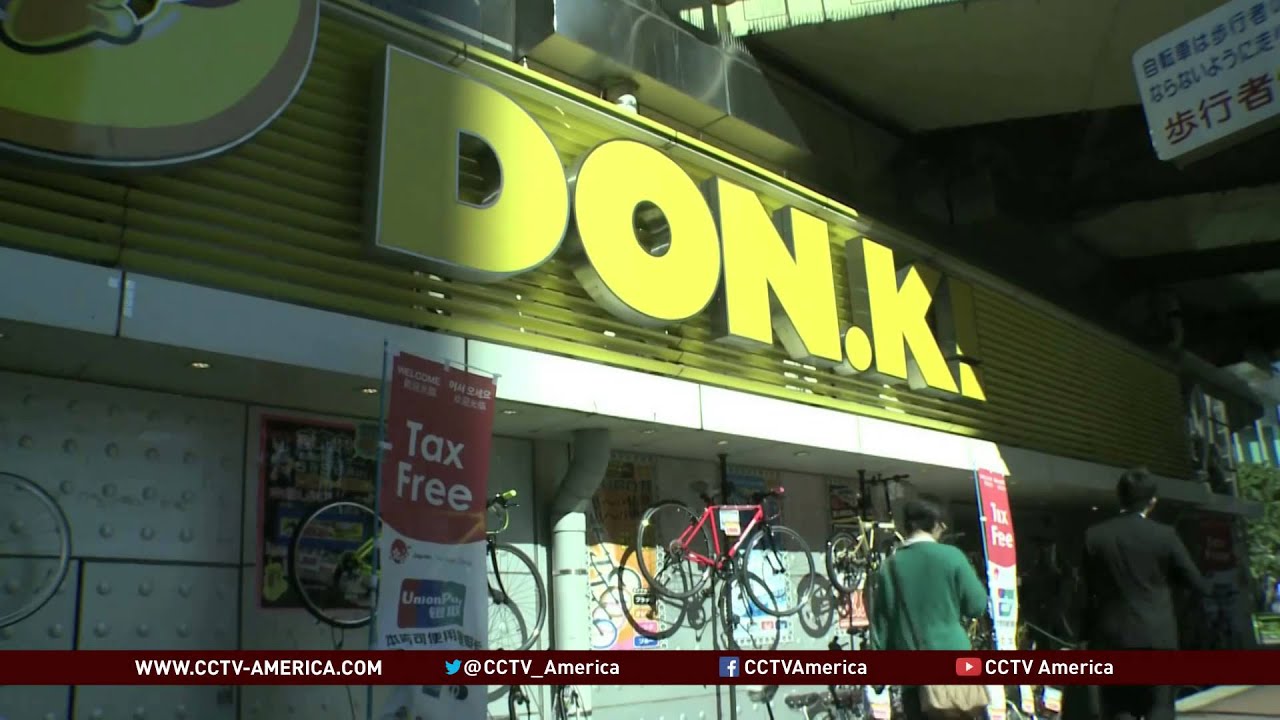 With few positive signs of recovery for Japan's slumping economy, foreign tourism remains a sole ray of hope, and tourism authorities, local governments, industry players as well as retailers are eagerly awaiting another possibly record-breaking surge in Chinese tourists during next month's Chinese New Year holiday.
Though economists say a tourism boom alone won't bail the country out of its economic plight, they do see it having a positive impact.
Koichi Haji, managing director of NLI Research Institute, says the "effect in buoying economic sentiment is big."
Foreign nationals visiting areas outside the capital are also likely to play a key role in revitalizing local economies, one of the key aspects of Prime Minister Shinzo Abe's economic policy, said Dai-ichi Life Research Institute Chief Economist Hideo Kumano.
But the current focus on tourism derives mostly from its sheer pace of growth.
From January last year to November, the number of arrivals surged by about 48 percent from the same period a year earlier to an estimated 18 million, according to the government-affiliated Japan National Tourism Organization. A year before that, the visitor count jumped 29 percent.
The latest figure brings the government tantalizingly close to achieving its annual 20 million target set for 2020, the year of the Tokyo Olympics.
Among the flood of arrivals Chinese tourists stand out as the leader. While territorial and historical issues had long been a thorn in the side of bilateral ties, Chinese tourists continue to visit Japan in numbers that outpace other nationalities in size and growth.
JNTO statistics show over 4.6 million Chinese visited Japan from January last year to November, up 109 percent year-on-year.
Jun 22
Japanese virtual mall operator Rakuten said on Thursday it will open an online room-sharing marketplace now that the country is poised to lift a ban on room-sharing for travelers.
(Nikkei)
Jun 22
Tokyo Metropolitan Police have arrested a male executive at Tokyo Broadcasting System (TBS) for allegedly pouring an illegal sex enhancement drug on the face of the woman earlier this month, reports TV Asahi
(tokyoreporter.com)
Jun 22
On 19 June it was announced that three teens were arrested for the robbery and assault of a 20-year-old man. The victim was on his moped when a cigarette was put out on his face and his bike and helmet were stolen from him.
(rocketnews24.com)
Jun 22
Sayako Kuroda, the daughter of Emperor Akihito and Empress Michiko, assumed the post of supreme priestess at Ise Jingu this week, the ancient Shinto shrine in central Japan said.
(Japan Today)
Jun 22
Japanese authorities have created a new map of a remote island whose area has expanded through volcanic activity.
(NHK)
Jun 22
Amazon Japan aims to build a team of 10,000 independent couriers in the Tokyo region by 2020 to continue offering same-day delivery service without relying on major parcel delivery companies.
(Nikkei)
Jun 22
Japan's Crown Prince Naruhito returned home on Wednesday morning from a week-long official visit to Denmark, arriving at Tokyo International Airport at Haneda on a Japanese government jet.
(Jiji)
Jun 22
The number of foreign tourists visiting Japan is continuing to increase. It hit a new record for the month of May.
(NHK)
Jun 22
A total of 249 music school operators in Japan have launched a group lawsuit against music copyright management body JASRAC's plan to collect royalties on music played in lesson time.
(Jiji)
Jun 21
Heavy rain hit a wide area on the Pacific side of the Japanese archipelago Wednesday, disrupting traffic and prompting local authorities to issue evacuation advisories for around 250,000 people in central regions due to possible flooding.
(Japan Times)
---