China's sagging economy sent the yuan falling more than 1.4% against the dollar in the first two weeks of 2016. This has pummeled stock prices and commodity currencies around the globe. Tokyo stocks have been jolted, too. Yet for Japan, the weak yuan means more than just angst in the capital's financial district.
In the past few years, "Abenomics," the government's economic-revival program, along with the Bank of Japan's monetary easing, became the basis of Japanese companies' expectations for a prolonged weak yen. Companies that expanded their operations overseas have reserved their foreign-earned profits, as they were expecting a further drop of the yen. J.P. Morgan estimates that Japanese corporations' overseas stockpiles have reached 48.5 trillion yen ($410 billion) in fiscal 2015, through March, with China accounting for 5 trillion yen of that.
The yuan's value against the yen has declined more than 3.4% since the beginning of this year. The sharp drop is something that "can no longer be ignored when considering corporate performance," said Tohru Sasaki, head of Japan markets research at J.P. Morgan Chase Bank.
Sasaki foresees that as March -- the end of fiscal 2015 -- gets closer, Japanese companies will increasingly look to hedge by swapping some of their yuan for yen, or even repatriate those earnings. This will place even more downward pressure on the yuan. Most economists expect the yuan to decline another 10% before the end of this year.
#abenomics Tweets
Nov 19
Police in Tokyo on Saturday arrested an unemployed 42-year-old man of no fixed address on suspicion of killing a 61-year-old homeless man on a riverbank in Katsushika Ward.
(Japan Today)
Nov 19
A man died Saturday after falling off a cliff while competing in a trail running race in Saitama Prefecture, police said.
(Japan Times)
Nov 19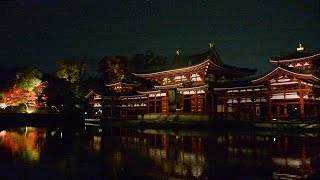 The Phoenix Hall of Byodoin temple, a UNESCO World Heritage site in Uji, Kyoto Prefecture, glows at night during a trial illumination on Friday.
(the-japan-news.com)
Nov 19
Despite their magical reputation, shooting stars are just pieces of space debris from millimeters to a few centimeters thick that fly into Earth's atmosphere and brightly burn up into nothing.
(rocketnews24.com)
Nov 19
Chiba Prefectural Police have arrested a 33-year-old man for allegedly selling cash above face value using marketplace app Mercari and collecting interest exceeding the legal interest rate, reports TV Asahi
(tokyoreporter.com)
Nov 18
Japan's national broadcaster NHK has unveiled this year's lineup for its annual New Year's Eve music show "Kohaku Uta Gassen" (Red and White Song Battle), featuring 10 new groups and singers.
(Japan Today)
Nov 18
Yokozuna Grand Champion Harumafuji has reportedly told police that he hit a lower-ranked wrestler with his bare hands, not with a beer bottle as was reported.
(NHK)
Nov 18
An apology by a Japanese railroad operator for a train's early departure has attracted the attention of foreign media.
(NHK)
Nov 18
The overall number of crimes committed in Japan continued to drop in 2016, falling below the 1 million mark for the first time in the postwar era, according to the annual White Paper on Crime released Friday by the Justice Ministry.
(Japan Times)
Nov 18
After beginning service in Japan in 2011, Naver Corporation's Line messaging app quickly become one of the most popular ways to stay connected to personal acquaintances.
(Japan Today)
---