A key index on the Tokyo Stock Exchange dipped below 17,000 points on Monday for the first time since last September.
Shares were sold across the board immediately after the Tokyo market opened on Monday. The move came after share prices plunged in US and European markets on Friday.
The Nikkei average of 225 selected issues fell more than 480 points at one point.
Later, there were moves to buy back the shares that had fallen, but the Nikkei index ended the day's trading at 16,955, down 191 points from Friday's close.
The Nikkei index has dropped by more than 2,000 points this year.
週明けの東京株式市場は平均株価が一時500円近く下落し、1年ぶりの安値を付けまし­た。 先週末、ニューヨーク株式市場が大幅安となったことから、日経平均株価は一時480円­以上、値下がりし、取引時間中としては約1年ぶりの安値となりました。
#nikkei Tweets
Mar 20
Japan Exchange Group Inc. said Monday it has introduced artificial intelligence systems for market surveillance operations to detect price manipulations and other misconduct.
(Jiji)
Mar 20
Singapore remains the world's most expensive city for the fifth consecutive year, with Paris, Zurich and Hong Kong following closely behind, according to the Worldwide Cost of Living Survey published on Thursday.
(Japan Times)
Mar 16
Overseas investors were net sellers of Japanese equities for the ninth straight week through March 9 as a strong yen and U.S. President Donald Trump's protectionist policies rattled markets.
(Nikkei)
Mar 09
Eleven Pacific Rim countries signed the revised Trans-Pacific Partnership here Thursday afternoon, finalizing the trade and investment agreement just over a year after the American withdrawal left its fate in question.
(Nikkei)
Mar 07
Japan's cabinet approved on Tuesday a plan to improve the accuracy of the government's initial estimate of gross domestic product by collecting more data from the private sector on capital expenditure.
(Japan Today)
Mar 03
The head of the Bank of Japan says it will keep its monetary easing program in place in a bid to drive inflation up to 2 percent.
(NHK)
Mar 03
The Japanese government says the unemployment rate for January stood at a seasonally adjusted 2.4 percent. That's down 0.3 percentage points from the previous month, and is the lowest since April 1993.
(NHK)
Mar 02
Major food and beverage makers across Japan are to raise prices due to the higher costs of labor and raw materials.
(NHK)
Mar 01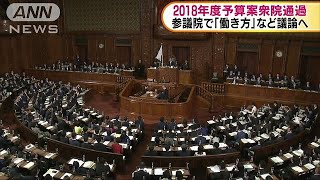 Japan's Lower House has passed the country's biggest-ever budget, which sets government spending at over 900 billion dollars.
(NHK)
Feb 23
A World Trade Organization panel has ruled in Japan's favor in a dispute over South Korea's ban on seafood imports from 8 Japanese prefectures.
(NHK)
---