An incoming cold air mass is set to unleash stormy weather across Japan, with the western, southwestern and central parts of the country being warned to prepare for heavy snowfall and strong winds, the Meteorological Agency said Saturday.
The severe weather is predicted to last through Monday, with temperatures in the western and southwestern areas expected to fall sharply below seasonal averages, the agency said, warning of traffic disruptions, frozen water pipes and crop damage.
By 6 a.m. Sunday, the Hokuriku and Chugoku regions are forecast to get up to 40 centimeters of snow, with 30 cm falling in the Tohoku, Tokai, Kinki and northern Kyushu regions, and 15 cm to 20 cm in the Kanto-Koshin, Shikoku and southern Kyushu regions.
関東で再び雪が降りそうです。平野部でも積雪や路面の凍結に注意が必要です。 本州の南を進む低気圧の影響で、関東は23日夕方以降、広い範囲で雪が降る見込みです­。24日朝までに降る雪の量は、北部の山沿いで最大10センチの予想です。
Mar 21
A female zookeeper at Ueno Zoological Gardens in Tokyo sustained injuries Tuesday after a gorilla bit her right arm, police said.
(Japan Today)
Mar 20
Police said Monday they have arrested three Taiwanese women for allegedly attempting to smuggle gold worth around 50 million yen ($470,000) into Japan in their bras.
(Japan Today)
Mar 20
The leaders of Japan and Russia have reaffirmed cooperation on planned joint economic projects on Russian-controlled islands claimed by Japan.
(NHK)
Mar 19
More than two decades after Japan's Aum Shinrikyo cult plunged Tokyo into terror by releasing a nerve agent on rush-hour subway trains, its spinoffs continue to attract new followers.
(Japan Today)
Mar 18
Tokyo Metropolitan Police plan to arrest a man claiming to be the former boyfriend of a woman found stabbed to death in Tama City on Friday, reports the Mainichi Shimbun
(tokyoreporter.com)
Mar 18
Investigative sources with law enforcement revealed on Saturday that popular adult video (AV) actress Nozomi Aso has been arrested again on drug-related charges, reports the Sankei Sports.
(tokyoreporter.com)
Mar 17
Japanese authorities have lowered volcanic alert levels for the 2 peaks of Mount Kusatsu-Shirane in Gunma Prefecture, more than 7 weeks after the volcano erupted.
(NHK)
Mar 17
A blackmail letter has been sent to a restaurant owned by Japanese Prime Minister Shinzo Abe's wife, Akie.
(NHK)
Mar 16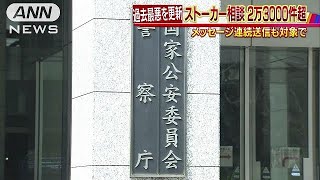 Police in Japan received a record-high number of inquiries and reports about stalking and domestic violence last year.
(NHK)
Mar 16
A car boarded by Eiichi Negishi, who won the 2010 Nobel Prize in Chemistry, has caused an accident in Illinois, and his wife, Sumire, also in the vehicle, has died, sources including local police said Wednesday.
(Jiji)
---