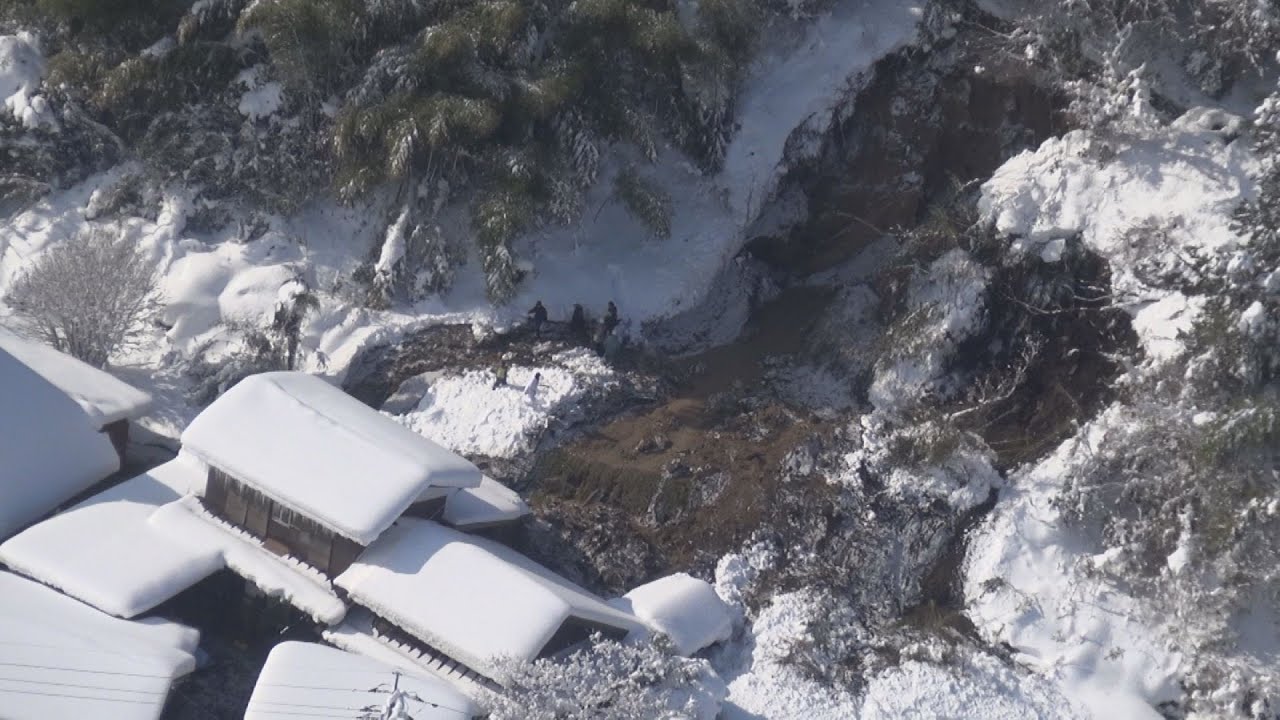 A powerful cold air mass brought record amounts of snowfall to parts of Japan over the weekend. The storm caused accidents and paralyzed transportation.
An 88-year-old woman was killed in a landslide early Monday morning in western Japan. Two of her family members were also injured in the accident.
In the northeastern city of Sendai, a van skidded off a road onto a parking lot 3 meters below. The vehicle was taking elderly residents to a nursing home. A woman in her 90s was killed. 5 others were injured.
The snow caused serious travel disruptions.
About 200 domestic flights were canceled on Monday. And hundreds of bullet trains were delayed.
In the Shikoku region, more than 20 cars and trucks were stranded on a national highway for one day.
The cold air ruptured water pipes and cut power lines, affecting thousands of households.
25日に1メートル42センチの積雪を観測した広島県北広島町から報告です。 (廣瀬隼也アナウンサー報告) 北広島町八幡という北部にある地域ですが、また雪が一段と強くなってきました。
Jan 17
NHK is apologizing after issuing a false alert that said North Korea had probably launched a missile and warned people in Japan to take cover.
(NHK)
Jan 16
Tokyo Metropolitan Police have arrested a 41-year-old man who is suspected of stealing the wallets of dozens of sleeping passengers on the Yamanote Line since last year, reports the Sankei Shimbun (Jan. 16).
(tokyoreporter.com)
Jan 16
A woman in her 60s in Fukuoka Prefecture died in 2016 after being infected with Corynebacterium ulcerans, becoming the first victim of the zoonotic disease in Japan, health ministry officials said Monday.
(Jiji)
Jan 16
Police and consumer centers across Japan have received more than 1,500 inquiries from people affected by a scandal involving a gala dress kimono retail and rental firm. The total value of contracts drawn up between the firm and the consumers who have consulted with the centers has topped 270 million yen, or nearly 2.5 million dollars.
(NHK)
Jan 16
A man was arrested Monday on suspicion of stabbing two men the previous night, one fatally, in what appeared to be random attacks, the police said.
(Japan Times)
Jan 16
A branch of Yokohama District Court on Monday ordered the city of Zushi, Kanagawa Prefecture, eastern Japan, to pay 1.1 million yen in damages for leaking information that led to the murder of a 33-year-old woman by a stalker.
(Jiji)
Jan 15
The annual unified college entrance examinations began Saturday as many parts of the country saw their coldest winter day so far cause traffic jams and force several schools to postpone the pivotal tests.
(Japan Times)
Jan 15
Sumo's top-ranked referee will resign over a sexual harassment scandal, the sport's governing body said Saturday following an extraordinary meeting of its board of directors.
(Kyodo)
Jan 15
The US Navy has deployed to southwestern Japan a new amphibious assault ship that can carry advanced F-35B stealth fighter jets.
(NHK)
Jan 15
Chiba Prefectural Police on Wednesday re-arrested a 29-year-old man over the cultivation of marijuana in Mobara City last year, reports the Sankei Shimbun
(tokyoreporter.com)
---