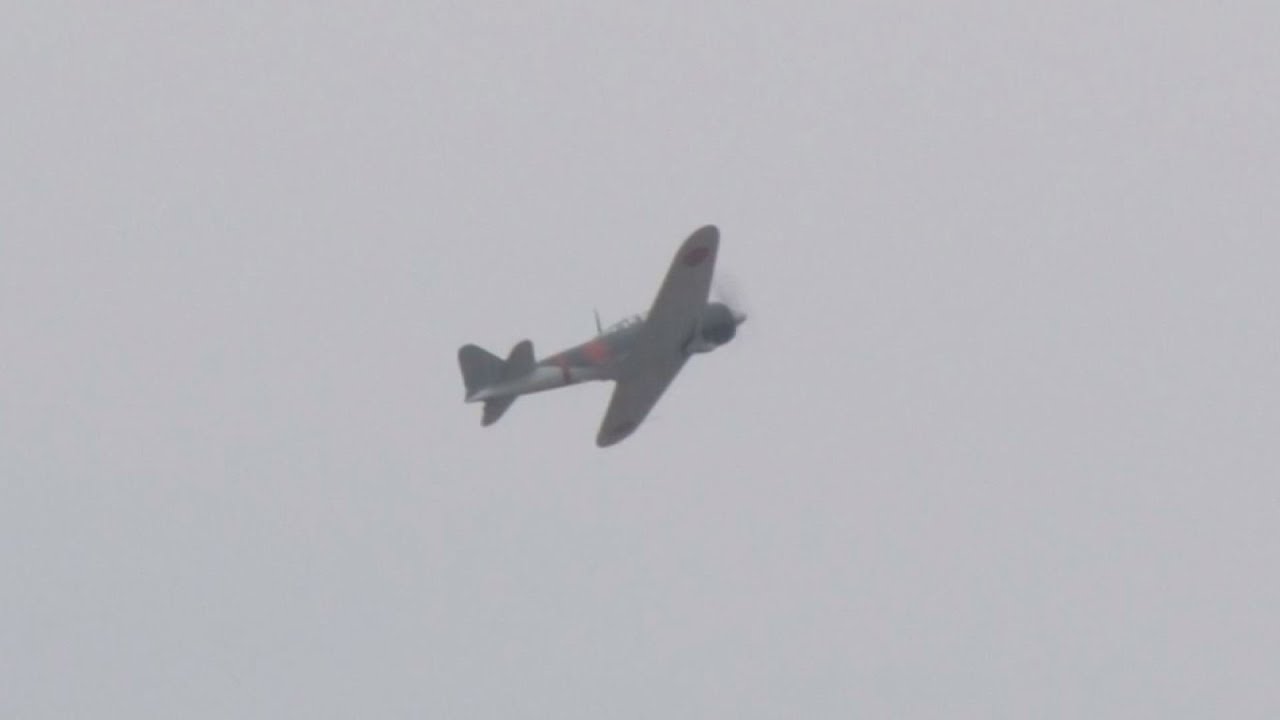 More than 70 years after striking fear into the hearts of Allied pilots, a restored Zero fighter took to the skies in southern Japan on Wednesday.
Japan's most famous World War II fighter aircraft was developed by Mitsubishi Heavy Industries and was noted for its technological advancement.
The legendary planes took part in the Japanese attack on Pearl Harbor while "kamikaze" suicide pilots crashed them into US ships in the later stages of the war.
The restored plane took off from a Japanese military base on the island of Kyushu for two short flights, the Nikkan Sports newspaper reported.
The aircraft, painted dark green with round bright red "circle of the sun" symbols on its body and wings, was airborne for six minutes and 16 minutes, respectively, the report said.
The plane was found in 1970 in Papua New Guinea - the scene of fierce fighting during World War II - and restored, ending up in the United States before being brought to Japan in parts in 2014, the report said.
太平洋戦争中、日本海軍の主力戦闘機だった零式艦上戦闘機(ゼロ戦)を復元した機体が­27日、海上自衛隊鹿屋航空基地(鹿児島県鹿屋市)で試験飛行した。
Jan 17
NHK is apologizing after issuing a false alert that said North Korea had probably launched a missile and warned people in Japan to take cover.
(NHK)
Jan 16
Tokyo Metropolitan Police have arrested a 41-year-old man who is suspected of stealing the wallets of dozens of sleeping passengers on the Yamanote Line since last year, reports the Sankei Shimbun (Jan. 16).
(tokyoreporter.com)
Jan 16
A woman in her 60s in Fukuoka Prefecture died in 2016 after being infected with Corynebacterium ulcerans, becoming the first victim of the zoonotic disease in Japan, health ministry officials said Monday.
(Jiji)
Jan 16
Police and consumer centers across Japan have received more than 1,500 inquiries from people affected by a scandal involving a gala dress kimono retail and rental firm. The total value of contracts drawn up between the firm and the consumers who have consulted with the centers has topped 270 million yen, or nearly 2.5 million dollars.
(NHK)
Jan 16
A man was arrested Monday on suspicion of stabbing two men the previous night, one fatally, in what appeared to be random attacks, the police said.
(Japan Times)
Jan 16
A branch of Yokohama District Court on Monday ordered the city of Zushi, Kanagawa Prefecture, eastern Japan, to pay 1.1 million yen in damages for leaking information that led to the murder of a 33-year-old woman by a stalker.
(Jiji)
Jan 15
The annual unified college entrance examinations began Saturday as many parts of the country saw their coldest winter day so far cause traffic jams and force several schools to postpone the pivotal tests.
(Japan Times)
Jan 15
Sumo's top-ranked referee will resign over a sexual harassment scandal, the sport's governing body said Saturday following an extraordinary meeting of its board of directors.
(Kyodo)
Jan 15
The US Navy has deployed to southwestern Japan a new amphibious assault ship that can carry advanced F-35B stealth fighter jets.
(NHK)
Jan 15
Chiba Prefectural Police on Wednesday re-arrested a 29-year-old man over the cultivation of marijuana in Mobara City last year, reports the Sankei Shimbun
(tokyoreporter.com)
---