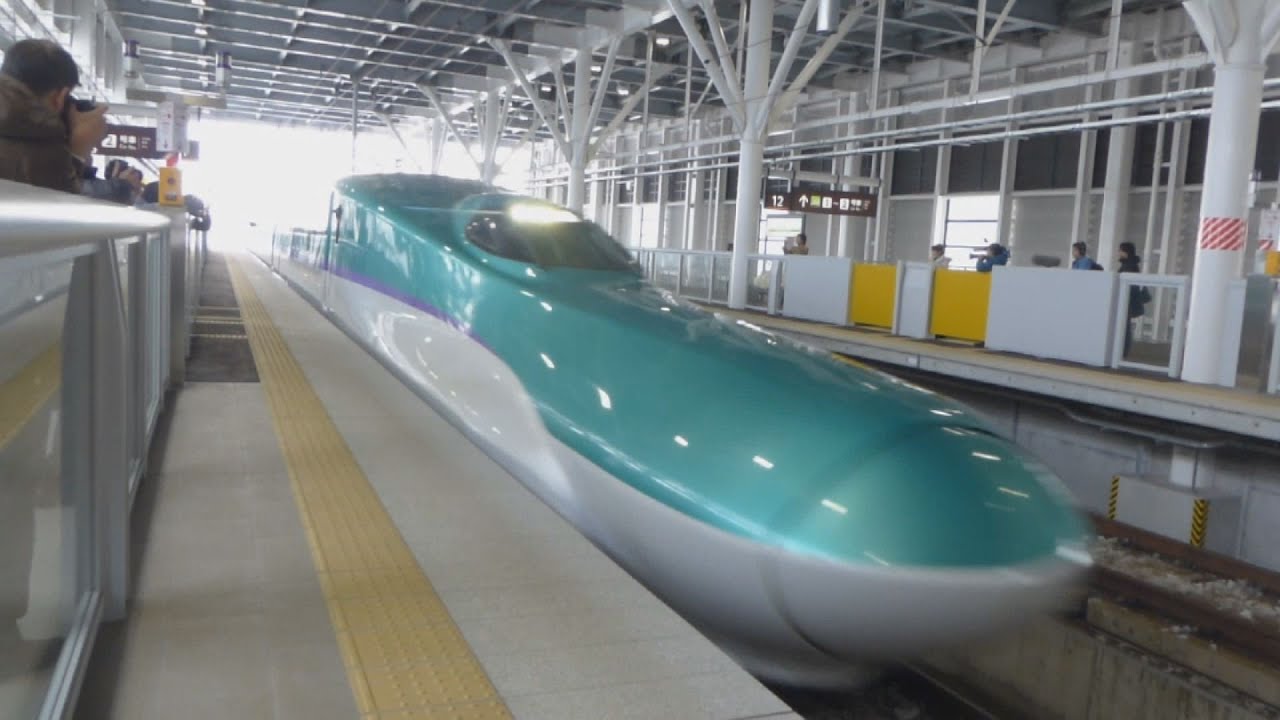 An H5-series Shinkansen train was put through its paces Jan. 28, two months before the start of the first high-speed rail service in Japan's northernmost main island.
The Hokkaido Railway Co. (JR Hokkaido) bullet train left Shin-Hakodate-Hokuto Station in Hokuto, Hokkaido, at 10 a.m. bound for Kikonai Station in Kikonai, Hokkaido, 35.5 kilometers south.
The train boasts a maximum speed of 260 kph, but kept to 210 kph during the test-ride because of snow on the tracks. It took 13 minutes to make the journey.
Although almost half of the route between the two stations passes through tunnels, the vast Tsugaru Strait that separates Hokkaido and the main island of Honshu comes into view as the train glides into Kikonai Station.
JR北海道は28日、3月に開業する北海道新幹線の新函館北斗―木古内で、開業に合わ­せて投入する新型車両H5系での初の試乗会を報道関係者向けに開いた。H5系は雪煙を­上げながらスムーズに加速し、函館山や津軽海峡など北海道らしい景色が楽しめる約35­・5キロを、開業後と同じ片道13分で走行した。
Mar 21
Japan saw an estimated 2,509,300 visitors from overseas in February, up 23.3 pct from a year earlier, the Japan National Tourism Organization said Tuesday.
(Jiji)
Mar 20
A Somei-Yoshino cherry tree being monitored in Kochi reached full bloom on Monday, the Metrological Agency said.
(Japan Times)
Mar 20
The refurbished interior of the "Tower of the Sun" was opened to the public on Monday for the first time since the major artwork by the late Taro Okamoto became a symbol of the Expo '70 world's fair in Osaka.
(Japan Times)
Mar 18
Japan's Meteorological Agency announced on Saturday the official start of Tokyo's annual cherry blossom season.
(NHK)
Mar 18
Workers have replaced a lightning-damaged shachihoko roof ornament on a castle in Inuyama City, central Japan.
(NHK)
Mar 17
Japanese authorities have lowered volcanic alert levels for the 2 peaks of Mount Kusatsu-Shirane in Gunma Prefecture, more than 7 weeks after the volcano erupted.
(NHK)
Mar 17
American rocker and songwriter Bob Dylan will perform at the Fuji Rock Festival in July, his first appearance in Japan since receiving the 2016 Nobel Prize in Literature, the event's organizer said.
(Kyodo)
Mar 16
A survey of 36 major Kyoto city hotels showed that foreigners accounted for 40.5 percent of their total guests in 2017, the highest figure recorded since the survey began in 2014.
(Japan Times)
Mar 14
The operator of Narita airport agreed Tuesday with the Chiba Prefectural Government, surrounding municipalities and the transport ministry on a plan to expand the hours for landings and takeoffs in bid to enhance the functions of the international gateway - but some nearby residents are concerned about increased noise.
(Japan Times)
Mar 10
Another eruption at a volcano in southwestern Japan sent smoke soaring to a height of 4,500 meters, the highest altitude reached since volcanic activity began 9 days ago.
(NHK)
---