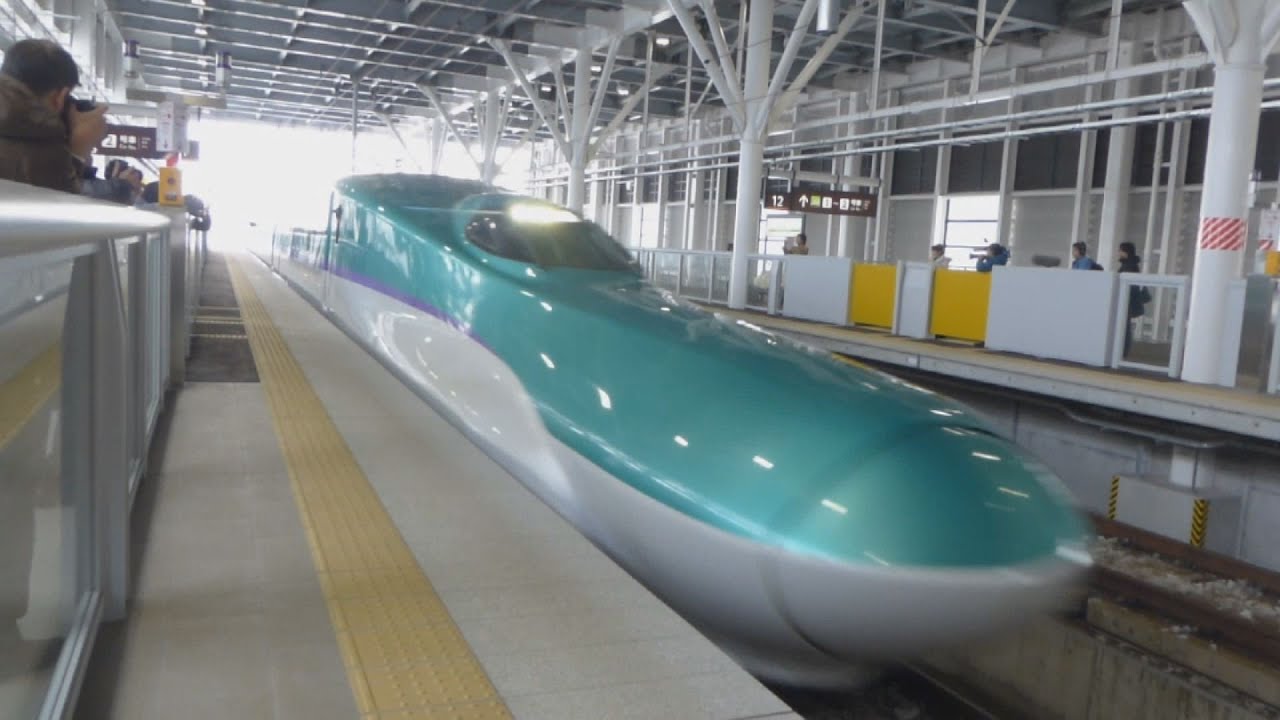 An H5-series Shinkansen train was put through its paces Jan. 28, two months before the start of the first high-speed rail service in Japan's northernmost main island.
The Hokkaido Railway Co. (JR Hokkaido) bullet train left Shin-Hakodate-Hokuto Station in Hokuto, Hokkaido, at 10 a.m. bound for Kikonai Station in Kikonai, Hokkaido, 35.5 kilometers south.
The train boasts a maximum speed of 260 kph, but kept to 210 kph during the test-ride because of snow on the tracks. It took 13 minutes to make the journey.
Although almost half of the route between the two stations passes through tunnels, the vast Tsugaru Strait that separates Hokkaido and the main island of Honshu comes into view as the train glides into Kikonai Station.
JR北海道は28日、3月に開業する北海道新幹線の新函館北斗―木古内で、開業に合わ­せて投入する新型車両H5系での初の試乗会を報道関係者向けに開いた。H5系は雪煙を­上げながらスムーズに加速し、函館山や津軽海峡など北海道らしい景色が楽しめる約35­・5キロを、開業後と同じ片道13分で走行した。
Jan 17
Spending by visitors from abroad during their stays in Japan exceeded 4 trillion yen for the first time on record in 2017, the Japan National Tourism Organization said in a preliminary report on Tuesday.
(Jiji)
Jan 16
Discount retailer Don Quijote Co. unveiled a renovated Ferris wheel Monday in Osaka's Dotonbori shopping district.
(Japan Times)
Jan 15
About 2,000 women who are or will turn 20 years old as of April 1 took part in an annual New Year archery event for new adults at Sanjusangendo, a Buddhist temple in Kyoto, on Sunday.
(Japan Today)
Jan 15
Grab your towel because it's time for an epic Japanese onsen bath adventure! We will explore 12 Onsen Towns, hopping from one to another as a "bath tourist" around Fukushima. Naked outside in the snow? It's part of the fun!
(ONLY in JAPAN)
Jan 12
Japan received a record number of overseas visitors in 2017 for the fifth straight year, with the greatest growth coming from Asian countries, where low-cost air carriers are expanding service.
(Nikkei)
Jan 05
The Japanese government will launch a project to convert all traditional squat toilets in popular tourist destinations into sit-on types that are more commonly used in other developed countries.
(NHK)
Jan 01
Millions on Japanese ushered in the new year early Monday by visiting shrines, as well as going to vantage spots to watch the first sunrise (hatsuhinode) of 2018.
(Japan Today)
Dec 31
A section near Tokyo's Shibuya railway station will be made a vehicle-free promenade for the upcoming New Year's countdown.
(NHK)
Dec 31
The capital saw its first snowfall of the season on Sunday as cold air gripped eastern Japan with the approach of a low pressure system, the Meteorological Agency said.
(Japan Times)
Dec 30
Japanese travelers are crowding highways, train stations and airports as they head to their hometowns and leisure spots for the New Year holidays.
(NHK)
---