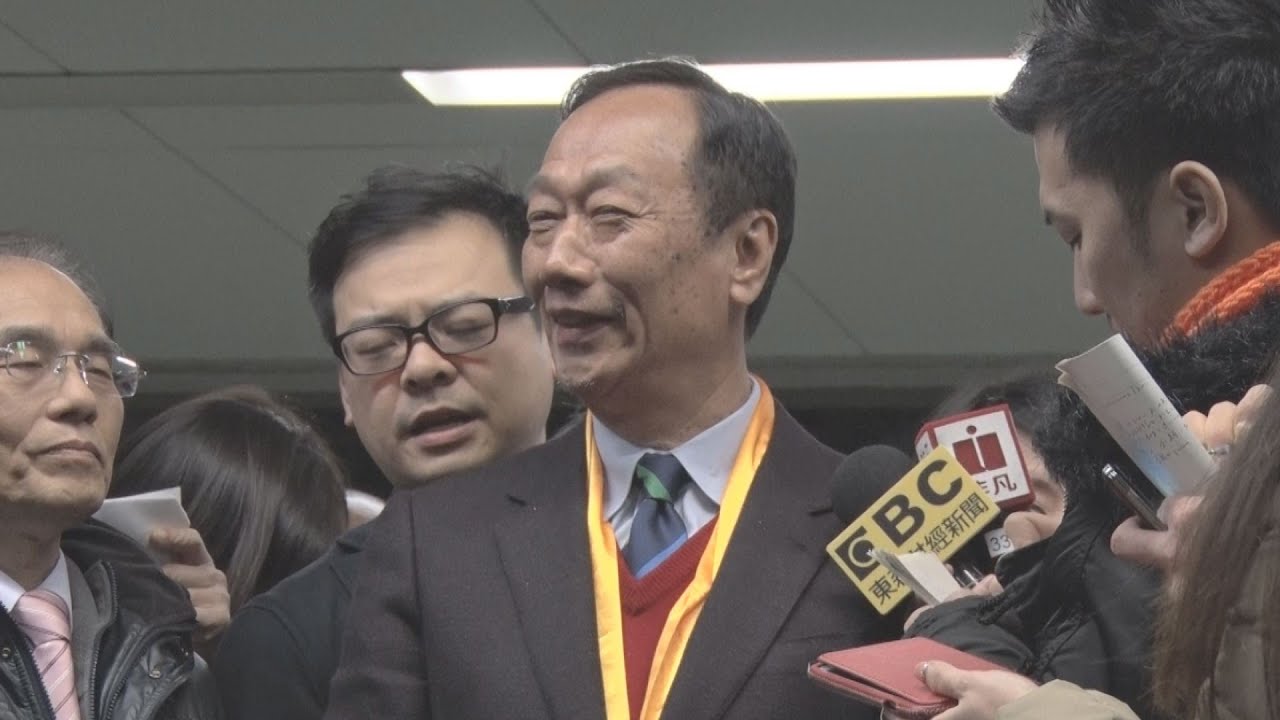 Sharp Corp. and Hon Hai Precison Industry Co. on Friday signed a contract granting the Taiwan electronics giant preferential rights to negotiate over a bailout plan for the struggling Japanese company.
"I've signed a contract with Sharp granting us preferential rights for negotiations," Hon Hai Chairman Terry Gou said Friday evening after holding talks with Sharp Corp. President Kozo Takahashi and others over assistance for the Japanese electronics manufacturer at Sharp's head office in Osaka.
Showing reporters their signatures on the last page of the contract document, Gou said he and Takahashi agreed on a plan to proceed with negotiations over Hon Hai's rescue plan for Sharp and aim to ink a final contract on Feb. 29. There are several legal problems to be overcome before the signing, Gou said.
In March 2015, when the Japanese electronics maker again ran into financial difficulties, Hon Hai declared a bid to help Sharp ahead of others. However, Sharp could not move past its distrust of the Taiwan company, which had reneged on a 2012 pledge to Sharp to invest ¥66.9 billion.
Along with its creditor banks Mizuho Bank and the Bank of Tokyo-Mitsubishi UFJ, the Japanese firm focused on negotiations with the Innovation Network Corporation of Japan (INCJ). At a press conference on Thursday, however, Sharp suggested that it had become closer to Hon Hai than the INCJ. The Taiwan firm has worked hard to recoup lost ground, sources said.
In mid-January, Hon Hai sharply increased the value of its proposed assistance to Sharp from ¥500 billion to a maximum of ¥700 billion, which is equivalent to 2.5 times Sharp's total market value as of Thursday.
シャープの買収を巡り、台湾の鴻海(ホンハイ)精密工業の郭台銘会長が「優先交渉権を­得た」と表明したものの、その後、シャープ側がそれを否定しました。
May 27
US President Barack Obama has paid a historic visit to Hiroshima, a city struck by a US atomic bomb 71 years ago.
(NHK)
May 27
US President Barack Obama has spoken with atomic bomb survivors during his visit to the Hiroshima Peace Memorial Park.
(NHK)
May 27
Firefighters battled an apparent engine fire Friday on a Korean Air jet on the tarmac at Haneda Airport in Tokyo. All the passengers and crew were evacuated unharmed, Japanese media reported.
(Japan Today)
May 27
A 19-year-old woman this week became the youngest Japanese to scale the world's highest peak, a mountaineering official confirmed Thursday.
(Japan Times)
May 27
The Japan Meteorological Agency has announced its three-month forecast from the month of June until August. This summer, while sweltering temperatures will be experienced nationwide, western Japan, in particular, will be hit by an intense heat wave, the agency said.
(Japan Today)
May 26
Hanako, Japan's oldest elephant who made headlines for spending most of her life alone in a concrete enclosure, died at 69 in Tokyo on Tuesday, NHK (May 26) reported.
(Tokyo Reporter)
May 26
A pair of melons produced in the Hokkaido city of Yubari on Thursday fetched a record ¥3 million ($27,240) in the first auction of the harvest season at a Sapporo wholesale market.
(Japan Times)
May 26
The leaders of the Group of 7 nations have expressed concern over the situations in the East and South China Seas, where China is increasing its maritime activities.
(NHK)
May 26
Almost 100,000 police have been deployed across Japan to ensure security during the Group of Seven summit at Ise-Shima.
(NHK)
May 25
Japanese Prime Minister Shinzo Abe on Wednesday made a pilgrimage to the Ise Grand Shrine, the holiest site in Japan's Shinto religion, a day before he hosts a Group of Seven (G-7) summit nearby.
(Japan Today)
---