A humanoid robot is offering boarding information to passengers at Tokyo's Haneda Airport.
Japan Airlines introduced the 60-centimeter-tall robot, which speaks 3 languages, on Tuesday. It is aimed especially at accommodating the surge of Chinese travelers during the Lunar New Year holidays.
The robot uses cute gestures to notify passengers in Chinese and English that their boarding times are approaching and to remind them about security checks.
It will operate on a trial basis through next week.
The robot currently speaks Japanese far better. It can converse in Japanese with passengers to answer up to 7 questions, such as where to board and the weather at the travel destination.
ロボットとお客さんが会話する実証実験が羽田空港で始まりました。 日本航空などは、フランスの会社が作ったロボット「NAO」を使った実験を羽田空港で­始めました。NAOに話し掛けると、航空機の搭乗ゲートや行き先の天気などの情報を教­えてくれます。
Dec 04
Hundreds of thousands of people gathered for a traditional night festival featuring floats in Chichibu City, near Tokyo.
(NHK)
Dec 04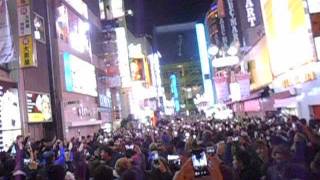 The famous scramble crossing in Tokyo's Shibuya's district will go vehicle-free on New Year's Eve, informed sources said Saturday.
(Japan Times)
Dec 01
In Japan's ancient capital Nara, some 100 deer emerged from the woods to the sound of a horn in an annual winter event.
(NHK)
Dec 01
UNESCO has decided to add 33 Japanese traditional festivals featuring parades and floats to its list of intangible cultural heritages.
(NHK)
Nov 30
The selection of restaurants and hotels to be listed in Michelin Guide Tokyo 2017 was announced online Tuesday, including four restaurants that have received a three-star rating for 10 years running.
(Japan Times)
Nov 30
Universal Parks & Resorts and Nintendo are joining forces to add video game characters to the theme park company's resorts.
(Japan Today)
Nov 29
The centuries-old wooden carving of a tiny sleeping cat has been returned to a Shinto shrine in Nikko, north of Tokyo, after months of restoration work.
(NHK)
Nov 28
The number of foreigners visiting Mikawa-Anjo Station, the next stop after Nagoya Station on the Tokaido Shinkansen Line, is increasing, particularly visitors from Thailand, Indonesia and Vietnam.
(Japan Times)
Nov 28
Mobile terminals dubbed "biocarts," which have recently been introduced at three Japanese airports, have successfully reduced the time taken by foreign visitors to complete entry procedures by up to 40 percent, according to the Justice Ministry.
(the-japan-news.com)
Nov 27
A theme park in Kitakyushu City is facing a growing tide of criticism over its educational attraction featuring some 5,000 sea creatures frozen into an ice rink in what it boasts to be a world-first - and possibly Japan's last.
(tokyoreporter.com)
---