A humanoid robot is offering boarding information to passengers at Tokyo's Haneda Airport.
Japan Airlines introduced the 60-centimeter-tall robot, which speaks 3 languages, on Tuesday. It is aimed especially at accommodating the surge of Chinese travelers during the Lunar New Year holidays.
The robot uses cute gestures to notify passengers in Chinese and English that their boarding times are approaching and to remind them about security checks.
It will operate on a trial basis through next week.
The robot currently speaks Japanese far better. It can converse in Japanese with passengers to answer up to 7 questions, such as where to board and the weather at the travel destination.
ロボットとお客さんが会話する実証実験が羽田空港で始まりました。 日本航空などは、フランスの会社が作ったロボット「NAO」を使った実験を羽田空港で­始めました。NAOに話し掛けると、航空機の搭乗ゲートや行き先の天気などの情報を教­えてくれます。
Oct 25
Having witnessed the massive influx of young people to the area around Shibuya Station in Tokyo on Halloween last year and the year before, the Metropolitan Police Department this year is planning to make the streets in the area partially vehicle-free.
(the-japan-news.com)
Oct 24
Maple, mountain ash and other trees are awash in autumn colors Monday on Haccho Dejima, a small peninsula that juts into Lake Chuzenji in Nikko, Tochigi Prefecture.
(the-japan-news.com)
Oct 23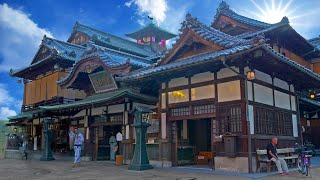 Don't be frightened! In Japan, bath houses are everywhere, but none are as mystical as Dogo Onsen.
(ONLY in JAPAN)
Oct 23
The 68th Annual Exhibition of Shoso-in Treasures, introducing the gorgeous Tenpyo culture that thrived in the eighth century, opened at the Nara National Museum in Nara on Saturday.
(the-japan-news.com)
Oct 22
Airbnb and the coastal city of Kamaishi in northeastern Japan signed a memorandum of understanding Thursday to join hands on tourism promotion, marking the first such partnership in the country for the American facilitator of short-term home rentals.
(Nikkei)
Oct 21
Japan's transport ministry is investigating a case of a Samsung smartphone emitting smoke at an airport in western Japan earlier this week.
(NHK)
Oct 20
The number of visitors to Japan hit a record high in September due to brisk tourism from China and South Korea.
(NHK)
Oct 19
Tokyo and Kyoto have been picked as the world's best and second best cities outside the United States, the U.S. travel magazine Conde Nast Traveler said Tuesday.
(Japan Today)
Oct 19
A Japanese private think tank has ranked Tokyo in 3rd place in its evaluation of the world's major cities. Tokyo overtook Paris to make it into the top 3 for the first time.
(NHK)
Oct 18
The Japanese government has banned passengers from bringing a specific model of smartphone aboard planes.
(insidejapantours.com)
---