Toyota Motor will begin tests of hydrogen as a power source at production facilities as early as this year, aiming to tame rising carbon dioxide emissions by expanding on its experience as the developer of the first fuel cell car on the market.
Solar and wind power generated in Fukuoka Prefecture will be used to split water molecules, producing hydrogen that will be stored and tapped to fill fuel cells as needed.
Heating equipment and air-conditioning account for roughly 60% of CO2 emissions from the production process. Toyota subsidiary Toyota Motor Kyushu will power air conditioners and forklifts with hydrogen, and aims to use it in the paint-drying process as well. Excess hydrogen can be used in the Mirai fuel cell car.
Toyota will join hands with Fukuoka Prefecture and Kyushu University, which have studied the cost-effectiveness of hydrogen power. The Japanese automaker will take advantage of their know-how, targeting full-fledged adoption of the technology at the Mirai plant in Toyota, Aichi Prefecture, by 2020.
Apr 26
The United States, Japan and other countries surrounding North Korea are on high alert over the nation's provocative actions, including the possibility it would conduct its sixth nuclear test, as Tuesday marked the 85th anniversary of the foundation of its Korean People's Army.
(the-japan-news.com)
Apr 26
A furnace exploded Tuesday morning at an iron factory in Asahikawa, Hokkaido, killing the manager and leaving five people injured, police and firefighters said.
(Japan Today)
Apr 26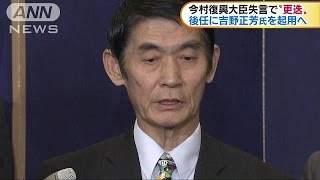 Japan's Prime Minister Shinzo Abe has decided to appoint Masayoshi Yoshino, a former State Minister of the Environment, as the new minister in charge of rebuilding areas hit by the 2011 earthquake and tsunami.
(NHK)
Apr 26
Japan's catches of smaller Pacific bluefin tuna this season are very close to topping the annual limit set under an international accord for resources conservation.
(the-japan-news.com)
Apr 26
Japan Post Holdings says it expects to book a net loss of about 360 million dollars for the business year that ended in March.
(NHK)
Apr 26
Canadian pop singer Justin Bieber, 23, will perform at Tokyo's Ajinomoto Stadium on Sept 23 and 24. It will be Bieber's fourth concert tour in Japan and his first visit since last August.
(Japan Today)
Apr 26
Despite the initial excitement among major financial institutions, the Bank of Japan's push for exchange-traded funds tracking companies that actively raise employee pay or invest in new equipment has run aground.
(Nikkei)
Apr 26
Japan's growing labor shortage threatens the nation's ubiquitous convenience stores, whose business model relies on an army of part-timers packing bento lunch boxes, manning cash registers and delivering goods 24/7.
(Japan Today)
Apr 25
The labor ministry referred advertising agency Dentsu Inc. and three officials from its offices in Nagoya, Osaka and Kyoto to prosecutors on Tuesday on suspicion of violating the Labor Standards Law by making employees work overtime beyond legal limits.
(Japan Times)
Apr 25
It has been revealed that information related to Japan's national security was included in the confidential documents disclosed by former US National Security Agency contractor Edward Snowden.
(NHK)
---