Kyoto's leaders have formally asked the government to consider a new route for the planned Hokuriku Shinkansen Line extension between Tsuruga, Fukui Prefecture, and Osaka that would see the new line stop in Maizuru, Kyoto Prefecture, and the city of Kyoto.
The request brings the number of candidate routes to five. The bullet train line now terminates in Kanazawa, and will be extended to Tsuruga by 2025. Where to build the new route has become a key economic and political issue for the Kansai region.
With a project team from the ruling Liberal Democratic Party expected to select the best candidate routes by May, and local leaders anxious to get a piece of the action, the issue is likely to have an influence on LDP and Komeito candidates in the Upper House election this summer.
Kyoto Gov. Keiji Yamada and Kyoto Mayor Daisaku Kadokawa formally notified the ruling parties that Kyoto prefers a route that would take the Hokuriku Shinkansen Line from Tsuruga to Maizuru, which is home to a Maritime Self-Defense Force base and, Yamada hopes, a possible future liquefied natural gas project that would turn Maizuru into an important energy hub.
From Maizuru, the train would go to Kyoto Station. But after that, it would bypass JR Osaka Station in northern Osaka and go to the Tennoji area, before terminating at Kansai airport in south Osaka Prefecture.
Other leaders wasted no time in criticizing the plan.
Dec 04
A taxi slammed into a hospital in the southwestern Japan city of Fukuoka Saturday afternoon, killing three people and injuring seven others.
(Jiji)
Dec 04
Hundreds of thousands of people gathered for a traditional night festival featuring floats in Chichibu City, near Tokyo.
(NHK)
Dec 04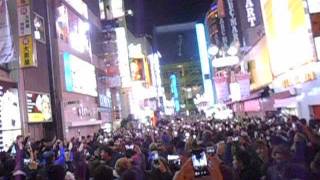 The famous scramble crossing in Tokyo's Shibuya's district will go vehicle-free on New Year's Eve, informed sources said Saturday.
(Japan Times)
Dec 04
Japan's vacant house problem will become worse before it becomes better. According to government estimates there are 8 million residences in Japan with no one living in them, a number that Bloomberg reports will increase to 20 million by 2033, representing a third of all the homes in Japan.
(Japan Times)
Dec 04
Kashima Antlers claimed their record eighth J. League title after coming from behind to stun Urawa Reds 2-1 in the championship final second leg on Saturday and win on away goals after a 2-2 aggregate draw.
(Japan Times)
Dec 04
Japan's table tennis governing body is planning to launch a new league with the goal of turning it professional.
(NHK)
Dec 04
Japan's Foreign Minister Fumio Kishida has held a meeting in Moscow with Russian Foreign Minister Sergei Lavrov to make the final preparations for a Japan-Russia summit later this month.
(NHK)
Dec 04
Akita Prefectural Police have launched an investigation following the discovery of the body of a 22-year-old woman whose grandmother is missing, reports the Nikkan Sports.
(tokyoreporter.com)
Dec 04
Finance Minister Taro Aso was the top political fundraiser in the cabinet of Prime Minister Shinzo Abe in 2015, according to reports submitted to the government by political parties and groups.
(the-japan-news.com)
Dec 03
The Japanese government is strengthening management of remote islands within national boundaries as part of an effort to protect territorial waters and impose a check on repeated Chinese provocations near them.
(Nikkei)
---