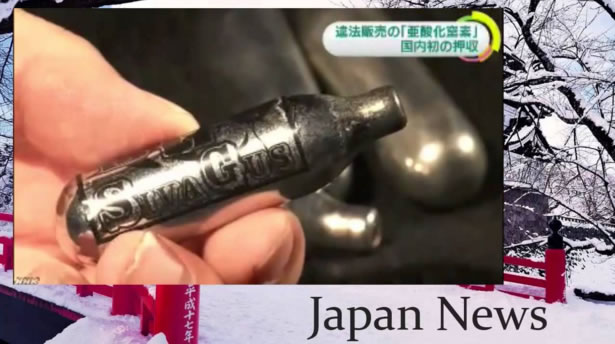 The health ministry on Thursday classified recreational nitrous oxide, known as "laughing gas," as a designated drug, banning its production, importation, sale, possession and use, effective Feb 28.
The ban will not apply to nitrous oxide used for medical and other legitimate purposes.
Nitrous oxide is used as an anesthetic agent but it has been sold online in canisters, often labeled as Sivagus, ostensibly for refilling bicycle tires, while actually being used as a recreational drug.
When inhaled, nitrous oxide causes a state of euphoria and relaxation, hence its nickname "laughing gas."
May 26
Hanako, Japan's oldest elephant who made headlines for spending most of her life alone in a concrete enclosure, died at 69 in Tokyo on Tuesday, NHK (May 26) reported.
(Tokyo Reporter)
May 26
A pair of melons produced in the Hokkaido city of Yubari on Thursday fetched a record ¥3 million ($27,240) in the first auction of the harvest season at a Sapporo wholesale market.
(Japan Times)
May 26
For years, it's been one of the Tokyo stock market's biggest open secrets: By the time companies reveal their earnings to the public, the most plugged-in traders have known the numbers for weeks.
(Japan Times)
May 26
Almost 100,000 police have been deployed across Japan to ensure security during the Group of Seven summit at Ise-Shima.
(NHK)
May 26
Japan's Prime Minister Shinzo Abe welcomed his guests at Ise Shrine on Thursday morning at the opening of the Group of Seven summit. Abe is chairing the 2-day meeting at Ise-Shima in central Japan.
(NHK)
May 26
A utility knife sitting on the floor near an intoxicated man's bag caused quite a stir in a Tokyo subway station, NHK reported on Thursday (May 26).
(Tokyo Reporter)
May 26
Nissin Foods Holdings is looking to roll out seafood-flavored instant noodles all around the world as part of its efforts to establish a global brand and bolster its overseas sales.
(Nikkei)
May 26
Finding early success as an idol singer in Japan opens up the doors to a wealth of other options in the entertainment industry.
(rocketnews24.com)
May 26
A Japanese man was arrested Wednesday in Thailand on suspicion of raping and sexually harassing a number boys aged between 13 and 15 in the country's northern province of Chiang Mai, investigators said.
(Japan Times)
May 26
Prime Minister Shinzo Abe lodged a protest with U.S. President Barack Obama over the incident which led to an arrest of an American man working at a U.S. military base in Okinawa Prefecture on suspicion of abandoning the body of a Japanese woman during their bilateral meeting in Shima, Mie Prefecture, on Wednesday night.
(the-japan-news.com)
---