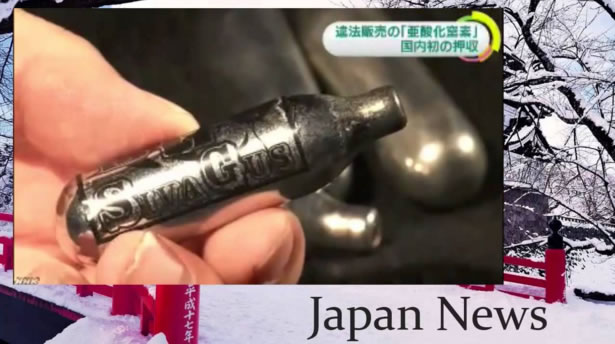 The health ministry on Thursday classified recreational nitrous oxide, known as "laughing gas," as a designated drug, banning its production, importation, sale, possession and use, effective Feb 28.
The ban will not apply to nitrous oxide used for medical and other legitimate purposes.
Nitrous oxide is used as an anesthetic agent but it has been sold online in canisters, often labeled as Sivagus, ostensibly for refilling bicycle tires, while actually being used as a recreational drug.
When inhaled, nitrous oxide causes a state of euphoria and relaxation, hence its nickname "laughing gas."
Sep 30
Police released security camera footage on Thursday of a man wanted in connection with a case here where a man stalked a high school girl and dumped bodily fluids on her from behind.
(Tokyo Reporter)
Sep 30
Houses toppling over, fires blazing out of control, trains going off their rails and murky water rushing through the streets, sweeping cars away.
(Japan Times)
Sep 30
Regional discrepancies in academic achievement among elementary and junior high school students in Japan have narrowed further, an education ministry report said Thursday.
(Jiji Press)
Sep 30
The world's largest online music service, Spotify, has launched in Japan.
(NHK)
Sep 30
The Tokyo District Court ordered a former chief of yakuza crime syndicate Kyokuto-kai and two others, including a deaf member of the gang, to pay a total of some ¥197 million in damages to 27 hearing-impaired people for extorting money from them.
(the-japan-news.com)
Sep 30
Japan is considering a possible bid to host the 2025 world exposition in Osaka Prefecture in order to buoy the economy after the 2020 Tokyo Olympics and Paralympics, informed sources said Thursday.
(Jiji Press)
Sep 30
Overseas investors sold 5.99 trillion yen ($59 billion) more in Japanese shares than they bought from Jan. 1 to Sept. 23, with that figure poised to overtake the record set during the run-up to Black Monday nearly three decades ago.
(Nikkei)
Sep 30
David Beckham handed out signed soccer balls Thursday to the players of an under-16 select team from Kumamoto Prefecture, which was hit by two huge earthquakes in April that took the lives of 50 people.
(Japan Times)
Sep 30
Prime Minister Shinzo Abe's administration may seek legislation by submission of bipartisan bills to enable 82-year-old Emperor Akihito to retire, rather than bills sponsored by the government, lawmakers in the administration said Thursday.
(Kyodo)
Sep 29
Japanese police have arrested a hacker for illegally removing software restrictions on Apple's iPhones and selling the devices.
(NHK)
---