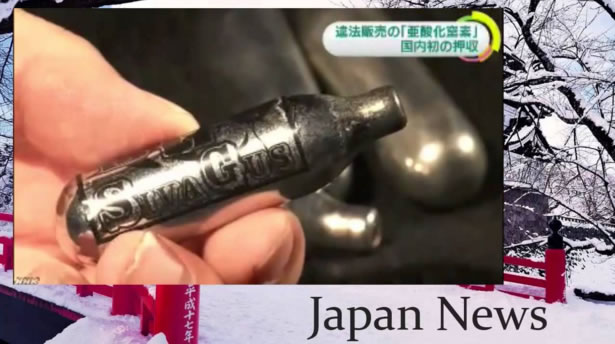 The health ministry on Thursday classified recreational nitrous oxide, known as "laughing gas," as a designated drug, banning its production, importation, sale, possession and use, effective Feb 28.
The ban will not apply to nitrous oxide used for medical and other legitimate purposes.
Nitrous oxide is used as an anesthetic agent but it has been sold online in canisters, often labeled as Sivagus, ostensibly for refilling bicycle tires, while actually being used as a recreational drug.
When inhaled, nitrous oxide causes a state of euphoria and relaxation, hence its nickname "laughing gas."
Sep 22
Prime Minister Shinzo Abe addressed the U.N. General Assembly on Wednesday, calling for strict implementation of U.N. Security Council resolutions against North Korea, which has conducted a series of nuclear tests and missile launches.
(the-japan-news.com)
Sep 22
Japanese police reported a record-high 30,262 children as suspected abuse victims to welfare authorities in the first half of 2017, on the back of increased public awareness of the issue, the National Police Agency said Thursday.
(Japan Today)
Sep 22
A 31-year-old Filipino on an international wanted list for suspected involvement in a 2004 rape and murder in baraki Prefecture on Thursday admitted his guilt to Kyodo News.
(Japan Today)
Sep 22
Maharaja, a popular disco during Japan's bubble economy era in the 1980s, reopened in Kyoto's Gion district this month.
(Jiji)
Sep 22
The number of adults strongly suspected of having diabetes in Japan has been estimated at 10 million, a 2016 survey by the health ministry showed Thursday.
(Jiji)
Sep 22
Bank of Japan Governor Haruhiko Kuroda defended the BOJ's yield curve control on Thursday, the first anniversary of the key item in the bank's ultraeasy monetary policy regime.
(Jiji)
Sep 22
Japan's prime minister wants to use revenue from the increased consumption tax to provide tuition-free preschool and higher education. Shinzo Abe says the move would be part of his drive to invest more in human resource development.
(NHK)
Sep 22
Japan's education ministry unveiled on Thursday new English textbooks to be used for elementary school fifth- and sixth-graders' foreign-language classes for fiscal 2018 and 2019.
(Jiji)
Sep 22
The number of foreign visitors to Japan continues to grow. The total so far this year has already topped 20 million.
(NHK)
Sep 21
More than 40 countries have signed a global treaty at UN Headquarters to legally ban nuclear weapons.
(NHK)
---