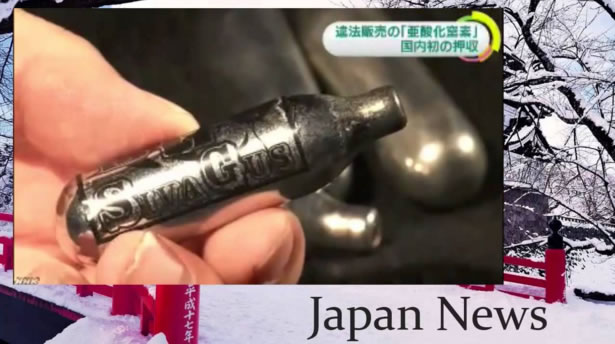 The health ministry on Thursday classified recreational nitrous oxide, known as "laughing gas," as a designated drug, banning its production, importation, sale, possession and use, effective Feb 28.
The ban will not apply to nitrous oxide used for medical and other legitimate purposes.
Nitrous oxide is used as an anesthetic agent but it has been sold online in canisters, often labeled as Sivagus, ostensibly for refilling bicycle tires, while actually being used as a recreational drug.
When inhaled, nitrous oxide causes a state of euphoria and relaxation, hence its nickname "laughing gas."
Jul 21
The Tokyo District Court on Thursday handed a homeless man a prison sentence extending for three years and six months for starting a fire that damaged a number of buildings in the historic Golden Gai last year, reports Jiji Press.
(tokyoreporter.com)
Jul 21
Japan has expanded the list of standardized pictograms used in signboards and posts as part of an effort to better serve foreign visitors in the run-up to the 2020 Tokyo Olympic and Paralympic Games.
(Kyodo)
Jul 21
An informed source in the sumo world says Mongolian Yokozuna Grand Champion Hakuho is considering the option of acquiring Japanese citizenship. The move would allow him to become a stablemaster after retirement and train younger wrestlers.
(NHK)
Jul 21
A male worker for a construction company engaged in a project to construct Japan's new National Stadium, the main venue for the 2020 Tokyo Olympics and Paralympics, committed suicide in March, a lawyer representing his bereaved relatives revealed Thursday.
(Jiji)
Jul 20
The number of criminal offenses reported to police in Japan in January-June fell 7.7 pct from a year earlier to 450,887, on track to hit an annual postwar low, a National Police Agency report showed Thursday.
(Jiji)
Jul 20
Policymakers at the Bank of Japan have decided to continue with their easing program in a bid to achieve a 2-percent inflation target. But the officials have revised the forecast date for meeting the target. They say an extra year is needed.
(NHK)
Jul 20
The United States is bracing for the possibility of another ballistic missile launch by North Korea.
(NHK)
Jul 20
A 49-year-old woman had been arrested after camera footage showed that she had been adding dishwashing detergent to her husband and son's tea, local police said.
(Japan Today)
Jul 20
The operator of the Fukushima Daiichi Nuclear Power Plant says the metal scaffolding right below the damaged No.3 reactor appears to have gone missing after the 2011 disaster.
(NHK)
Jul 20
Students at a junior high school in Tochigi Prefecture's Takenazawa town have felt ill after eating cheese at the school cafeteria, local board of education representatives said.
(Japan Today)
---