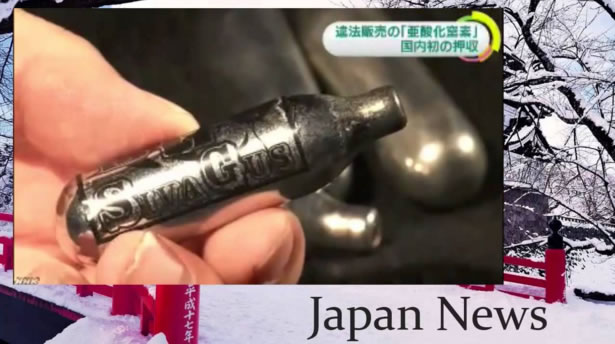 The health ministry on Thursday classified recreational nitrous oxide, known as "laughing gas," as a designated drug, banning its production, importation, sale, possession and use, effective Feb 28.
The ban will not apply to nitrous oxide used for medical and other legitimate purposes.
Nitrous oxide is used as an anesthetic agent but it has been sold online in canisters, often labeled as Sivagus, ostensibly for refilling bicycle tires, while actually being used as a recreational drug.
When inhaled, nitrous oxide causes a state of euphoria and relaxation, hence its nickname "laughing gas."
Jun 25
Central Japan Railway will in about four years introduce a new bullet train that will be lighter and consume 7% less electricity than the latest varieties in operation, the company announced Friday.
(Nikkei)
Jun 25
Police in Kawasaki, Kanagawa Prefecture, said Friday they have arrested a 28-year-old police officer on suspicion of using his smartphone to film up a 17-year-old girl's skirt.
(Japan Today)
Jun 25
The US military in Okinawa, southwestern Japan, says it will extend a ban on off-base drinking by all its personnel for another 4 days until next Tuesday.
(NHK)
Jun 25
The Tokyo metropolitan assembly said Friday it will refrain from sending teams of its members to the upcoming Rio de Janeiro Olympics and Paralympics.
(Jiji Press)
Jun 25
Japanese Finance Minister Taro Aso on Friday expressed concerns about possible risks to the global economy and financial markets as Britain reportedly voted to leave the European Union.
(Jiji Press)
Jun 25
Japanese baseball legend Ichiro Suzuki was recognized on Friday by Guinness World Records for having the most base hits in professional baseball.
(NHK)
Jun 24
The first wave of "Brexit" damage has made a major hit: Japan. As the U.K. contemplated life after Europe on Friday morning, Japan's yen made its biggest surge against the U.S. dollar since the midst of the global financial crisis in 2008.
(wsj.com)
Jun 24
Tokyo's benchmark stock index nosedived almost 8% Friday as Britain's decision to leave the European Union sparked an avalanche of selling and wild swings on currency markets.
(Japan Today)
Jun 24
For the second straight year Tokyo has topped the list of the most livable cities in the annual Quality of Life Survey conducted by the British lifestyle magazine Monocle.
(Japan Times)
Jun 24
The Saitama District Court has sentenced a 47-year-old woman to four years in prison for killing her mother and assisting her father to commit suicide.
(Japan Today)
---