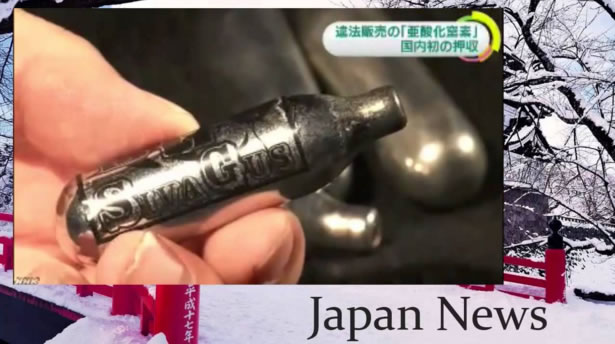 The health ministry on Thursday classified recreational nitrous oxide, known as "laughing gas," as a designated drug, banning its production, importation, sale, possession and use, effective Feb 28.
The ban will not apply to nitrous oxide used for medical and other legitimate purposes.
Nitrous oxide is used as an anesthetic agent but it has been sold online in canisters, often labeled as Sivagus, ostensibly for refilling bicycle tires, while actually being used as a recreational drug.
When inhaled, nitrous oxide causes a state of euphoria and relaxation, hence its nickname "laughing gas."
Jan 21
The Environment Ministry said Friday that it has punished a 71-year-old part-time worker at Shinjuku Gyoen National Park in central Tokyo for neglecting to collect entry fees from some non-Japanese speakers.
(Jiji)
Jan 21
Japanese Prime Minister Shinzo Abe sent Donald Trump a message celebrating his inauguration as new president of the United States in Washington on Friday.
(Jiji)
Jan 21
The manufacturer of the Mitsubishi Regional Jet plans to postpone its first delivery until mid-2020.
(NHK)
Jan 21
The administration of new US President Donald Trump has announced through the White House website its intention to withdraw from the Trans-Pacific Partnership free trade agreement.
(NHK)
Jan 21
Workers at a maker of fermented kanzuri seasoning scatter red peppers on snow-covered rice paddies in Myoko, Niigata Prefecture, on Friday.
(the-japan-news.com)
Jan 20
Over 9.4 million foreign tourists visited Osaka last year, the largest number ever, Osaka tourism authorities announced earlier this week.
(Japan Times)
Jan 20
The position of the Japan-U.S. alliance as the linchpin of Japanese foreign policy and security is an "unchanging principle," Prime Minister Shinzo Abe said in a policy speech Friday hours before the inauguration of the next U.S. president.
(Kyodo)
Jan 20
The number of people who committed suicide in Japan in 2016 fell 9.4 pct from the previous year, its fastest decline on record, the health ministry said in a preliminary report Friday.
(Jiji)
Jan 20
The organizing committee of the 2017 Asian Winter Games to be held in Hokkaido, northern Japan, next month has asked a Japanese hotel chain to take appropriate measures amid criticism for its owner's denial of the 1937 Nanjing incident.
(Jiji)
Jan 20
Japan's Prime Minister Shinzo Abe has ordered all of the country's ministries and agencies to check whether their officials helped colleagues secure post-retirement jobs.
(NHK)
---