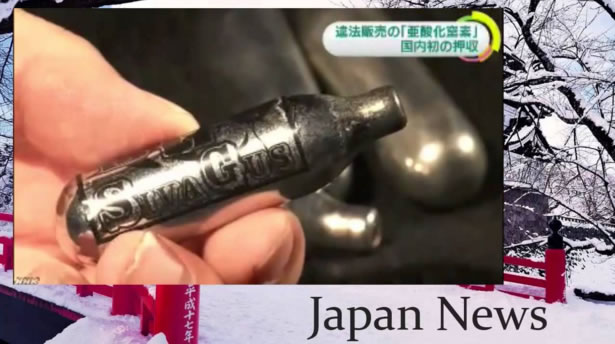 The health ministry on Thursday classified recreational nitrous oxide, known as "laughing gas," as a designated drug, banning its production, importation, sale, possession and use, effective Feb 28.
The ban will not apply to nitrous oxide used for medical and other legitimate purposes.
Nitrous oxide is used as an anesthetic agent but it has been sold online in canisters, often labeled as Sivagus, ostensibly for refilling bicycle tires, while actually being used as a recreational drug.
When inhaled, nitrous oxide causes a state of euphoria and relaxation, hence its nickname "laughing gas."
Jul 29
NHK has learned that Japan's Emperor Akihito will address the public as early as next month.
(NHK)
Jul 29
Policymakers at the Bank of Japan have decided to implement additional monetary easing.
(NHK)
Jul 29
A probe using an X-ray-like detector has found that a large amount of melted nuclear fuel apparently remains at the bottom of one of the damaged reactors at the Fukushima Daiichi nuclear power plant.
(NHK)
Jul 29
A foundation was launched in South Korea with its first executive meeting on Thursday to support so-called former comfort women under the Japan-South Korea accord reached last year.
(Jiji Press)
Jul 29
Osaka Prefectural Police have arrested a 32-year-old man and his wife for over the alleged confinement of their son, 3, that led to his death in Sakai City, reports the Asahi Shimbun
(Tokyo Reporter)
Jul 29
The smoking rate for Japanese men stood at 29.7 percent as of May this year, slipping below 30 percent for the first time since the survey began in 1965, Japan Tobacco Inc. said Thursday.
(Japan Times)
Jul 29
The Japan Meteorological Agency announced the end of the rainy season in the Kanto region.
(the-japan-news.com)
Jul 29
Oriental Land on Thursday reported a net profit of 16.2 billion yen ($155 million) for the April-June quarter, a 5% increase from a year earlier, as visitors flocked to its Tokyo Disney theme parks even as ticket prices kept climbing.
(Nikkei)
Jul 29
Police in Takasaki, Gunma Prefecture, have arrested a teenage couple on charges of burying the dead body of their newborn baby girl.
(Japan Today)
Jul 29
The Bangladeshi government has postponed the closing bid for a large-scale project funded by Japan's official development assistance in the wake of the terrorist attack on a restaurant in Dhaka earlier this month that left 20 hostages, including seven Japanese, dead, sources said Thursday.
(Japan Times)
---