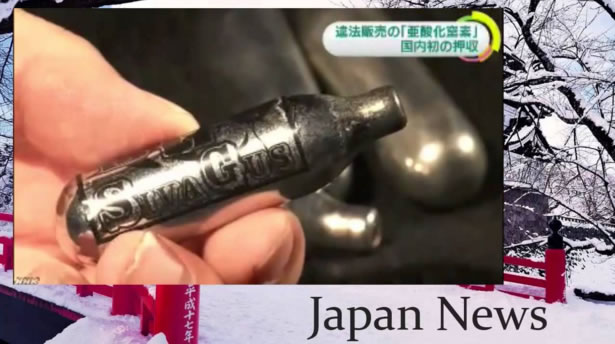 The health ministry on Thursday classified recreational nitrous oxide, known as "laughing gas," as a designated drug, banning its production, importation, sale, possession and use, effective Feb 28.
The ban will not apply to nitrous oxide used for medical and other legitimate purposes.
Nitrous oxide is used as an anesthetic agent but it has been sold online in canisters, often labeled as Sivagus, ostensibly for refilling bicycle tires, while actually being used as a recreational drug.
When inhaled, nitrous oxide causes a state of euphoria and relaxation, hence its nickname "laughing gas."
Aug 29
Japanese weather officials warn that a very powerful typhoon is bringing high waves and strong winds to islands in the Pacific Ocean south of Tokyo.
(NHK)
Aug 29
A new passenger plane developed by Mitsubishi Aircraft Corporation has been forced to abort a flight for a second consecutive day.
(NHK)
Aug 29
Japanese and African leaders agreed at a two-day conference that ended Sunday to promote investment in "quality infrastructure" in Africa to create jobs and technology transfers, thereby contributing to economic growth in the region.
(Jiji Press)
Aug 29
The public cost of dealing with the aftermath of the March 2011 nuclear accident at Tokyo Electric Power Company Holdings Inc.'s stricken Fukushima No. 1 plant topped ¥4.2 trillion by the end of fiscal 2015, it was learned Sunday.
(Japan Times)
Aug 29
Japan's Justice Ministry is planning to organize a meeting of central and local government officials to discuss ways to stamp out hate speech that targets ethnic minorities.
(NHK)
Aug 29
Bank of Japan Governor Haruhiko Kuroda says the bank can further cut its already negative interest rate. The minus rate is being applied to some of the funds held by financial institutions at the BOJ.
(NHK)
Aug 28
Prime Minister Shinzo Abe pledged Saturday that Japan will mobilize a total of $30 billion in private- and public-sector funds to invest in Africa over three years to boost infrastructure building in the resource-rich continent.
(Kyodo)
Aug 28
Scientists who study earthquakes in Japan said Thursday they have detected a rare deep-Earth tremor for the first time and traced its location to a distant and powerful storm.
(gmanetwork.com)
Aug 28
Tokyo Metropolitan Police are investigating what is believed to have been a suicide after a man plunged to his death at a popular shopping mall in Shibuya Ward on Saturday, reports Nippon News Network.
(Tokyo Reporter)
Aug 28
Many municipalities in Japan are struggling to deal with foreign students who are learning at local public schools but cannot understand the Japanese language fully or at all, a Kyodo News survey showed Saturday.
(Japan Today)
---