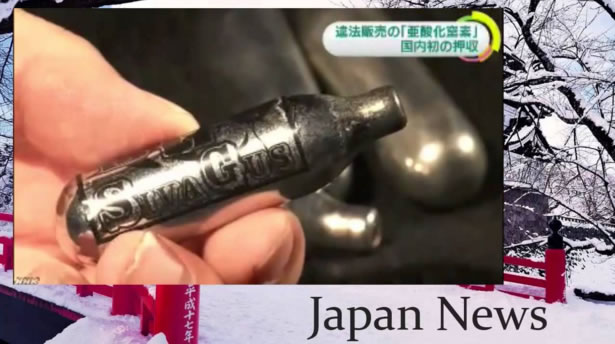 The health ministry on Thursday classified recreational nitrous oxide, known as "laughing gas," as a designated drug, banning its production, importation, sale, possession and use, effective Feb 28.
The ban will not apply to nitrous oxide used for medical and other legitimate purposes.
Nitrous oxide is used as an anesthetic agent but it has been sold online in canisters, often labeled as Sivagus, ostensibly for refilling bicycle tires, while actually being used as a recreational drug.
When inhaled, nitrous oxide causes a state of euphoria and relaxation, hence its nickname "laughing gas."
Oct 22
The powerful earthquake that rattled central Tottori Prefecture on Friday originated directly below the area, just like what happened in this year's Kumamoto quakes.
(Nikkei)
Oct 22
Airbnb and the coastal city of Kamaishi in northeastern Japan signed a memorandum of understanding Thursday to join hands on tourism promotion, marking the first such partnership in the country for the American facilitator of short-term home rentals.
(Nikkei)
Oct 22
Saitama Prefectural Police have launched an investigation after retrieving a male corpse wrapped in chains from a river in Yashio City, reports Fuji News Network (Oct. 21).
(Tokyo Reporter)
Oct 22
The average Halloween-related budget stands at some 5,000 yen among people in Japan who plan to make any spending on Halloween goods and events this year, a survey by Internet-based research firm Macromill Inc. showed Friday.
(Jiji)
Oct 22
A labor standards office has found that a Kansai Electric Power Co employee who logged hundreds of extra work hours pursuing approval to restart and extend the operating life of two aging nuclear reactors killed himself in April due to overwork, according to sources close to the matter.
(Japan Today)
Oct 22
Tokyo Metropolitan Police arrested a man on Thursday for allegedly barging into a woman's residence in Minato Ward with the intention to commit rape, the Sankei Shimbun reports (Oct. 20).
(Tokyo Reporter)
Oct 22
An underground ice wall built around the crippled Fukushima Daiichi nuclear power plant has so far been unable to block the flow of groundwater entering buildings and mixing with contaminated water.
(Nikkei)
Oct 22
Toyota Motor will pioneer Japanese sales of hydrogen fuel cell buses in 2017, broadening its offerings in zero-emissions vehicles.
(Nikkei)
Oct 22
Last year, executives at Japanese broadcaster Fuji TV hit upon the idea of combining two things much of Japan has shown an unwavering interest in: the country's feudal period, and scantily dressed young women.
(rocketnews24.com)
Oct 22
Former Prime Minister Junichiro Koizumi said the pro-nuclear ruling party of Prime Minister Shinzo Abe could lose the next Lower House election if nuclear power becomes the main election issue.
(Japan Times)
---