The proportion of Japanese people choosing South Korea as a country they dislike fell below 40 pct for the first time in two years and seven months, a Jiji Press poll showed Friday.
In the monthly public opinion survey, conducted for four days through Sunday, respondents were asked to name a country they have no liking for, allowing multiple choices. South Korea was picked by 38.6 pct of the total, dropping 5.1 percentage points from the preceding month.
The fall came after the figure had moved between 40 and 50 pct since August 2013. It is uncertain whether anti-South Korean sentiment in Japan has been receding, but the drop may reflect recent cooperation between the two countries to take steps against North Korea for its nuclear test and rocket launch.
Negative feelings among Japanese people toward the neighboring country grew sharply after then South Korean President Lee Myung-bak unprecedentedly visited the Sea of Japan islands of Takeshima claimed by Japan in August 2012. In September the same year, the proportion of respondents who answered they did not like South Korea shot up to 43.1 pct, from between 10 and 20 pct seen before the visit.
Dec 04
A taxi slammed into a hospital in the southwestern Japan city of Fukuoka Saturday afternoon, killing three people and injuring seven others.
(Jiji)
Dec 04
Hundreds of thousands of people gathered for a traditional night festival featuring floats in Chichibu City, near Tokyo.
(NHK)
Dec 04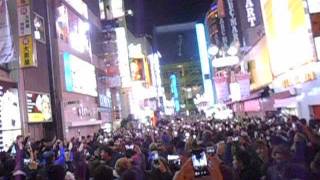 The famous scramble crossing in Tokyo's Shibuya's district will go vehicle-free on New Year's Eve, informed sources said Saturday.
(Japan Times)
Dec 04
Japan's vacant house problem will become worse before it becomes better. According to government estimates there are 8 million residences in Japan with no one living in them, a number that Bloomberg reports will increase to 20 million by 2033, representing a third of all the homes in Japan.
(Japan Times)
Dec 04
Kashima Antlers claimed their record eighth J. League title after coming from behind to stun Urawa Reds 2-1 in the championship final second leg on Saturday and win on away goals after a 2-2 aggregate draw.
(Japan Times)
Dec 04
Japan's table tennis governing body is planning to launch a new league with the goal of turning it professional.
(NHK)
Dec 04
Japan's Foreign Minister Fumio Kishida has held a meeting in Moscow with Russian Foreign Minister Sergei Lavrov to make the final preparations for a Japan-Russia summit later this month.
(NHK)
Dec 04
Akita Prefectural Police have launched an investigation following the discovery of the body of a 22-year-old woman whose grandmother is missing, reports the Nikkan Sports.
(tokyoreporter.com)
Dec 04
Finance Minister Taro Aso was the top political fundraiser in the cabinet of Prime Minister Shinzo Abe in 2015, according to reports submitted to the government by political parties and groups.
(the-japan-news.com)
Dec 03
The Japanese government is strengthening management of remote islands within national boundaries as part of an effort to protect territorial waters and impose a check on repeated Chinese provocations near them.
(Nikkei)
---