Cherry blossom is as synonymous with Japan as geishas and bullet trains. Sakura is the country's national flower, its arrival greeted each year with Springwatch-style fervour; it's the lavender fields of Provence, the tulips of Amsterdam and the American Fall rolled into one.
One of the natural world's prettiest tourist attractions, it might not be in the same league as the Serengeti's wildebeest migration, but people flock from all over the world to see Japan's cherry blossom. This is 21st-century flower power. Consequently, hotels are full and prices soar.
The cheery spectacle rolls up the Japanese archipelago from Okinawa in the tropical south to Hokkaido in the north like a floral Mexican wave. Yet its fleetingly ephemeral nature, as clouds of petals flutter like confetti in the wind, seasons it with sadness - and makes timing crucial. Which is why, insomnia-crazed and neon-blind, I went a bit Bill Murray when I realised I was too early.
A Tokyo-based friend just laughed, however. "It's OK, you'll be here for the ume."
Ume or plum, it turns out, is the new cherry. Bold, blowsy cherry blossom might have hogged the limelight for years, but it's plum, in fact, that heralds the arrival of spring in Japan. Plum trees flower in February and March - usually a month earlier than cherry. The first picnic of the year is traditionally held beneath the plum trees' blossom-laced branches - as long as the snow has melted. Before the cherry even has time to bud, plum gently breaks into bloom, preening its petals in the weak sun. The Japanese celebrate cherry's shy sibling, the Cinderella of trees, with plum festivals (ume matsuri) in parks and precincts of temples and shrines across the country.
To be honest, unless you're a fruit-tree nerd, one blossoming tree is as pretty as the next - although the plum is more fragrant than the cherry and its fruit more versatile. Plums are traditionally preserved in salt, but the sour, pickled umeboshi (sometimes served in bento boxes) is an acquired taste. They are also made into a sweet plum wine, umeshu, which is slightly more palatable.
The plum tree was brought to Japan from China in the eighth century and is believed to ward off danger, which is why you'll find it planted at the gates of religious temples and shrines. Apart from languishing in cherry's shadow, it's had other trials to contend with, most recently plum pox. A year ago in Ome City, outside Tokyo, all of Umeno Koen's (Plum Park) trees (around 3,000) were felled to stop an outbreak of the disease spreading. They will be replanted - but only after the area has been pox-free for three years.
Plum blossom can be seen in the parks that dot many of Japan's cities. In Tokyo, plum parties are held in Hanegi Park; in Kyoto the Kitano Tenmangu Shrine has 2,000 plum trees; while the Kairakuen Garden, an hour north of Tokyo by train, is a spectacular landscaped garden and blossom viewing site, with around 3,000 plum trees. The festival starts today and runs to the end of March.
Oct 23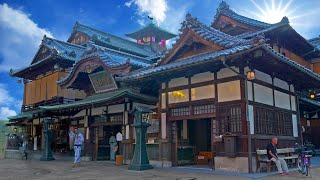 Don't be frightened! In Japan, bath houses are everywhere, but none are as mystical as Dogo Onsen.
(ONLY in JAPAN)
Oct 23
The 68th Annual Exhibition of Shoso-in Treasures, introducing the gorgeous Tenpyo culture that thrived in the eighth century, opened at the Nara National Museum in Nara on Saturday.
(the-japan-news.com)
Oct 22
Airbnb and the coastal city of Kamaishi in northeastern Japan signed a memorandum of understanding Thursday to join hands on tourism promotion, marking the first such partnership in the country for the American facilitator of short-term home rentals.
(Nikkei)
Oct 21
Japan's transport ministry is investigating a case of a Samsung smartphone emitting smoke at an airport in western Japan earlier this week.
(NHK)
Oct 20
The number of visitors to Japan hit a record high in September due to brisk tourism from China and South Korea.
(NHK)
Oct 19
Tokyo and Kyoto have been picked as the world's best and second best cities outside the United States, the U.S. travel magazine Conde Nast Traveler said Tuesday.
(Japan Today)
Oct 19
A Japanese private think tank has ranked Tokyo in 3rd place in its evaluation of the world's major cities. Tokyo overtook Paris to make it into the top 3 for the first time.
(NHK)
Oct 18
The Japanese government has banned passengers from bringing a specific model of smartphone aboard planes.
(insidejapantours.com)
Oct 17
Police are ramping up their vigilance at train stations, temples and shrines amid an increasing presence of alleged Peeping Toms in Kyoto's major tourist areas.
(Japan Times)
Oct 15
Japan as a whole may be attracting record numbers of foreign tourists, but a report by McKinsey & Co. indicates that the four major historical regions of Nara, Kamakura, Nikko and Ise Shrine are almost unknown among Western tourists.
(Japan Times)
---