Japan will collaborate with the U.S. and others to monitor the skies for orbiting space debris, suspicious satellites and other objects, sharing its data with international partners.
The U.S. is working on a framework for sharing data on objects in orbit with the U.K., Australia and Canada -- already Washington's partners on space defense -- as well as with France and Germany. Scanning the skies from a larger number of points around the globe will help prevent oversights and make for more precise observations. The U.S. signed an agreement with Japan on space-debris monitoring in 2013 and has been calling for greater sharing of information for national security purposes.
Japan's Self-Defense Forces will set up optical telescopes and radar facilities by fiscal 2022. The Air Self-Defense Force will assemble a team as soon as April to begin preparations. Each telescope and radar would cost at least 10 billion yen ($88.8 million), putting the total cost of the project at several times that or more if multiple stations are built.
Japan will also create a system to quickly share image and other data with the U.S. Japan currently receives radar data from the American military. But the SDF has no current space-monitoring operations. The Japan Aerospace Exploration Agency collects observations with telescope and radar facilities in Okayama Prefecture originally built for civilian use, but hands only part of its data to the U.S.
Nov 23
Tokyo Metropolitan Police have arrested a 39-year-old man for molesting a woman inside a carriage of the JR Saikyo Line last year, reports Nippon News Network.
(tokyoreporter.com)
Nov 23
The Japanese Olympic Committee and city of Sapporo announced Wednesday they will enter a dialogue process over a potential bid to host the 2026 Winter Olympics.
(Japan Today)
Nov 23
Tokyo Metropolitan Police are searching have arrested eight persons, including an organized crime member, in the robbery of gold valued at nearly 100 million yen from a shop in Taito Ward earlier this year, reports NHK
(tokyoreporter.com)
Nov 23
A team of Japanese researchers has found a new drug combination that reduces amyloid beta protein, believed to play a key role in causing Alzheimer's disease, by using stem cells derived from patients, Kyoto University announced Tuesday.
(Japan Times)
Nov 23
The Yokohama family court granted a request by a daughter of Aum Shinrikyo cult founder Shoko Asahara to nullify her parents' right to inherit her property in the event of her death.
(Japan Times)
Nov 23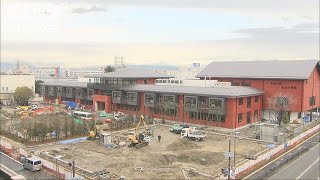 The government sold land in Osaka to school operator Moritomo Gakuen for a highly discounted price based on faulty data estimating the cost of removing industrial waste left in the plot, a government watchdog on spending concluded in a much-awaited report released Wednesday.
(Japan Times)
Nov 22
The Imperial Household Agency said Wednesday the wedding ceremony of Princess Mako, the eldest granddaughter of Emperor Akihito, and her classmate from university days Kei Komuro will be held on Nov 4 next year.
(Japan Today)
Nov 22
Subaru Corp. will introduce a series of all-electric cars in Japan as early as 2021, sources said, as competition intensifies between automakers looking to develop eco-friendly cars in response to stricter global emissions regulations.
(Japan Times)
Nov 22
The government will draw up a fiscal 2017 supplementary budget for additional spending of some ¥2 trillion, including for setting up nursery facilities to accept 320,000 children on waiting lists ahead of schedule as pledged by the ruling coalition in the Oct. 22 general election.
(Japan Times)
Nov 22
A woman employed as a costumed performer at Tokyo Disneyland was awarded labor compensation after developing a disorder that caused acute pain in her arm, the park's operator said Wednesday.
(Kyodo)
---