A members-only Japanese restaurant serving the banned and deadly delicacy "tiger blowfish" liver has been raided, police said Thursday.
Blowfish-also known as pufferfish or balloonfish in the West-derive the name from their ability to expand into a nearly roundish shape as part of a defence to ward off predators.
Japanese gourmands adore the fish for the savoury light taste of its white meat, but parts of the liver and ovaries carry enough toxins to kill not just their natural enemies but human beings as well.
Chefs in Japan who prepare blowfish need a special license but are banned from offering up particularly poisonous parts such as the liver-which some brave epicureans are still willing to eat despite the risk.
In 1975, revered Kabuki actor Mitsugoro Bando died after eating blowfish liver in Kyoto.
The raid was conducted Monday, an Osaka prefectural police spokesman said, adding that no health problems have been reported at the restaurant.
But local food safety authorities have indefinitely banned the restaurant chain from serving blowfish, Osaka food safety officials said.
フグの肝を客に提供したとして、会員制フグ料理店を家宅捜索です。 会員制フグ料理店「大阪とらふぐの会」は1月中旬、大阪市東住吉区の店舗で、養殖のト­ラフグの肝臓を刺身や肝醤油として客に提供した疑いが持たれています。フグの肝臓は有­毒とされ、天然、養殖を問わず提供が禁止されています。
Nov 19
Police in Tokyo on Saturday arrested an unemployed 42-year-old man of no fixed address on suspicion of killing a 61-year-old homeless man on a riverbank in Katsushika Ward.
(Japan Today)
Nov 19
A man died Saturday after falling off a cliff while competing in a trail running race in Saitama Prefecture, police said.
(Japan Times)
Nov 19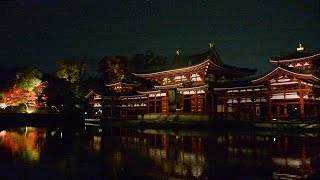 The Phoenix Hall of Byodoin temple, a UNESCO World Heritage site in Uji, Kyoto Prefecture, glows at night during a trial illumination on Friday.
(the-japan-news.com)
Nov 19
Despite their magical reputation, shooting stars are just pieces of space debris from millimeters to a few centimeters thick that fly into Earth's atmosphere and brightly burn up into nothing.
(rocketnews24.com)
Nov 19
Chiba Prefectural Police have arrested a 33-year-old man for allegedly selling cash above face value using marketplace app Mercari and collecting interest exceeding the legal interest rate, reports TV Asahi
(tokyoreporter.com)
Nov 18
Japan's national broadcaster NHK has unveiled this year's lineup for its annual New Year's Eve music show "Kohaku Uta Gassen" (Red and White Song Battle), featuring 10 new groups and singers.
(Japan Today)
Nov 18
Yokozuna Grand Champion Harumafuji has reportedly told police that he hit a lower-ranked wrestler with his bare hands, not with a beer bottle as was reported.
(NHK)
Nov 18
An apology by a Japanese railroad operator for a train's early departure has attracted the attention of foreign media.
(NHK)
Nov 18
The overall number of crimes committed in Japan continued to drop in 2016, falling below the 1 million mark for the first time in the postwar era, according to the annual White Paper on Crime released Friday by the Justice Ministry.
(Japan Times)
Nov 18
After beginning service in Japan in 2011, Naver Corporation's Line messaging app quickly become one of the most popular ways to stay connected to personal acquaintances.
(Japan Today)
---