Japanese searchers scoured thick forest Monday, looking for a seven-year-old boy whose parents left him in mountain woods as a punishment, in a case that has infuriated the public.
The parents originally told police the boy got lost on Saturday while they were hiking to gather wild vegetables-but later admitted they had left him in the forest to punish him.
The boy, Yamato Tanooka, went missing Mt Komagatake in Nanae on Japan's main northern island of Hokkaido, which is inhabited by wild bears.
Yamato, his older sister, mother and father came to a park near the forest on Saturday, but the parents became angry when the boy threw stones at cars and people, Japanese police said.
On the way back home, they made Yamato get out of the car and left him alone in the forest, driving the car about 500 meters away, TV Asahi and other reports said.
"They said they went back to the site after a few minutes, but the boy was no longer there," a local police spokesman earlier told AFP.
About 180 rescuers and police officers widened the search area on Monday, mobilising sniffer dogs and horses to go deeper into the woodlands, according to broadcaster NTV.
Footage showed scores of officers clawing through overgrown forest and tall bushes as a helicopter hovered overhead.
Police searched in the dark Sunday night with torches in hand and calling out for the boy, who was wearing a black jacket, navy blue pants and red sneakers when he disappeared, according Kyodo news agency.
北海道七飯町の山林で7歳の男の子が行方不明になってから31日で4日目です。30日­は範囲を広げて捜索が行われましたが、手掛かりは依然、見つかっていません。 行方不明となっているのは北海道北斗市の小学2年生・田野岡大和君です。
Nov 23
Tokyo Metropolitan Police are searching have arrested eight persons, including an organized crime member, in the robbery of gold valued at nearly 100 million yen from a shop in Taito Ward earlier this year, reports NHK
(tokyoreporter.com)
Nov 23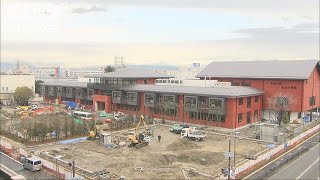 The government sold land in Osaka to school operator Moritomo Gakuen for a highly discounted price based on faulty data estimating the cost of removing industrial waste left in the plot, a government watchdog on spending concluded in a much-awaited report released Wednesday.
(Japan Times)
Nov 22
The Imperial Household Agency said Wednesday the wedding ceremony of Princess Mako, the eldest granddaughter of Emperor Akihito, and her classmate from university days Kei Komuro will be held on Nov 4 next year.
(Japan Today)
Nov 22
NHK has learned Japan is getting closer to finding out a date for the Emperor's abdication.
(NHK)
Nov 21
Police are set to refer sumo grand champion Harumafuji to prosecutors by the end of the year on suspicion of assaulting lower-ranked wrestler Takanoiwa in a drunken brawl, investigative sources said Tuesday.
(Japan Times)
Nov 21
Tokyo Metropolitan Police have arrested a 31-year-old man for organizing an orgy event via the social-networking service Twitter, reports the Sankei Shimbun.
(tokyoreporter.com)
Nov 21
A wild boar was killed after it injured an 11-year-old girl during a rampage in the town of Oizumi on Monday, reports NHK.
(tokyoreporter.com)
Nov 21
Osaka Prefectural Police have arrested a 53-year-old woman living in Neyagawa City the bodies of four newborn infants were found encased in concrete in a residence, reports TV Asahi
(tokyoreporter.com)
Nov 21
A group of Japanese researchers has developed the country's first quantum computer and is offering others free trials as a way to spur further innovation.
(NHK)
Nov 21
As a part of a crackdown on illegal gambling, Tokyo Metropolitan Police have busted a pair of internet casinos operating in Shibuya Ward, reports TV Asahi
(tokyoreporter.com)
---