Japanese searchers scoured thick forest Monday, looking for a seven-year-old boy whose parents left him in mountain woods as a punishment, in a case that has infuriated the public.
The parents originally told police the boy got lost on Saturday while they were hiking to gather wild vegetables-but later admitted they had left him in the forest to punish him.
The boy, Yamato Tanooka, went missing Mt Komagatake in Nanae on Japan's main northern island of Hokkaido, which is inhabited by wild bears.
Yamato, his older sister, mother and father came to a park near the forest on Saturday, but the parents became angry when the boy threw stones at cars and people, Japanese police said.
On the way back home, they made Yamato get out of the car and left him alone in the forest, driving the car about 500 meters away, TV Asahi and other reports said.
"They said they went back to the site after a few minutes, but the boy was no longer there," a local police spokesman earlier told AFP.
About 180 rescuers and police officers widened the search area on Monday, mobilising sniffer dogs and horses to go deeper into the woodlands, according to broadcaster NTV.
Footage showed scores of officers clawing through overgrown forest and tall bushes as a helicopter hovered overhead.
Police searched in the dark Sunday night with torches in hand and calling out for the boy, who was wearing a black jacket, navy blue pants and red sneakers when he disappeared, according Kyodo news agency.
北海道七飯町の山林で7歳の男の子が行方不明になってから31日で4日目です。30日­は範囲を広げて捜索が行われましたが、手掛かりは依然、見つかっていません。 行方不明となっているのは北海道北斗市の小学2年生・田野岡大和君です。
Apr 26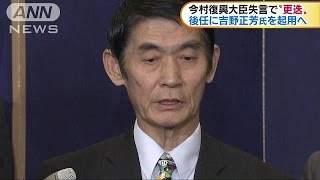 Japan's Prime Minister Shinzo Abe has decided to appoint Masayoshi Yoshino, a former State Minister of the Environment, as the new minister in charge of rebuilding areas hit by the 2011 earthquake and tsunami.
(NHK)
Apr 26
Japan's catches of smaller Pacific bluefin tuna this season are very close to topping the annual limit set under an international accord for resources conservation.
(the-japan-news.com)
Apr 26
Japan Post Holdings says it expects to book a net loss of about 360 million dollars for the business year that ended in March.
(NHK)
Apr 25
The labor ministry referred advertising agency Dentsu Inc. and three officials from its offices in Nagoya, Osaka and Kyoto to prosecutors on Tuesday on suspicion of violating the Labor Standards Law by making employees work overtime beyond legal limits.
(Japan Times)
Apr 25
Princess Kako, a granddaughter of Emperor Akihito, will study at the University of Leeds in Britain from September this year to June next year as an exchange student, the Imperial Household Agency said Monday.
(Japan Today)
Apr 25
The Japanese government on Monday filed a candidacy for the western Japan city of Osaka to host the 2025 World Exposition with the Bureau International des Expositions in Paris.
(Jiji)
Apr 25
Tokyo Metropolitan Police have arrested the former manager of an illicit parlor in Shinjuku who is suspected of instructing teenage girls to perform sex acts with customers, reports TBS News.
(tokyoreporter.com)
Apr 25
The police department of Osaka Prefecture, western Japan, has arrested a 40-year-old bus driver for allegedly using stimulants in violation of the stimulant control law.
(Jiji)
Apr 25
The Japanese government has decided to start landfill work at the Henoko coastal area in the city of Nago, Okinawa Prefecture, on Tuesday for the relocation of the U.S. Marine Corps' Futenma air base, informed sources said Monday.
(Jiji)
Apr 25
Two elderly women were hit and killed by a train at a station in Kanagawa Prefecture, south of Tokyo, with surveillance camera footage showing the two jumping on the tracks holding each other's hands, police said Monday.
(Japan Today)
---