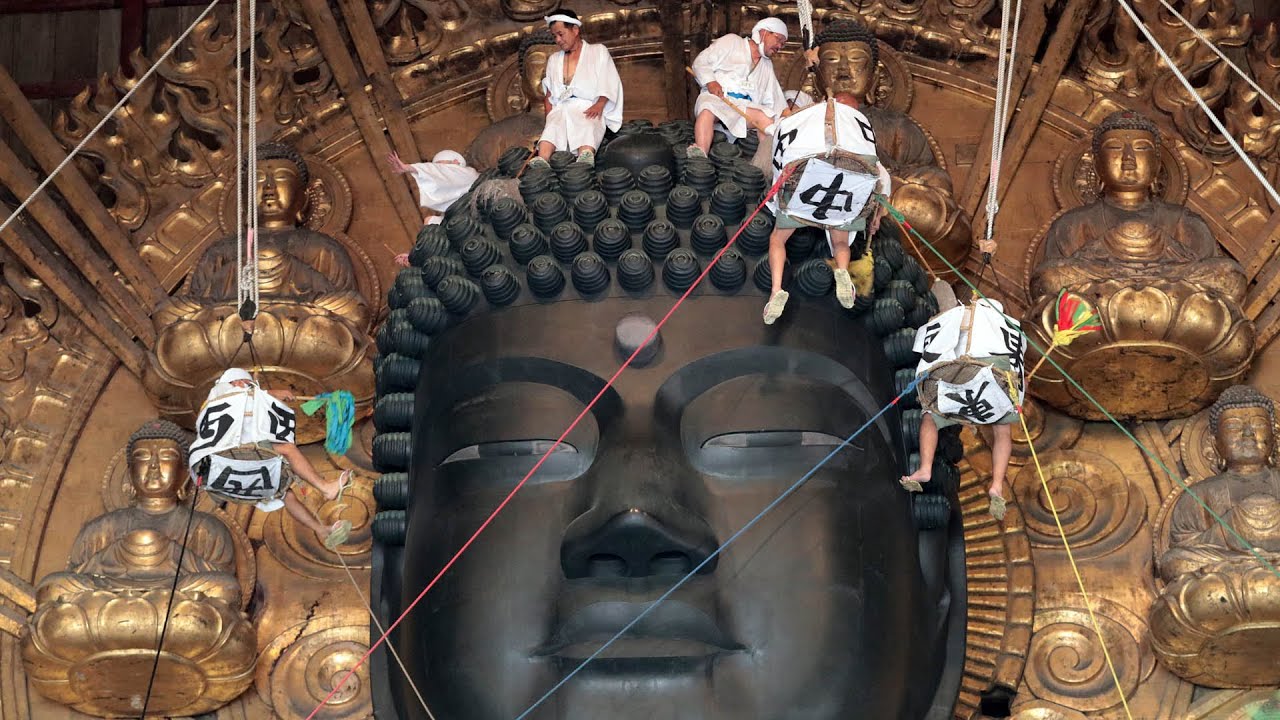 A famous statue of the Great Buddha in the ancient capital of Nara in western Japan has been cleaned up in an annual mid-summer ritual.
The Buddha at Todaiji temple is dusted off every year on August 7th, before the start of the Bon festival when people pay their respects to their ancestors.
On Sunday, about 180 priests and workers climbed onto the Buddha's hands and head to dust and polish.
The statue is 15 meters tall, so some workers were raised in baskets suspended from the ceiling to clean the statue's face and shoulders. The hall housing the Buddha soon filled up with dust.
東大寺大仏殿(奈良市)で8月7日、「奈良の大仏」として知られる本尊・盧舎那仏坐像(るしゃなぶつざぞう、国宝)の1年のほこりをはらい清める「お身拭い」が行われ、白装束の僧侶や関係者ら約180人が丁寧にほこりを落とした。
Dec 15
Japanese authorities have found 4 bodies in 2 wooden boats that washed ashore on the Sea of Japan coast in Akita City, Akita Prefecture.
(NHK)
Dec 15
Emperor Akihito wishes to step down in an abdication ceremony that is "as simple as possible," without inviting foreign guests and holding a parade, the head of the Imperial Household Agency said Thursday.
(Japan Today)
Dec 15
Japan's space agency says its asteroid probe Hayabusa2 is on course to reach its target between Earth and Mars in about 6 months.
(NHK)
Dec 14
Officials from a Japanese train operator say a crack was found near the welded joint of one of the key parts and the undercarriage of a Shinkansen bullet train.
(NHK)
Dec 14
Osaka University said Wednesday that personal data of around 80,000 students, graduates, staff, former workers and others may have been stolen by hackers.
(Japan Times)
Dec 14
For the first time, a Japanese high court has ordered the operator of a nuclear plant not to restart a reactor.
(NHK)
Dec 14
The average life expectancy in 2015 for Japanese men was highest in Shiga Prefecture, western Japan, at 81.78 years, a health ministry survey showed Wednesday.
(Jiji)
Dec 14
Japan's Supreme Court has upheld a lower court ruling finding the mayor of Minokamo in Gifu Prefecture, central Japan, guilty of receiving bribes.
(Jiji)
Dec 14
Tokyo Metropolitan Police have arrested a 72-year-old man over the alleged molestation of a fourth-year middle school girl in a parking lot in Edogawa Ward earlier this year, reports the Sankei Shimbun
(tokyoreporter.com)
Dec 14
Japan's ruling Liberal Democratic Party and its coalition partner, Komeito, adopted on Tuesday an income tax reform plan that will bring about heavier burdens on salaried employees earning over 8.5 million yen a year.
(Jiji)
---