The suspect in a fatal shooting at a construction company in the western Japan city of Wakayama was arrested Wednesday evening following an armed standoff during the day after he had evaded an attempt by police officers to capture him the previous night.
Yasuhide Mizobata, 45, who had been at large since the shooting on Monday, was taken into custody after shooting himself in the stomach in an apartment building near the construction company's office while officers were trying to persuade him to surrender.
Mizobata was transported to a hospital by ambulance and could not respond to questions, according to the police.
Officers had located the suspect, armed with two guns, while he was riding a bicycle around 10:30 p.m. Tuesday after receiving a call from a resident, but he escaped after firing four shots at a police car.
The police tracked him down again at around 1 a.m. Wednesday, around the time when he began holing up in the apartment.
Mizobata fired two more shots Wednesday morning, but there were no reports of injuries.
While conversing with officers during the standoff, Mizobata was seen holding a gun in each hand and occasionally pointing one at himself. He demanded investigators hand his mother 2 million yen (about $19,000), according to the police.
The police found a bag early Wednesday containing 2 million yen and a letter apparently written by Mizobata on a street near the site of the standoff. Roughly the same amount had been withdrawn from an account at a financial institution connected to Mizobata a few days before the shooting, investigative sources said.
和歌山での立てこもり事件で、警察は31日午後6時40分に自ら拳銃で腹を撃ったという溝畑泰秀容疑者(45)の身柄を確保しました。 (勝田和宏ディレクター報告) 現場のカメラマンが午後6時40分ごろに1発、乾いた音を聞いたという話を聞いています。
Mar 21
A female zookeeper at Ueno Zoological Gardens in Tokyo sustained injuries Tuesday after a gorilla bit her right arm, police said.
(Japan Today)
Mar 20
Police said Monday they have arrested three Taiwanese women for allegedly attempting to smuggle gold worth around 50 million yen ($470,000) into Japan in their bras.
(Japan Today)
Mar 20
The leaders of Japan and Russia have reaffirmed cooperation on planned joint economic projects on Russian-controlled islands claimed by Japan.
(NHK)
Mar 19
More than two decades after Japan's Aum Shinrikyo cult plunged Tokyo into terror by releasing a nerve agent on rush-hour subway trains, its spinoffs continue to attract new followers.
(Japan Today)
Mar 18
Tokyo Metropolitan Police plan to arrest a man claiming to be the former boyfriend of a woman found stabbed to death in Tama City on Friday, reports the Mainichi Shimbun
(tokyoreporter.com)
Mar 18
Investigative sources with law enforcement revealed on Saturday that popular adult video (AV) actress Nozomi Aso has been arrested again on drug-related charges, reports the Sankei Sports.
(tokyoreporter.com)
Mar 17
Japanese authorities have lowered volcanic alert levels for the 2 peaks of Mount Kusatsu-Shirane in Gunma Prefecture, more than 7 weeks after the volcano erupted.
(NHK)
Mar 17
A blackmail letter has been sent to a restaurant owned by Japanese Prime Minister Shinzo Abe's wife, Akie.
(NHK)
Mar 16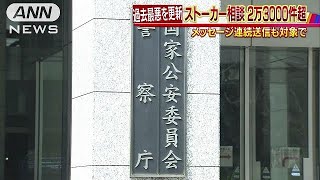 Police in Japan received a record-high number of inquiries and reports about stalking and domestic violence last year.
(NHK)
Mar 16
A car boarded by Eiichi Negishi, who won the 2010 Nobel Prize in Chemistry, has caused an accident in Illinois, and his wife, Sumire, also in the vehicle, has died, sources including local police said Wednesday.
(Jiji)
---