As Japan takes on the elusive challenge of fiscal reconstruction, slowing tax revenue growth is casting a shadow over the future of an aging Japan.
That bodes ill for Prime Minister Shinzo Abe, who has touted recent growth in tax income since taking office in 2012 as one of the achievements of his Abenomics policy mix.
Under a draft fiscal 2017 budget approved by Abe's cabinet, the government expects a 0.2% increase in revenues from corporate, income and sales taxes to 57.71 trillion yen ($490 billion).
The yen's advance against other major currencies prompted the government to cut its fiscal 2016 tax revenue estimate from its initial plan by 1.74 trillion yen and issue additional government bonds even before the year ends in March.
Securing stable tax revenues is seen as a top priority at a time when Japan's aging population is expected to increase already ballooning social security expenses in the years ahead.
"Japan's tax revenues are easily swayed by currency moves just as we saw in fiscal 2016. We need to think about how to reduce such volatility," said Takuya Hoshino, an economist at the Dai-ichi Life Research Institute.
"For now, the yen has been weakening (since the election of Donald Trump as the next U.S. president), which could lift tax income. That said, though, the opposite is also true" should the yen strengthen, Hoshino added.
Earlier this year, Abe postponed raising the country's sales tax to 10%, originally planned for April 2017, to October 2019 as the economy lacked vigor. The hike is aimed at increasing state revenue to pay for social security.
Japan also relies heavily on issuance of government bonds for revenues, making it an urgent task to improve the country's fiscal health, which is now the worst among major developed countries.
Debt-servicing expenses, accounting for some 24% of next year's total spending, are expected to drop 0.4%, after the Bank of Japan's policy to keep the benchmark 10-year bond yield target at around zero enabled the government to lower its assumed interest rate used in compiling the budget.
The Organization for Economic Cooperation and Development has said that Japan heeds to implement "a more detailed and credible consolidation plan, including a path of gradual increases in the consumption tax" to sustain confidence in its public finances.
The Paris-based organization added that investment in education and training is required to boost the country's growth potential.
Nov 20
Police in Okinawa, southwestern Japan, have arrested a US Marine in connection with a fatal traffic accident.
(NHK)
Nov 20
Japanese railway companies plan to use data from seabed seismometers to quickly stop Shinkansen bullet trains when a major earthquake hits.
(NHK)
Nov 20
Prison inmates who don't speak Japanese now have access to better interpretation services, thanks to a new system introduced earlier this month.
(NHK)
Nov 20
Hyogo Prefectural Police on Friday arrested a sex worker for allegedly stealing a wristwatch valued at 10 million yen from a male customer two years ago, reports the Sankei Shimbun
(tokyoreporter.com)
Nov 19
Police in Tokyo on Saturday arrested an unemployed 42-year-old man of no fixed address on suspicion of killing a 61-year-old homeless man on a riverbank in Katsushika Ward.
(Japan Today)
Nov 19
A man died Saturday after falling off a cliff while competing in a trail running race in Saitama Prefecture, police said.
(Japan Times)
Nov 19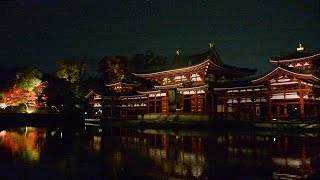 The Phoenix Hall of Byodoin temple, a UNESCO World Heritage site in Uji, Kyoto Prefecture, glows at night during a trial illumination on Friday.
(the-japan-news.com)
Nov 19
Despite their magical reputation, shooting stars are just pieces of space debris from millimeters to a few centimeters thick that fly into Earth's atmosphere and brightly burn up into nothing.
(rocketnews24.com)
Nov 19
Chiba Prefectural Police have arrested a 33-year-old man for allegedly selling cash above face value using marketplace app Mercari and collecting interest exceeding the legal interest rate, reports TV Asahi
(tokyoreporter.com)
Nov 18
Japan's national broadcaster NHK has unveiled this year's lineup for its annual New Year's Eve music show "Kohaku Uta Gassen" (Red and White Song Battle), featuring 10 new groups and singers.
(Japan Today)
---