As Japan takes on the elusive challenge of fiscal reconstruction, slowing tax revenue growth is casting a shadow over the future of an aging Japan.
That bodes ill for Prime Minister Shinzo Abe, who has touted recent growth in tax income since taking office in 2012 as one of the achievements of his Abenomics policy mix.
Under a draft fiscal 2017 budget approved by Abe's cabinet, the government expects a 0.2% increase in revenues from corporate, income and sales taxes to 57.71 trillion yen ($490 billion).
The yen's advance against other major currencies prompted the government to cut its fiscal 2016 tax revenue estimate from its initial plan by 1.74 trillion yen and issue additional government bonds even before the year ends in March.
Securing stable tax revenues is seen as a top priority at a time when Japan's aging population is expected to increase already ballooning social security expenses in the years ahead.
"Japan's tax revenues are easily swayed by currency moves just as we saw in fiscal 2016. We need to think about how to reduce such volatility," said Takuya Hoshino, an economist at the Dai-ichi Life Research Institute.
"For now, the yen has been weakening (since the election of Donald Trump as the next U.S. president), which could lift tax income. That said, though, the opposite is also true" should the yen strengthen, Hoshino added.
Earlier this year, Abe postponed raising the country's sales tax to 10%, originally planned for April 2017, to October 2019 as the economy lacked vigor. The hike is aimed at increasing state revenue to pay for social security.
Japan also relies heavily on issuance of government bonds for revenues, making it an urgent task to improve the country's fiscal health, which is now the worst among major developed countries.
Debt-servicing expenses, accounting for some 24% of next year's total spending, are expected to drop 0.4%, after the Bank of Japan's policy to keep the benchmark 10-year bond yield target at around zero enabled the government to lower its assumed interest rate used in compiling the budget.
The Organization for Economic Cooperation and Development has said that Japan heeds to implement "a more detailed and credible consolidation plan, including a path of gradual increases in the consumption tax" to sustain confidence in its public finances.
The Paris-based organization added that investment in education and training is required to boost the country's growth potential.
Apr 26
The United States, Japan and other countries surrounding North Korea are on high alert over the nation's provocative actions, including the possibility it would conduct its sixth nuclear test, as Tuesday marked the 85th anniversary of the foundation of its Korean People's Army.
(the-japan-news.com)
Apr 26
A furnace exploded Tuesday morning at an iron factory in Asahikawa, Hokkaido, killing the manager and leaving five people injured, police and firefighters said.
(Japan Today)
Apr 26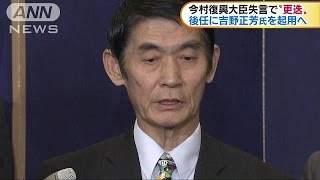 Japan's Prime Minister Shinzo Abe has decided to appoint Masayoshi Yoshino, a former State Minister of the Environment, as the new minister in charge of rebuilding areas hit by the 2011 earthquake and tsunami.
(NHK)
Apr 26
Japan's catches of smaller Pacific bluefin tuna this season are very close to topping the annual limit set under an international accord for resources conservation.
(the-japan-news.com)
Apr 26
Japan Post Holdings says it expects to book a net loss of about 360 million dollars for the business year that ended in March.
(NHK)
Apr 26
Canadian pop singer Justin Bieber, 23, will perform at Tokyo's Ajinomoto Stadium on Sept 23 and 24. It will be Bieber's fourth concert tour in Japan and his first visit since last August.
(Japan Today)
Apr 26
Despite the initial excitement among major financial institutions, the Bank of Japan's push for exchange-traded funds tracking companies that actively raise employee pay or invest in new equipment has run aground.
(Nikkei)
Apr 26
Japan's growing labor shortage threatens the nation's ubiquitous convenience stores, whose business model relies on an army of part-timers packing bento lunch boxes, manning cash registers and delivering goods 24/7.
(Japan Today)
Apr 25
The labor ministry referred advertising agency Dentsu Inc. and three officials from its offices in Nagoya, Osaka and Kyoto to prosecutors on Tuesday on suspicion of violating the Labor Standards Law by making employees work overtime beyond legal limits.
(Japan Times)
Apr 25
It has been revealed that information related to Japan's national security was included in the confidential documents disclosed by former US National Security Agency contractor Edward Snowden.
(NHK)
---