A civic group set up a statue of a girl symbolizing the issue of so-called wartime comfort women in front of the Japanese consulate-general in Busan, southern South Korea, on Friday.
The move came after local authorities gave permission to establish the statue and lifted its order to remove the monument, which was briefly placed at the site by the group on Wednesday.
The girl's statue is the second of its kind placed in front of a Japanese diplomatic mission in South Korea, following one in front of the Japanese embassy in Seoul.
Japan and South Korea concluded a landmark agreement on Dec. 28, 2015, to "finally and irreversibly" resolve the issue of comfort women, mostly from the Korean Peninsula, who were forced to serve as prostitutes for Japanese troops before and during World War II. Under the accord, Seoul vowed to make efforts to remove the statue in front of the embassy, but no such move has been made.
韓国・釜山市の日本総領事館の近くにいわゆる「慰安婦像」が設置されます。28日に現地の警察が撤去していましたが、抗議が相次ぎ、当局が黙認した形です。
Apr 26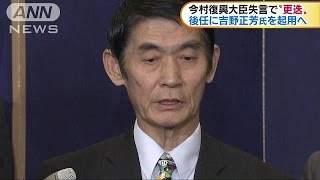 Japan's Prime Minister Shinzo Abe has decided to appoint Masayoshi Yoshino, a former State Minister of the Environment, as the new minister in charge of rebuilding areas hit by the 2011 earthquake and tsunami.
(NHK)
Apr 26
Japan's catches of smaller Pacific bluefin tuna this season are very close to topping the annual limit set under an international accord for resources conservation.
(the-japan-news.com)
Apr 26
Japan Post Holdings says it expects to book a net loss of about 360 million dollars for the business year that ended in March.
(NHK)
Apr 25
The labor ministry referred advertising agency Dentsu Inc. and three officials from its offices in Nagoya, Osaka and Kyoto to prosecutors on Tuesday on suspicion of violating the Labor Standards Law by making employees work overtime beyond legal limits.
(Japan Times)
Apr 25
Princess Kako, a granddaughter of Emperor Akihito, will study at the University of Leeds in Britain from September this year to June next year as an exchange student, the Imperial Household Agency said Monday.
(Japan Today)
Apr 25
The Japanese government on Monday filed a candidacy for the western Japan city of Osaka to host the 2025 World Exposition with the Bureau International des Expositions in Paris.
(Jiji)
Apr 25
Tokyo Metropolitan Police have arrested the former manager of an illicit parlor in Shinjuku who is suspected of instructing teenage girls to perform sex acts with customers, reports TBS News.
(tokyoreporter.com)
Apr 25
The police department of Osaka Prefecture, western Japan, has arrested a 40-year-old bus driver for allegedly using stimulants in violation of the stimulant control law.
(Jiji)
Apr 25
The Japanese government has decided to start landfill work at the Henoko coastal area in the city of Nago, Okinawa Prefecture, on Tuesday for the relocation of the U.S. Marine Corps' Futenma air base, informed sources said Monday.
(Jiji)
Apr 25
Two elderly women were hit and killed by a train at a station in Kanagawa Prefecture, south of Tokyo, with surveillance camera footage showing the two jumping on the tracks holding each other's hands, police said Monday.
(Japan Today)
---