On Oct 25, former actress Maya Takagi was arrested on a charge of possession of marijuana. The self-described "naturalist" took up residence on Ishigaki island five years ago. Also arrested was Takagi's male companion, Shigenari Moriyama, who had been actively promoting the use of the weed, praising its effectiveness for anti-aging.
Last July, Takagi went so far as to declare her candidacy as a member of the Japan Renaissance Party, running for a seat in the upper house of the Diet. Her platform included legalization of marijuana for medical use. She was defeated, but voiced her satisfaction that the election helped him "get the word out to lots of people."
Spa! reports that Takagi and Moriyama have yet to admit to the charges, despite the police confiscating such evidence as enough cannabis sativa to light up 100 times, along with pipes and other used smoking paraphernalia.
"I only met with Ms Takagi once, but concerning the matter of legalization of marijuana for medical use, I had communicated through Mr Hiroyuki Arai, a former member of the Japan Renaissance Party," said Koichi Maeda, director of an NPO that backs legalization of marijuana for medical purposes. "I sympathized with her. But I can't get over the feeling that she hadn't sufficiently studied the issues. During questioning in the Diet, a member of the Ministry of Health, Labour and Welfare testified that Japan's controls on marijuana have been concluded through an 'international agreement.' But actually all the nations in the Group of Eight, except Japan, allow for medical use of marijuana. From the beginning, medical use and research of cannabis had not been banned. Annual reports from the International Narcotics Control Board, the World Health Organization and so on had welcomed such research.
"I would have hoped that these points would have been raised during discussions in the Diet, but they weren't."
Maeda is nonetheless sympathetic toward Takagi, and voiced his opinion that along with favorable effects, it is "far less addictive or harmful than are alcohol or tobacco."
"That's why many advanced economies such as the Netherlands and some U.S. states such as Washington and Colorado permit not only medical use, but have decriminalized possession, and other countries, such as Britain and Germany do not penalize possession of small amounts for personal use. In some countries, there are heavier fines for smoking on a public street," he says. "Only Japan is going against the world currents on this. Mobilizing 30 police to arrest a violator, and then pillorying the accused in a media frenzy is unthinkable in Europe or North America."
Spa! then enumerates marijuana's medically proven benefits, such as inducing relaxation, reducing inflammation, suppressing pain or muscle spasms, and helping patients in the terminal stages of diseases such as cancer or AIDS. Which is all the more reason for Japan to reconsider its current law banning the drug.
Apr 26
The United States, Japan and other countries surrounding North Korea are on high alert over the nation's provocative actions, including the possibility it would conduct its sixth nuclear test, as Tuesday marked the 85th anniversary of the foundation of its Korean People's Army.
(the-japan-news.com)
Apr 26
A furnace exploded Tuesday morning at an iron factory in Asahikawa, Hokkaido, killing the manager and leaving five people injured, police and firefighters said.
(Japan Today)
Apr 26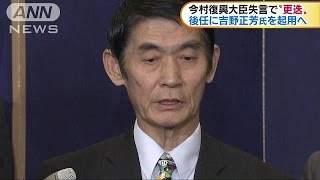 Japan's Prime Minister Shinzo Abe has decided to appoint Masayoshi Yoshino, a former State Minister of the Environment, as the new minister in charge of rebuilding areas hit by the 2011 earthquake and tsunami.
(NHK)
Apr 26
Japan's catches of smaller Pacific bluefin tuna this season are very close to topping the annual limit set under an international accord for resources conservation.
(the-japan-news.com)
Apr 26
Japan Post Holdings says it expects to book a net loss of about 360 million dollars for the business year that ended in March.
(NHK)
Apr 26
Canadian pop singer Justin Bieber, 23, will perform at Tokyo's Ajinomoto Stadium on Sept 23 and 24. It will be Bieber's fourth concert tour in Japan and his first visit since last August.
(Japan Today)
Apr 26
Despite the initial excitement among major financial institutions, the Bank of Japan's push for exchange-traded funds tracking companies that actively raise employee pay or invest in new equipment has run aground.
(Nikkei)
Apr 26
Japan's growing labor shortage threatens the nation's ubiquitous convenience stores, whose business model relies on an army of part-timers packing bento lunch boxes, manning cash registers and delivering goods 24/7.
(Japan Today)
Apr 25
The labor ministry referred advertising agency Dentsu Inc. and three officials from its offices in Nagoya, Osaka and Kyoto to prosecutors on Tuesday on suspicion of violating the Labor Standards Law by making employees work overtime beyond legal limits.
(Japan Times)
Apr 25
It has been revealed that information related to Japan's national security was included in the confidential documents disclosed by former US National Security Agency contractor Edward Snowden.
(NHK)
---