On Oct 25, former actress Maya Takagi was arrested on a charge of possession of marijuana. The self-described "naturalist" took up residence on Ishigaki island five years ago. Also arrested was Takagi's male companion, Shigenari Moriyama, who had been actively promoting the use of the weed, praising its effectiveness for anti-aging.
Last July, Takagi went so far as to declare her candidacy as a member of the Japan Renaissance Party, running for a seat in the upper house of the Diet. Her platform included legalization of marijuana for medical use. She was defeated, but voiced her satisfaction that the election helped him "get the word out to lots of people."
Spa! reports that Takagi and Moriyama have yet to admit to the charges, despite the police confiscating such evidence as enough cannabis sativa to light up 100 times, along with pipes and other used smoking paraphernalia.
"I only met with Ms Takagi once, but concerning the matter of legalization of marijuana for medical use, I had communicated through Mr Hiroyuki Arai, a former member of the Japan Renaissance Party," said Koichi Maeda, director of an NPO that backs legalization of marijuana for medical purposes. "I sympathized with her. But I can't get over the feeling that she hadn't sufficiently studied the issues. During questioning in the Diet, a member of the Ministry of Health, Labour and Welfare testified that Japan's controls on marijuana have been concluded through an 'international agreement.' But actually all the nations in the Group of Eight, except Japan, allow for medical use of marijuana. From the beginning, medical use and research of cannabis had not been banned. Annual reports from the International Narcotics Control Board, the World Health Organization and so on had welcomed such research.
"I would have hoped that these points would have been raised during discussions in the Diet, but they weren't."
Maeda is nonetheless sympathetic toward Takagi, and voiced his opinion that along with favorable effects, it is "far less addictive or harmful than are alcohol or tobacco."
"That's why many advanced economies such as the Netherlands and some U.S. states such as Washington and Colorado permit not only medical use, but have decriminalized possession, and other countries, such as Britain and Germany do not penalize possession of small amounts for personal use. In some countries, there are heavier fines for smoking on a public street," he says. "Only Japan is going against the world currents on this. Mobilizing 30 police to arrest a violator, and then pillorying the accused in a media frenzy is unthinkable in Europe or North America."
Spa! then enumerates marijuana's medically proven benefits, such as inducing relaxation, reducing inflammation, suppressing pain or muscle spasms, and helping patients in the terminal stages of diseases such as cancer or AIDS. Which is all the more reason for Japan to reconsider its current law banning the drug.
Nov 23
Tokyo Metropolitan Police have arrested a 39-year-old man for molesting a woman inside a carriage of the JR Saikyo Line last year, reports Nippon News Network.
(tokyoreporter.com)
Nov 23
The Japanese Olympic Committee and city of Sapporo announced Wednesday they will enter a dialogue process over a potential bid to host the 2026 Winter Olympics.
(Japan Today)
Nov 23
Tokyo Metropolitan Police are searching have arrested eight persons, including an organized crime member, in the robbery of gold valued at nearly 100 million yen from a shop in Taito Ward earlier this year, reports NHK
(tokyoreporter.com)
Nov 23
A team of Japanese researchers has found a new drug combination that reduces amyloid beta protein, believed to play a key role in causing Alzheimer's disease, by using stem cells derived from patients, Kyoto University announced Tuesday.
(Japan Times)
Nov 23
The Yokohama family court granted a request by a daughter of Aum Shinrikyo cult founder Shoko Asahara to nullify her parents' right to inherit her property in the event of her death.
(Japan Times)
Nov 23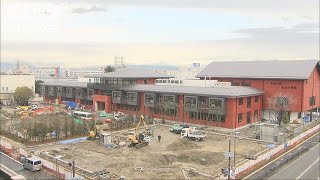 The government sold land in Osaka to school operator Moritomo Gakuen for a highly discounted price based on faulty data estimating the cost of removing industrial waste left in the plot, a government watchdog on spending concluded in a much-awaited report released Wednesday.
(Japan Times)
Nov 22
The Imperial Household Agency said Wednesday the wedding ceremony of Princess Mako, the eldest granddaughter of Emperor Akihito, and her classmate from university days Kei Komuro will be held on Nov 4 next year.
(Japan Today)
Nov 22
Subaru Corp. will introduce a series of all-electric cars in Japan as early as 2021, sources said, as competition intensifies between automakers looking to develop eco-friendly cars in response to stricter global emissions regulations.
(Japan Times)
Nov 22
The government will draw up a fiscal 2017 supplementary budget for additional spending of some ¥2 trillion, including for setting up nursery facilities to accept 320,000 children on waiting lists ahead of schedule as pledged by the ruling coalition in the Oct. 22 general election.
(Japan Times)
Nov 22
A woman employed as a costumed performer at Tokyo Disneyland was awarded labor compensation after developing a disorder that caused acute pain in her arm, the park's operator said Wednesday.
(Kyodo)
---