A man who threatened a delivery worker with a chainsaw told police he filmed and uploaded the incident because he was looking forward to watching the number of views of the video rise, Nippon News Network reported on Saturday
Mie Prefectural Police charged Kazuhiro Hasegawa, 27, with swinging around a chainsaw and threatening a worker at a Yamato Transport distribution center in Iga City in December.
Police quoted Hasegawa, who runs a YouTube channel under Hasegawa Kazuaki 8003TV, as saying that he "was looking forward to watching the view count rise."
The smartphone Hasegawa used to record the footage was confiscated and is being analyzed, TV Asahi (Jan. 7) quoted police as saying.
Hasegawa uploaded the video to his channel but quickly took it down, according to news site Tantei Watch, and asked a user who uploaded a copy to also remove it.
Package contained Wi-Fi router?
Reports and explanations by the suspect suggest he became enraged after his father turned away a delivery driver who was attempting to deliver a Wi-Fi router he ordered.
Several netizens appear to have already circulated copies of the clip in question.
A recording of the video uploaded on YouTube appears to show an enraged Hasegawa screaming at a Yamato Transport worker as he demands his package be handed over.
三重県でチェーンソーで宅配業者を脅したとして逮捕された男は、インターネットに投稿した事件当時の動画の「再生回数が伸びるのが楽しみだった」と供述をしていることが分かりました。
Apr 26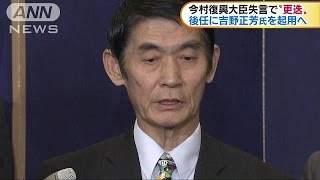 Japan's Prime Minister Shinzo Abe has decided to appoint Masayoshi Yoshino, a former State Minister of the Environment, as the new minister in charge of rebuilding areas hit by the 2011 earthquake and tsunami.
(NHK)
Apr 26
Japan's catches of smaller Pacific bluefin tuna this season are very close to topping the annual limit set under an international accord for resources conservation.
(the-japan-news.com)
Apr 26
Japan Post Holdings says it expects to book a net loss of about 360 million dollars for the business year that ended in March.
(NHK)
Apr 25
The labor ministry referred advertising agency Dentsu Inc. and three officials from its offices in Nagoya, Osaka and Kyoto to prosecutors on Tuesday on suspicion of violating the Labor Standards Law by making employees work overtime beyond legal limits.
(Japan Times)
Apr 25
Princess Kako, a granddaughter of Emperor Akihito, will study at the University of Leeds in Britain from September this year to June next year as an exchange student, the Imperial Household Agency said Monday.
(Japan Today)
Apr 25
The Japanese government on Monday filed a candidacy for the western Japan city of Osaka to host the 2025 World Exposition with the Bureau International des Expositions in Paris.
(Jiji)
Apr 25
Tokyo Metropolitan Police have arrested the former manager of an illicit parlor in Shinjuku who is suspected of instructing teenage girls to perform sex acts with customers, reports TBS News.
(tokyoreporter.com)
Apr 25
The police department of Osaka Prefecture, western Japan, has arrested a 40-year-old bus driver for allegedly using stimulants in violation of the stimulant control law.
(Jiji)
Apr 25
The Japanese government has decided to start landfill work at the Henoko coastal area in the city of Nago, Okinawa Prefecture, on Tuesday for the relocation of the U.S. Marine Corps' Futenma air base, informed sources said Monday.
(Jiji)
Apr 25
Two elderly women were hit and killed by a train at a station in Kanagawa Prefecture, south of Tokyo, with surveillance camera footage showing the two jumping on the tracks holding each other's hands, police said Monday.
(Japan Today)
---