A female kangaroo found dead at a zoo in Sapporo on Friday was likely killed after her neck was caught in the mesh of her feeding box, raising fresh questions over the zoo's habitat conditions following a string of other animal deaths.
Officials at Sapporo Maruyama Zoo said a keeper found the eastern grey kangaroo named Ume lying dead in her cage in the morning because of a spinal cord injury, likely caused by her neck becoming dislocated after she stuck her nose into her feeding box, Nippon News Network reports (Jan. 7).
Crowds of visitors were gathered Saturday morning to mourn the sudden death of Ume, for whom the zoo had set up a memorial.
The zoo has implemented unspecified emergency measures to prevent other kangaroos from becoming caught in the mesh. Smaller mesh for feeding boxes were implemented last year.
Kato Osamu, director of Sapporo Maruyama Zoo, said the zoo has "ended up causing an extremely heartbreaking incident. We hope to properly examine what went wrong."
Fresh questions have been raised over management and habitat conditions at the zoo following the deaths of other animals, including a sun bear that was being trained for breeding and a giraffe that suffocated on food, TV Asahi reported (Jan. 7).
A child visiting the zoo to pay respects for Ume said they were "sad she passed away."
Another child said they "thought going to the zoo would mean there'd be lots of fun things, but [Ume] is gone, poor her."
札幌市の円山動物園で、カンガルーが死んでいるのが見つかりました。この動物園では、他にも問題が相次いでいました。
Apr 26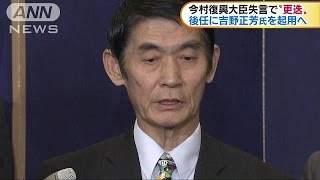 Japan's Prime Minister Shinzo Abe has decided to appoint Masayoshi Yoshino, a former State Minister of the Environment, as the new minister in charge of rebuilding areas hit by the 2011 earthquake and tsunami.
(NHK)
Apr 26
Japan's catches of smaller Pacific bluefin tuna this season are very close to topping the annual limit set under an international accord for resources conservation.
(the-japan-news.com)
Apr 26
Japan Post Holdings says it expects to book a net loss of about 360 million dollars for the business year that ended in March.
(NHK)
Apr 25
The labor ministry referred advertising agency Dentsu Inc. and three officials from its offices in Nagoya, Osaka and Kyoto to prosecutors on Tuesday on suspicion of violating the Labor Standards Law by making employees work overtime beyond legal limits.
(Japan Times)
Apr 25
Princess Kako, a granddaughter of Emperor Akihito, will study at the University of Leeds in Britain from September this year to June next year as an exchange student, the Imperial Household Agency said Monday.
(Japan Today)
Apr 25
The Japanese government on Monday filed a candidacy for the western Japan city of Osaka to host the 2025 World Exposition with the Bureau International des Expositions in Paris.
(Jiji)
Apr 25
Tokyo Metropolitan Police have arrested the former manager of an illicit parlor in Shinjuku who is suspected of instructing teenage girls to perform sex acts with customers, reports TBS News.
(tokyoreporter.com)
Apr 25
The police department of Osaka Prefecture, western Japan, has arrested a 40-year-old bus driver for allegedly using stimulants in violation of the stimulant control law.
(Jiji)
Apr 25
The Japanese government has decided to start landfill work at the Henoko coastal area in the city of Nago, Okinawa Prefecture, on Tuesday for the relocation of the U.S. Marine Corps' Futenma air base, informed sources said Monday.
(Jiji)
Apr 25
Two elderly women were hit and killed by a train at a station in Kanagawa Prefecture, south of Tokyo, with surveillance camera footage showing the two jumping on the tracks holding each other's hands, police said Monday.
(Japan Today)
---