A female kangaroo found dead at a zoo in Sapporo on Friday was likely killed after her neck was caught in the mesh of her feeding box, raising fresh questions over the zoo's habitat conditions following a string of other animal deaths.
Officials at Sapporo Maruyama Zoo said a keeper found the eastern grey kangaroo named Ume lying dead in her cage in the morning because of a spinal cord injury, likely caused by her neck becoming dislocated after she stuck her nose into her feeding box, Nippon News Network reports (Jan. 7).
Crowds of visitors were gathered Saturday morning to mourn the sudden death of Ume, for whom the zoo had set up a memorial.
The zoo has implemented unspecified emergency measures to prevent other kangaroos from becoming caught in the mesh. Smaller mesh for feeding boxes were implemented last year.
Kato Osamu, director of Sapporo Maruyama Zoo, said the zoo has "ended up causing an extremely heartbreaking incident. We hope to properly examine what went wrong."
Fresh questions have been raised over management and habitat conditions at the zoo following the deaths of other animals, including a sun bear that was being trained for breeding and a giraffe that suffocated on food, TV Asahi reported (Jan. 7).
A child visiting the zoo to pay respects for Ume said they were "sad she passed away."
Another child said they "thought going to the zoo would mean there'd be lots of fun things, but [Ume] is gone, poor her."
札幌市の円山動物園で、カンガルーが死んでいるのが見つかりました。この動物園では、他にも問題が相次いでいました。
Nov 23
Tokyo Metropolitan Police are searching have arrested eight persons, including an organized crime member, in the robbery of gold valued at nearly 100 million yen from a shop in Taito Ward earlier this year, reports NHK
(tokyoreporter.com)
Nov 23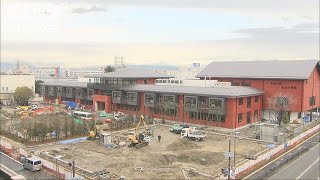 The government sold land in Osaka to school operator Moritomo Gakuen for a highly discounted price based on faulty data estimating the cost of removing industrial waste left in the plot, a government watchdog on spending concluded in a much-awaited report released Wednesday.
(Japan Times)
Nov 22
The Imperial Household Agency said Wednesday the wedding ceremony of Princess Mako, the eldest granddaughter of Emperor Akihito, and her classmate from university days Kei Komuro will be held on Nov 4 next year.
(Japan Today)
Nov 22
NHK has learned Japan is getting closer to finding out a date for the Emperor's abdication.
(NHK)
Nov 21
Police are set to refer sumo grand champion Harumafuji to prosecutors by the end of the year on suspicion of assaulting lower-ranked wrestler Takanoiwa in a drunken brawl, investigative sources said Tuesday.
(Japan Times)
Nov 21
Tokyo Metropolitan Police have arrested a 31-year-old man for organizing an orgy event via the social-networking service Twitter, reports the Sankei Shimbun.
(tokyoreporter.com)
Nov 21
A wild boar was killed after it injured an 11-year-old girl during a rampage in the town of Oizumi on Monday, reports NHK.
(tokyoreporter.com)
Nov 21
Osaka Prefectural Police have arrested a 53-year-old woman living in Neyagawa City the bodies of four newborn infants were found encased in concrete in a residence, reports TV Asahi
(tokyoreporter.com)
Nov 21
A group of Japanese researchers has developed the country's first quantum computer and is offering others free trials as a way to spur further innovation.
(NHK)
Nov 21
As a part of a crackdown on illegal gambling, Tokyo Metropolitan Police have busted a pair of internet casinos operating in Shibuya Ward, reports TV Asahi
(tokyoreporter.com)
---