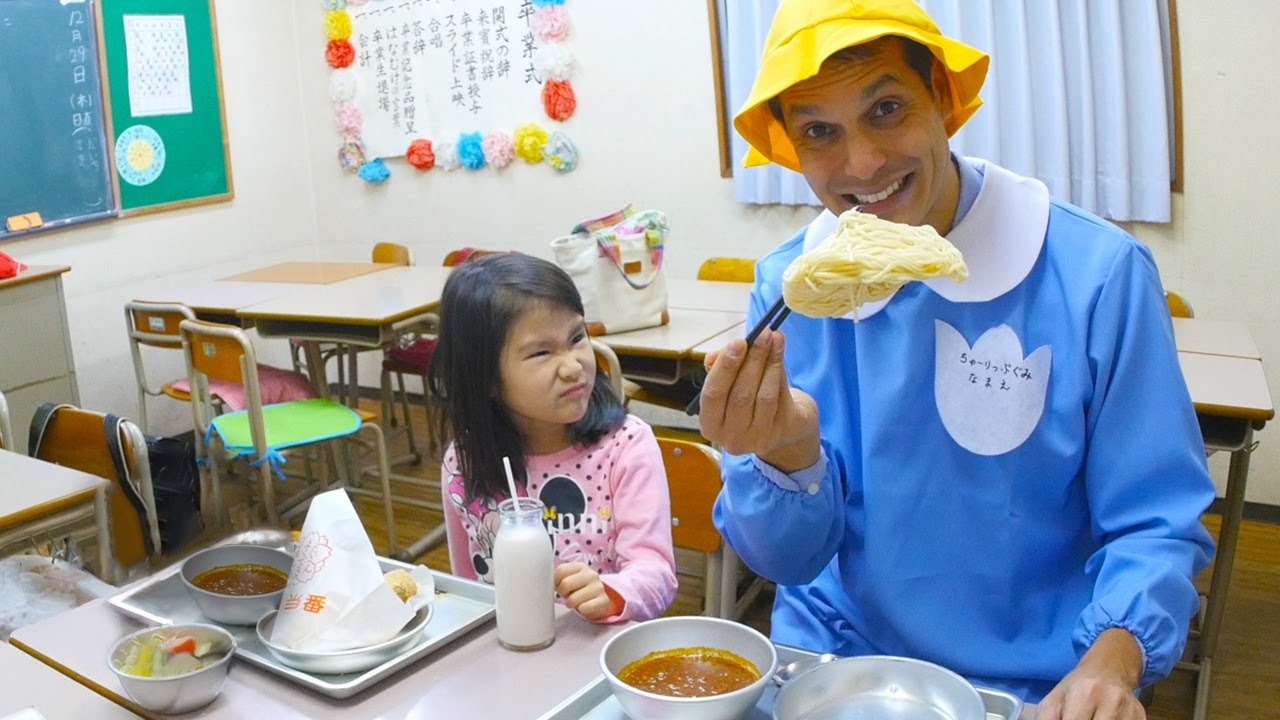 School lunches in Japan are world famous for being super healthy and delicious. With extremely low childhood obesity rates, many have turned to Japan for solutions to feed their school aged kids in the cafeteria.
But that's part of the answer. Japanese elementary school kids don't even eat in a cafeteria. They eat in the classroom ー with the teacher.
It is not possible to eat inside a Japanese elementary school (if you're a tourist) but there is a place in Tokyo where you can try nearly everything. Japanese parents take their preschool kids here to try it as well as older people coming back for a taste of nostalgia.
This magical place is called KYUSHOKU TOBAN (給食当番 ) and it's a place where you can not only try some of Japan's regional school foods from all over the country, you can also do it in an elementary school classroom! The 2nd floor is a near exact replication.
If you've ever wanted to be an exchange student in Japan -- or return to 5th grade, here's your chance.
Unique Japanese School Lunch MENU Items:
★ AGEPAN: Fried baked bun covered in sugar and kinako (or other toppings like cinnamon or cocoa)
★ SOFTMEN: A special noodle served only in schools. It comes wrapped in plastic and should be dipped in meat sauce or stew.
★ WHALE: This was served in schools a long time ago because whale was more available and much cheaper than beef, chicken or pork. Today, it's no longer served in school but you can try some at izakayas around Tokyo and here at this restaurant. Whale is rarely eaten these days since the price of other fish and meats is significantly cheaper.
WHY ARE JAPANESE SCHOOL LUNCHES SO AMAZING?
The program is highly regulated with calorie intake and nutritional value set for each scheduled meal.
Ingredients are usually local and meals are prepared from scratch.
There are no cafeterias in Japanese elementary schools. (They exist in high schools.)
Kids eat their lunches in the classroom with the teacher. They learn about nutrition and food responsibility in a hands on setting.
Milk is served with every meal.
All students eat the same meal. If a student hates an item, they have to stay and finish it.
Parents pay monthly for the school lunches, about $40 to $60 a month.
The Japanese School Lunch program started in 1954. After World War 2, resources were scarce and the government tried to make sure every child had a balanced meal.
Before World War 2, kids brought their own bento. The usual school food back then was the NORIBEN, rice, bonito fish flakes and roasted seaweed on a metal lunch box. Milk was a luxury item and there were few vegetables.
Feb 28
The Japanese government is planning to reduce penalties for those who plot serious crimes like terrorism but turn themselves in before actually committing them under a contentious anti-conspiracy bill it is preparing, sources close to the matter said Monday.
(Kyodo)
Feb 28
Car-bicycle collisions accounted for about 40 pct of fatal traffic accidents in Japan last year in which passenger cars bumped into other vehicles as they encountered at intersections or other parts of the road, a National Police Agency survey has revealed.
(Jiji)
Feb 27
Some Japanese banks have recently launched services allowing customers to pay for their shopping abroad using debit or prepaid cards linked to foreign currency deposits.
(the-japan-news.com)
Feb 27
Prime Minister Shinzo Abe on Monday sought to deny allegations that he is linked to an Osaka-based ultranationalist kindergarten as the public outcry over the operator and its alleged efforts to indoctrinate children with xenophobia and pre-war militarism grows.
(Japan Times)
Feb 27
The Cabinet is set to approve a bill next month to impose longer prison terms on rapists, and cover male rape victims for the first time, government sources said Monday.
(Japan Times)
Feb 27
Hideki Matsuyama moved up a place to fourth in the world golf rankings released Sunday, matching the highest-ever position by a Japanese male player.
(Japan Times)
Feb 27
A Tokyo zoo's hopes for a new baby panda grew Monday as it confirmed that its pair of giant pandas had mated for the first time in four years.
(Japan Times)
Feb 27
The Lower House on Monday approved a record ¥97.45 trillion budget for fiscal 2017 designed to finance ballooning social security costs and enhance Japan's defense capabilities.
(Japan Times)
Feb 27
Manhole covers are trending high in Japan and for good reason -- they're stunning! Only in Japan are manholes to cover sewage designed so beautifully that they now make MANHOLE TRADING CARDS!
(ONLY in JAPAN)
Feb 27
A fire broke out in a restaurant at the luxury hotel Grand Hyatt Tokyo at Roppongi Hills on Sunday night.
(Japan Today)
---