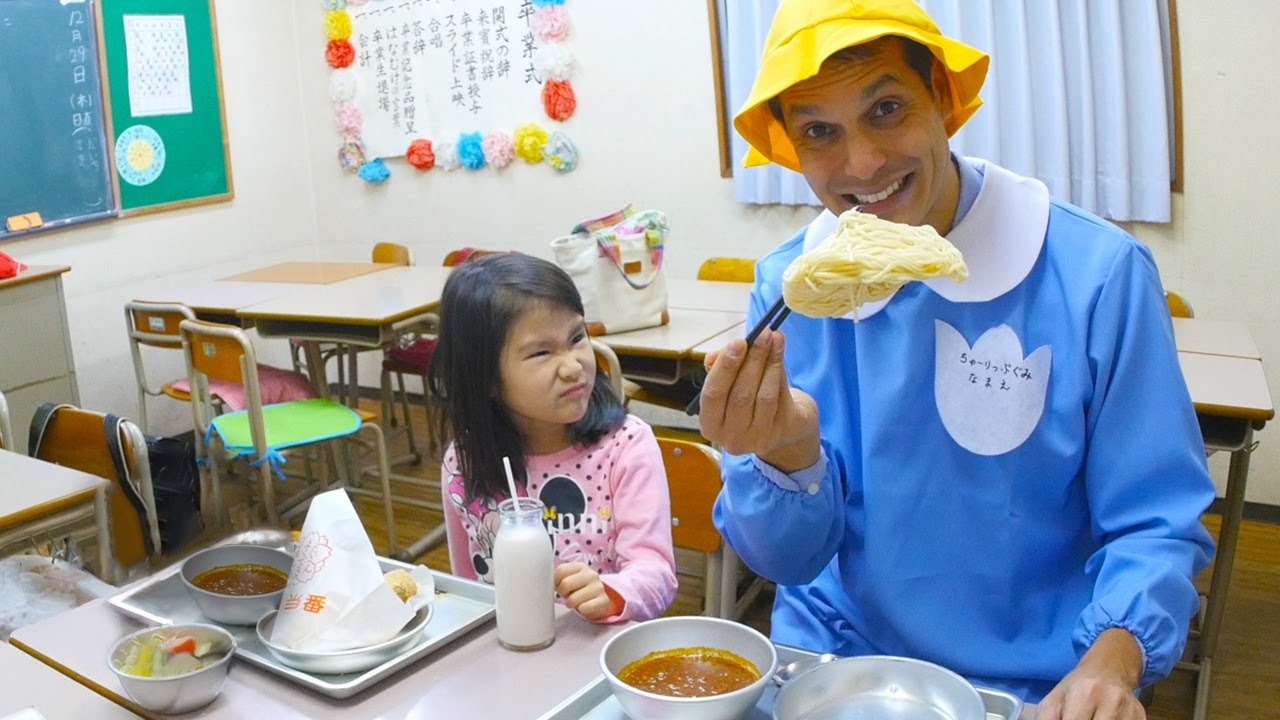 School lunches in Japan are world famous for being super healthy and delicious. With extremely low childhood obesity rates, many have turned to Japan for solutions to feed their school aged kids in the cafeteria.
But that's part of the answer. Japanese elementary school kids don't even eat in a cafeteria. They eat in the classroom ー with the teacher.
It is not possible to eat inside a Japanese elementary school (if you're a tourist) but there is a place in Tokyo where you can try nearly everything. Japanese parents take their preschool kids here to try it as well as older people coming back for a taste of nostalgia.
This magical place is called KYUSHOKU TOBAN (給食当番 ) and it's a place where you can not only try some of Japan's regional school foods from all over the country, you can also do it in an elementary school classroom! The 2nd floor is a near exact replication.
If you've ever wanted to be an exchange student in Japan -- or return to 5th grade, here's your chance.
Unique Japanese School Lunch MENU Items:
★ AGEPAN: Fried baked bun covered in sugar and kinako (or other toppings like cinnamon or cocoa)
★ SOFTMEN: A special noodle served only in schools. It comes wrapped in plastic and should be dipped in meat sauce or stew.
★ WHALE: This was served in schools a long time ago because whale was more available and much cheaper than beef, chicken or pork. Today, it's no longer served in school but you can try some at izakayas around Tokyo and here at this restaurant. Whale is rarely eaten these days since the price of other fish and meats is significantly cheaper.
WHY ARE JAPANESE SCHOOL LUNCHES SO AMAZING?
The program is highly regulated with calorie intake and nutritional value set for each scheduled meal.
Ingredients are usually local and meals are prepared from scratch.
There are no cafeterias in Japanese elementary schools. (They exist in high schools.)
Kids eat their lunches in the classroom with the teacher. They learn about nutrition and food responsibility in a hands on setting.
Milk is served with every meal.
All students eat the same meal. If a student hates an item, they have to stay and finish it.
Parents pay monthly for the school lunches, about $40 to $60 a month.
The Japanese School Lunch program started in 1954. After World War 2, resources were scarce and the government tried to make sure every child had a balanced meal.
Before World War 2, kids brought their own bento. The usual school food back then was the NORIBEN, rice, bonito fish flakes and roasted seaweed on a metal lunch box. Milk was a luxury item and there were few vegetables.
Jul 24
Authorities ordered 26,000 residents of Akita Prefecture to evacuate their homes as record levels of torrential rain lashed northern Japan, triggering widespread flooding over the weekend.
(Asahi)
Jul 24
Tokyo Metropolitan Police last week conducted the first queries into so-called "JK" parlors in Chiyoda Ward following the enactment of new legislation earlier this month aimed at restricting the harmful employment of youths, reports TBS News
(tokyoreporter.com)
Jul 24
In the past several weeks alone, elderly Japanese drivers have been wreaking havoc across the country: breaking through median barriers into oncoming traffic, ploughing over pedestrians crossing the road, and smashing into other cars. In all these cases, somebody was killed.
(afr.com)
Jul 24
Japanese Prime Minister Shinzo Abe, his ratings sinking over a suspected cronyism scandal, on Monday said he had never instructed officials to give preferential treatment to a long-time friend, adding that the latter had never sought favors.
(Reuters)
Jul 24
Over the past few weeks, actress Kazuyo Matsui has been a fixture on Japan's tabloid TV shows for the very public battle she is waging against her actor husband, whom she has accused of adultery.
(Japan Times)
Jul 24
Four bodies were found Sunday in a park in Onojo, Fukuoka Prefecture, with the police saying the people, likely a family reported missing, died in an apparent murder-suicide.
(Japan Today)
Jul 24
The giant panda cub at Tokyo's Ueno Zoo is growing steadily and starting to open her eyes.
(NHK)
Jul 24
In professional sumo, Yokozuna Grand Champion Hakuho has clinched his 39th tournament victory.
(NHK)
Jul 24
Reports of poisonous fire ants being discovered at ports across Japan are boosting sales of pesticides.
(NHK)
Jul 23
Police in Hiratsuka, Kanagawa Prefecture, said Saturday they have arrested a 16-year-old boy and a 16-year-old girl on suspicion of abandoning the body of a newborn baby in a vacant lot in February.
(Japan Today)
---