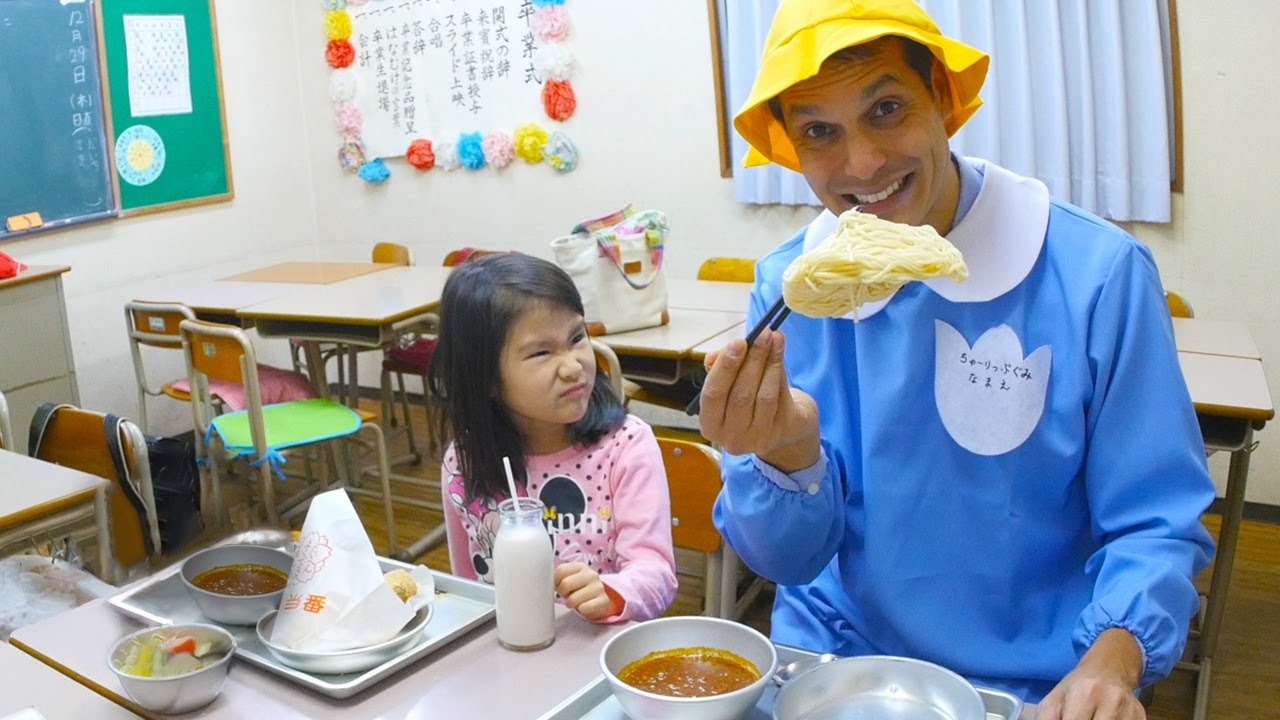 School lunches in Japan are world famous for being super healthy and delicious. With extremely low childhood obesity rates, many have turned to Japan for solutions to feed their school aged kids in the cafeteria.
But that's part of the answer. Japanese elementary school kids don't even eat in a cafeteria. They eat in the classroom ー with the teacher.
It is not possible to eat inside a Japanese elementary school (if you're a tourist) but there is a place in Tokyo where you can try nearly everything. Japanese parents take their preschool kids here to try it as well as older people coming back for a taste of nostalgia.
This magical place is called KYUSHOKU TOBAN (給食当番 ) and it's a place where you can not only try some of Japan's regional school foods from all over the country, you can also do it in an elementary school classroom! The 2nd floor is a near exact replication.
If you've ever wanted to be an exchange student in Japan -- or return to 5th grade, here's your chance.
Unique Japanese School Lunch MENU Items:
★ AGEPAN: Fried baked bun covered in sugar and kinako (or other toppings like cinnamon or cocoa)
★ SOFTMEN: A special noodle served only in schools. It comes wrapped in plastic and should be dipped in meat sauce or stew.
★ WHALE: This was served in schools a long time ago because whale was more available and much cheaper than beef, chicken or pork. Today, it's no longer served in school but you can try some at izakayas around Tokyo and here at this restaurant. Whale is rarely eaten these days since the price of other fish and meats is significantly cheaper.
WHY ARE JAPANESE SCHOOL LUNCHES SO AMAZING?
The program is highly regulated with calorie intake and nutritional value set for each scheduled meal.
Ingredients are usually local and meals are prepared from scratch.
There are no cafeterias in Japanese elementary schools. (They exist in high schools.)
Kids eat their lunches in the classroom with the teacher. They learn about nutrition and food responsibility in a hands on setting.
Milk is served with every meal.
All students eat the same meal. If a student hates an item, they have to stay and finish it.
Parents pay monthly for the school lunches, about $40 to $60 a month.
The Japanese School Lunch program started in 1954. After World War 2, resources were scarce and the government tried to make sure every child had a balanced meal.
Before World War 2, kids brought their own bento. The usual school food back then was the NORIBEN, rice, bonito fish flakes and roasted seaweed on a metal lunch box. Milk was a luxury item and there were few vegetables.
Feb 23
Japan's Crown Prince Naruhito turned 58 on Friday.
(NHK)
Feb 23
A World Trade Organization panel has ruled in Japan's favor in a dispute over South Korea's ban on seafood imports from 8 Japanese prefectures.
(NHK)
Feb 23
Aomori Prefectural Police have arrested an 18-year-old girl for allegedly killing her 2-year-old son at a residence in Mutsu City on Tuesday, reports the Yomiuri Shimbun
(tokyoreporter.com)
Feb 23
A senior Japanese official has criticized South Korea for what he calls the illegal occupation of the Takeshima Islands in the Sea of Japan. He made the remark on Thursday at a ceremony to commemorate Japan's incorporation of the islands more than a century ago.
(NHK)
Feb 23
Tokyo Metropolitan Police have arrested a 21-year-old Korean national for the alleged possession of marijuana after a pursuit ended in an accident in Shibuya Ward early Wednesday, reports TV Asahi.
(tokyoreporter.com)
Feb 23
Prosecutors have announced the non-prosecution of a male socialite over the alleged threats of a partner in a sex business last year, reports TV Asahi
(tokyoreporter.com)
Feb 23
The health, labor and welfare division of Japan's ruling Liberal Democratic Party on Thursday broadly approved a diluted draft bill for strengthening measures against passive smoking in public places, including restaurants.
(Jiji)
Feb 23
Japan's Self-Defense Force has begun surveying a lake in the northern prefecture of Aomori where a US fighter jet offloaded 2 external fuel tanks.
(NHK)
Feb 23
Japanese automaker Honda has announced that its HondaJet won the most delivered jet title in its category last year.
(NHK)
Feb 23
Osaka Prefectural Police have raided four so-called 'girl's bar' establishments in Osaka for licensing violations that are believed to have employed minors, reports TV Asahi.
(tokyoreporter.com)
---