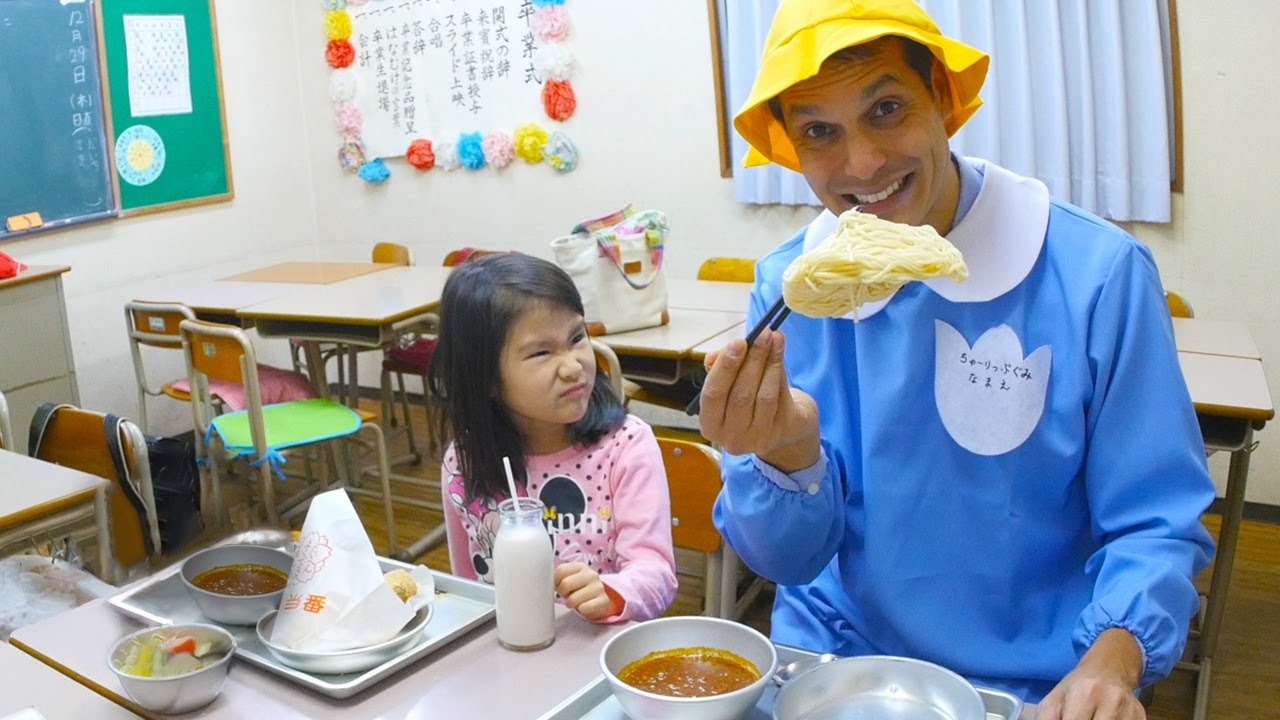 School lunches in Japan are world famous for being super healthy and delicious. With extremely low childhood obesity rates, many have turned to Japan for solutions to feed their school aged kids in the cafeteria.
But that's part of the answer. Japanese elementary school kids don't even eat in a cafeteria. They eat in the classroom ー with the teacher.
It is not possible to eat inside a Japanese elementary school (if you're a tourist) but there is a place in Tokyo where you can try nearly everything. Japanese parents take their preschool kids here to try it as well as older people coming back for a taste of nostalgia.
This magical place is called KYUSHOKU TOBAN (給食当番 ) and it's a place where you can not only try some of Japan's regional school foods from all over the country, you can also do it in an elementary school classroom! The 2nd floor is a near exact replication.
If you've ever wanted to be an exchange student in Japan -- or return to 5th grade, here's your chance.
Unique Japanese School Lunch MENU Items:
★ AGEPAN: Fried baked bun covered in sugar and kinako (or other toppings like cinnamon or cocoa)
★ SOFTMEN: A special noodle served only in schools. It comes wrapped in plastic and should be dipped in meat sauce or stew.
★ WHALE: This was served in schools a long time ago because whale was more available and much cheaper than beef, chicken or pork. Today, it's no longer served in school but you can try some at izakayas around Tokyo and here at this restaurant. Whale is rarely eaten these days since the price of other fish and meats is significantly cheaper.
WHY ARE JAPANESE SCHOOL LUNCHES SO AMAZING?
The program is highly regulated with calorie intake and nutritional value set for each scheduled meal.
Ingredients are usually local and meals are prepared from scratch.
There are no cafeterias in Japanese elementary schools. (They exist in high schools.)
Kids eat their lunches in the classroom with the teacher. They learn about nutrition and food responsibility in a hands on setting.
Milk is served with every meal.
All students eat the same meal. If a student hates an item, they have to stay and finish it.
Parents pay monthly for the school lunches, about $40 to $60 a month.
The Japanese School Lunch program started in 1954. After World War 2, resources were scarce and the government tried to make sure every child had a balanced meal.
Before World War 2, kids brought their own bento. The usual school food back then was the NORIBEN, rice, bonito fish flakes and roasted seaweed on a metal lunch box. Milk was a luxury item and there were few vegetables.
May 27
A giant deepwater shark known as a megamouth has been found alive in a fishing net in the Pacific Ocean off Mie Prefecture, western Japan.
(NHK)
May 27
Japanese elementary schools will be eligible to start English education in the third grade from fiscal 2018, instead of the fifth grade as now, the education ministry said Friday.
(Japan Today)
May 27
A former juvenile prison in the city of Nara in western Japan, built in 1908 and designated as an important cultural asset, will be converted into a hotel, the Justice Ministry said Friday.
(Jiji)
May 27
Leaders of the Group of Seven major industrial nations on Friday demonstrated their unity in the fight against terrorism, at their summit meeting in Taormina, Sicily, southern Italy, that started the same day for a two-day run.
(Jiji)
May 26
A pair of melons produced in the northern city of Yubari, Hokkaido, sold for 1.5 million yen in the first auction of this harvest season on Friday.
(Japan Today)
May 26
Outdoor theme park Legoland Japan on Thursday started selling one-day family tickets that offer discounts of up to 25 percent in response to complaints about higher fees compared with other parks.
(Japan Times)
May 26
Pizza giant Domino's will take full control of its rapidly expanding Japanese operations, after its minority partner, private equity firm Bain Capital, announced it would pull the plug on its 25 per cent stake in August.
(smh.com.au)
May 26
An elderly man was arrested Friday on suspicion of starting a fire on seat aboard a shinkansen that was traveling through Okayama Prefecture, police and the train operator said.
(Japan Times)
May 26
Tokyo police arrested a 21-year-old man on Thursday night for taking a woman, 55, hostage at her condominium in the Asakusa district of the Japanese capital's Taito Ward and inflicting injuries on the captive with a knife.
(Jiji)
May 26
Airbnb has joined hands with staffing company Pasona to train people in Japan to support the U.S. company's signature business of offering private homes as lodging for travelers -- a practice known as minpaku here.
(Nikkei)
---