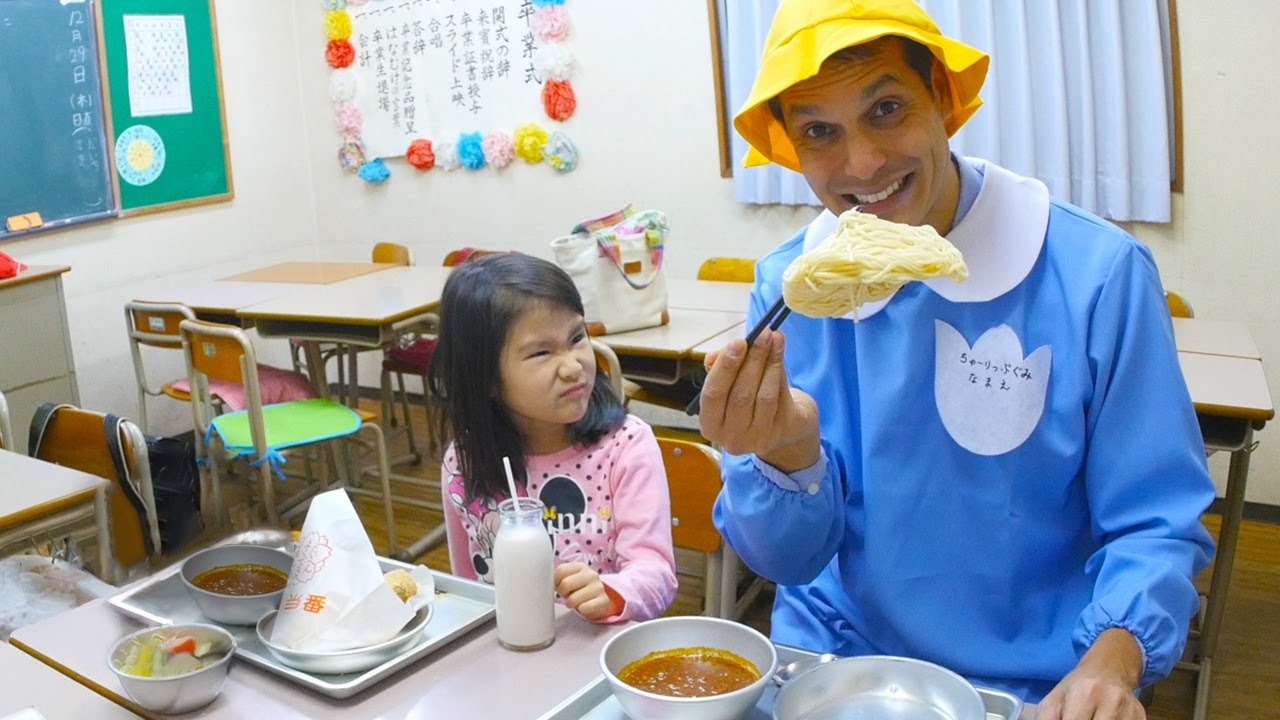 School lunches in Japan are world famous for being super healthy and delicious. With extremely low childhood obesity rates, many have turned to Japan for solutions to feed their school aged kids in the cafeteria.
But that's part of the answer. Japanese elementary school kids don't even eat in a cafeteria. They eat in the classroom ー with the teacher.
It is not possible to eat inside a Japanese elementary school (if you're a tourist) but there is a place in Tokyo where you can try nearly everything. Japanese parents take their preschool kids here to try it as well as older people coming back for a taste of nostalgia.
This magical place is called KYUSHOKU TOBAN (給食当番 ) and it's a place where you can not only try some of Japan's regional school foods from all over the country, you can also do it in an elementary school classroom! The 2nd floor is a near exact replication.
If you've ever wanted to be an exchange student in Japan -- or return to 5th grade, here's your chance.
Unique Japanese School Lunch MENU Items:
★ AGEPAN: Fried baked bun covered in sugar and kinako (or other toppings like cinnamon or cocoa)
★ SOFTMEN: A special noodle served only in schools. It comes wrapped in plastic and should be dipped in meat sauce or stew.
★ WHALE: This was served in schools a long time ago because whale was more available and much cheaper than beef, chicken or pork. Today, it's no longer served in school but you can try some at izakayas around Tokyo and here at this restaurant. Whale is rarely eaten these days since the price of other fish and meats is significantly cheaper.
WHY ARE JAPANESE SCHOOL LUNCHES SO AMAZING?
The program is highly regulated with calorie intake and nutritional value set for each scheduled meal.
Ingredients are usually local and meals are prepared from scratch.
There are no cafeterias in Japanese elementary schools. (They exist in high schools.)
Kids eat their lunches in the classroom with the teacher. They learn about nutrition and food responsibility in a hands on setting.
Milk is served with every meal.
All students eat the same meal. If a student hates an item, they have to stay and finish it.
Parents pay monthly for the school lunches, about $40 to $60 a month.
The Japanese School Lunch program started in 1954. After World War 2, resources were scarce and the government tried to make sure every child had a balanced meal.
Before World War 2, kids brought their own bento. The usual school food back then was the NORIBEN, rice, bonito fish flakes and roasted seaweed on a metal lunch box. Milk was a luxury item and there were few vegetables.
Apr 25
It has been revealed that information related to Japan's national security was included in the confidential documents disclosed by former US National Security Agency contractor Edward Snowden.
(NHK)
Apr 25
Airbnb estimates that its services contributed 920 billion yen ($8.35 billion) to the Japanese economy in 2016, up 80% from the previous year, as foreign users took advantage of affordable lodging in big cities and rural areas.
(Nikkei)
Apr 25
Princess Kako, a granddaughter of Emperor Akihito, will study at the University of Leeds in Britain from September this year to June next year as an exchange student, the Imperial Household Agency said Monday.
(Japan Today)
Apr 25
The Japanese government on Monday filed a candidacy for the western Japan city of Osaka to host the 2025 World Exposition with the Bureau International des Expositions in Paris.
(Jiji)
Apr 25
Tokyo Metropolitan Police have arrested the former manager of an illicit parlor in Shinjuku who is suspected of instructing teenage girls to perform sex acts with customers, reports TBS News.
(tokyoreporter.com)
Apr 25
The police department of Osaka Prefecture, western Japan, has arrested a 40-year-old bus driver for allegedly using stimulants in violation of the stimulant control law.
(Jiji)
Apr 25
The Japanese government has decided to start landfill work at the Henoko coastal area in the city of Nago, Okinawa Prefecture, on Tuesday for the relocation of the U.S. Marine Corps' Futenma air base, informed sources said Monday.
(Jiji)
Apr 25
The Bank of Japan wants financial institutions to lend more money under its large-scale monetary-easing policy. But it's worried that some regional banks are too eager to offer real estate loans, especially for building rental housing.
(NHK)
Apr 25
Two elderly women were hit and killed by a train at a station in Kanagawa Prefecture, south of Tokyo, with surveillance camera footage showing the two jumping on the tracks holding each other's hands, police said Monday.
(Japan Today)
Apr 25
Rakuten Inc announced the official launch of "Rakuten Super English," a comprehensive English learning service utilizing technology to provide a practical English learning and a new style of studying. The launch of Rakuten Super English marks Rakuten's entry into the English education business.
(Japan Today)
---