President Donald Trump says the alliance between the United States and Japan is a cornerstone of regional peace and stability, edging away from campaign pledges to force Tokyo to pay more for the US security umbrella.
Mr Trump and the Japanese Prime Minister began two days of talks with a hug as Shinzo Abe entered the White House and more handshakes and smiles in the Oval Office.
They were to depart later for Palm Beach, Florida, for a weekend stay at Mr Trump's Mar-a-Lago retreat with their wives.
At a joint news conference with Mr Abe, Mr Trump avoided repeating harsh campaign rhetoric that accused Japan of taking advantage of US security aid and stealing American jobs.
"We are committed to the security of Japan and all areas under its administrative control and to further strengthening our very crucial alliance," Mr Trump said.
"The bond between our two nations and the friendship between our two peoples runs very, very deep.
A joint US-Japanese statement said the US commitment to defend Japan through nuclear and conventional military capabilities was unwavering.
The statement amounted to a victory for Mr Abe, who came to Washington wanting to develop a sense of trust and friendship with the new US President and send a message that the decades-old alliance was unshakeable in the face of a rising China.
Nov 23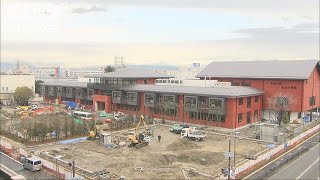 The government sold land in Osaka to school operator Moritomo Gakuen for a highly discounted price based on faulty data estimating the cost of removing industrial waste left in the plot, a government watchdog on spending concluded in a much-awaited report released Wednesday.
(Japan Times)
Nov 20
The US military in Japan has banned all its service members from drinking both on and off base following a fatal car accident in Okinawa Prefecture, southern Japan.
(NHK)
Nov 17
Japan's health ministry has drastically relaxed its planned regulations on indoor smoking at restaurants after a plan to tolerate smoking only at small eateries and bars met with opposition from the ruling Liberal Democratic Party, government sources said Thursday.
(Kyodo)
Nov 17
Japanese Prime Minister Shinzo Abe has told the head of the US Pacific Command that Japan wants to closely work with the United States to enhance deterrence and response capabilities of the bilateral alliance.
(NHK)
Nov 16
Tokyo Metropolitan Police have arrested the eldest son of Tokyo assemblyman Masatoshi Ibi, 54, over the alleged molestation of a woman in Chofu City last month, reports Nippon News Network
(tokyoreporter.com)
Nov 15
Japanese Prime Minister Shinzo Abe has urged Myanmar's de facto leader Aung San Suu Kyi to work toward the return of Rohingya Muslims who have fled to Bangladesh.
(NHK)
Nov 14
Tokyo Governor Yuriko Koike says she wants to step down as president of the opposition party Hope.
(NHK)
Nov 14
Japan's Education Minister Yoshimasa Hayashi has officially approved a controversial plan to open a veterinary school in April of next year.
(NHK)
Nov 13
On Oct 31, Takahiro Shiraishi was arrested after nine bodies were discovered in his apartment in the town of Zama, Kanagawa Prefecture, where the 27-year-old had been living since August. The authorities also found a saw, which Shiraishi admits to using in dismembering the bodies after killing his victims in order to make their remains easier to dispose of.
(Japan Today)
Nov 13
The Kawasaki Heavy Industries C-2 is making its debut outside of Japan at the air show, as the country pushes for export sales of the military transport.
(flightglobal.com)
---