North Korea fired a ballistic missile into the Sea of Japan early Sunday as U.S President Donald Trump met with Prime Minister Shinzo Abe in Florida. The test was the first such launch since Trump was sworn into office on Jan. 20.
The Japanese government condemned the launch as a clear violation of U.N. Security Council resolutions and said it had issued a strongly worded protest over the test.
"The ballistic missile launch is an extremely problematic act from the viewpoint of securing the safety of aircraft and ships and it is an obvious violation of U.N. Security Council resolutions," Chief Cabinet Secretary Yoshihide Suga told a news conference, adding that the missile appeared not to have landed in Japan's exclusive economic zone or to have caused any damage.
Suga said Japan was still analyzing the data.
The type of missile, launched from the Panghyon area in North Korea's western North Pyongan province at around 7:55 a.m., was not yet identified, the Yonhap news agency quoted South Korea's Joint Chiefs of Staff as saying in a statement. It flew about 500 km (300 miles), the statement said, adding that it did not appear to be an intercontinental ballistic missile (ICBM).
"Our assessment is that it is part of a show of force in response to the new U.S. administration's hard-line position against the North," the JCS statement said, according to Yonhap.
The U.S. military also said it had detected a missile test launch by the North and was assessing it, a U.S. defense official told The Japan Times by email.
North Korean leader Kim Jong Un said in his New Year's Day address that the country was close to launching an ICBM — remarks widely seen as a veiled threat that the hermit nation was close to mastering the technology needed to strike the continental United States.
北朝鮮が12日午前8時前、北西部から日本海に向けてミサイルを発射しました。 韓国軍によりますと、北朝鮮は午前7時55分ごろ、北西部の平安(ピョンアン)北道バンヒョン付近から日本海に向けてミサイルを発射したということです。
Nov 20
Police in Okinawa, southwestern Japan, have arrested a US Marine in connection with a fatal traffic accident.
(NHK)
Nov 20
Japanese railway companies plan to use data from seabed seismometers to quickly stop Shinkansen bullet trains when a major earthquake hits.
(NHK)
Nov 20
Prison inmates who don't speak Japanese now have access to better interpretation services, thanks to a new system introduced earlier this month.
(NHK)
Nov 20
Hyogo Prefectural Police on Friday arrested a sex worker for allegedly stealing a wristwatch valued at 10 million yen from a male customer two years ago, reports the Sankei Shimbun
(tokyoreporter.com)
Nov 19
Police in Tokyo on Saturday arrested an unemployed 42-year-old man of no fixed address on suspicion of killing a 61-year-old homeless man on a riverbank in Katsushika Ward.
(Japan Today)
Nov 19
A man died Saturday after falling off a cliff while competing in a trail running race in Saitama Prefecture, police said.
(Japan Times)
Nov 19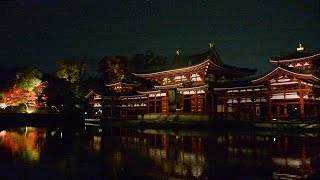 The Phoenix Hall of Byodoin temple, a UNESCO World Heritage site in Uji, Kyoto Prefecture, glows at night during a trial illumination on Friday.
(the-japan-news.com)
Nov 19
Despite their magical reputation, shooting stars are just pieces of space debris from millimeters to a few centimeters thick that fly into Earth's atmosphere and brightly burn up into nothing.
(rocketnews24.com)
Nov 19
Chiba Prefectural Police have arrested a 33-year-old man for allegedly selling cash above face value using marketplace app Mercari and collecting interest exceeding the legal interest rate, reports TV Asahi
(tokyoreporter.com)
Nov 18
Japan's national broadcaster NHK has unveiled this year's lineup for its annual New Year's Eve music show "Kohaku Uta Gassen" (Red and White Song Battle), featuring 10 new groups and singers.
(Japan Today)
---